The list of Russell Reconstitution Preliminary candidates came out on Friday June 11,2010 with 262 additions and 205 deletions. This list will be filtered in the next two weeks and on June 25, 2010 the final list will be announced. A quick overview on the process below from the Russell website:
What's the basic process?

A: On the last trading day in May (this year May 28), all eligible securities globally are ranked by their total market capitalization. Companies whose stocks are listed on eligible stock exchanges in eligible countries and who pass minimum liquidity and other investability rules are considered for inclusion in the indexes. Beginning on June 11, preliminary lists for the additions and deletions to the indexes are communicated to the marketplace. These changes go into effect after the close on Friday, June 25. All Russell indexes are subindexes of the Global Index
I've gone through the prerequisites for Russell candidates in previous articles, this one will look at a few more items in detail, specifically I'm going to see which preliminary additions would be candidates for value or growth and which stocks look like reasonable additions. Just a reminder, the total candidate universe is first sorted by the market cap so that will be the main driver in my decision to see which stocks would be good candidates.
First off, according to the Russell Methodology the way stocks are chosen for value or growth are based on a non-linear function which is based on normalized B/P and I/B/E/S EPS growth forecast totals.
For each base index (the Russell 1000 and Russell 2000, and the smallest 1000 in Russell Microcap), stocks are ranked by their adjusted book-to-price ratio (B/P) and their I/B/E/S forecast long-term growth mean (IBESLT). These rankings are converted to standardized units and combined to produce a composite value score (CVS). Stocks are then ranked by their CVSs, and a probability algorithm is applied to the CVS distribution to assign growth and value weights to each stock. In general, a stock with a lower CVS is considered growth, a stock with a higher CVS is considered value and a stock with a CVS in the middle range is considered to have both growth and value characteristics, and is weighted proportionately in the growth and value index. Stocks are always fully represented by the combination of their growth and value weights; e.g., a stock that is given a 20% weight in a Russell value index will have an 80% weight in the same Russell growth index.
Based on the CVS and market cap I will use to look for long/short (deletion) candidates. One point of note, I/B/E/S EPS values were hard to get for some of the candidates and I used an average as posted in the Russell Methodology.
Consumer Discretionary
There are 41 candidates for addition with the top 10 shown below by market cap.
click to enlarge some images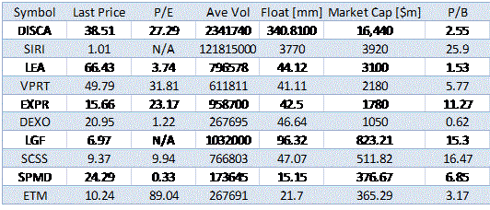 As can be seen that the P/B for SIRI is quite high, the B/P is used in determining whether it should be a value or growth stock. When I normalize the B/P and the I/B/E/S growth estimates I get a value of -0.96 for SIRI, the lowest value in the sample. The highest CVS value goes to A.H. Belo Corp (NYSE:AHC) with 3.65. The top 10 and bottom 10 CVS are shown below.
Vistaprint (VPRT) is a firm from the Netherlands that provides marketing and services to small business worldwide, but gets 56% of its revenue from North America.
Lear (NYSE:LEA) is a likely candidate to head back into the indexes and is a post bankruptcy automotive company. It also rates well on the CVS score to be a value stock.
Another value stock with a $1B+ market cap is Dexo and another stock that is comparable to Dexo is SPMD. I doubt both companies would be picked up, thus between the two I would think Dexo is the likely candidate.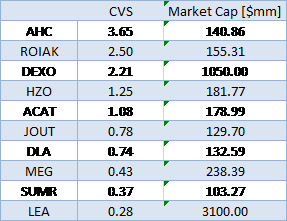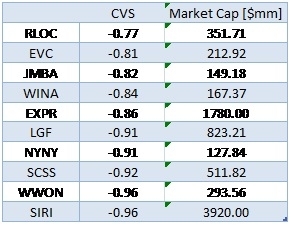 There is a lot of discussion about SIRI heading back into the indexes, but with such a large float (3.7B shares) I think there will be other candidates that will move more with the inclusion. That being said, in Consumer Discretionary given the overall market condition I don't see any clear long candidates.
Consumer Staples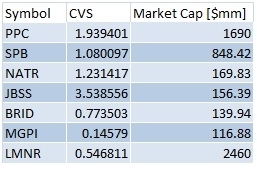 I picked PPC last month but it looked a bit pricey at $8.87, given a 10% drop since that post, PPC looks like a value play that could be a good addition. It is the biggest market cap in this segment and also scores well on the value CVS score.
Energy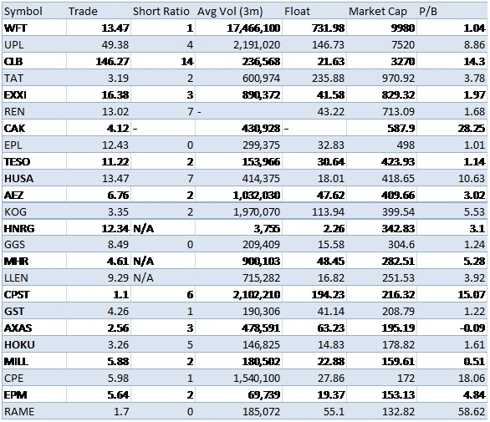 Weatherford is a well known energy company that will most likely be added, UPL has had a fairly strong May and is looking like a good candidate as well. Core Lab (NYSE:CLB) competes with Schlumberger (NYSE:SLB) Haliburton (NYSE:HAL) but it has a pretty high short ratio. If it gets picked up I feel CLB could move.
KOG has been coming up on my quant screen for momentum and was coming up as a value play back in February. It is worth further investigation. EXXI's shore ratio is 10% and the float is only 41m shares. This could be an interesting stock in the next two weeks to watch.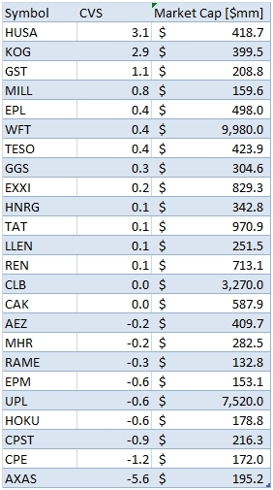 Financial
There are 38 candidates for the financial sector with BRK.B being the heavyweight. With firms like BRK.B, TRI, ACE, CIT, GGP I would consider the small cap stocks as only viable candidates to balance the mega cap stocks. Financial Engines (NASDAQ:FNGN) is a realistic candidate since it just had its IPO, but with financial regulation coming, the next few weeks will be driven by other catalysts.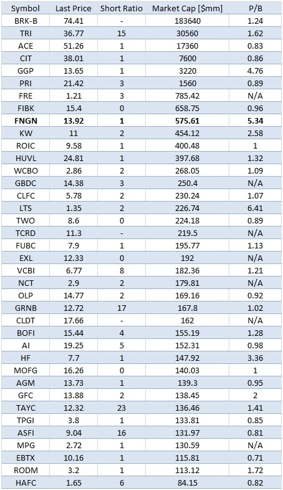 Healthcare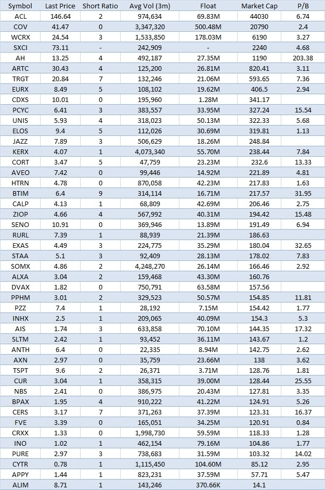 I don't follow healthcare closely, but I have heard that S&P may include non U.S. countries in their next reconstitution and COV would be a play that could benefit from both reconstitutitions.
Materials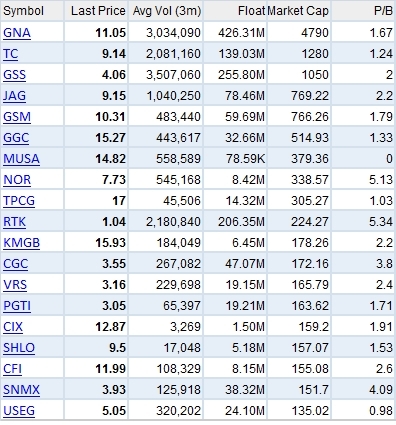 OTC:VRS is coming up as a value play, but given its market cap I would rather go with a bigger firm. GSS is a gold miner I wrote about earlier which could be an interesting play. Other stocks that I am considering are GSM and JAG.
Durables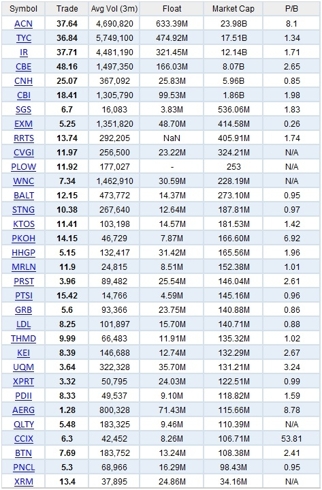 TY, IR, and CAN are large cap candidates which will probably go into the growth categories. I'm not familiar with this sector as much so I will look a bit more into which candidates could move in the coming weeks on positive news.
Tech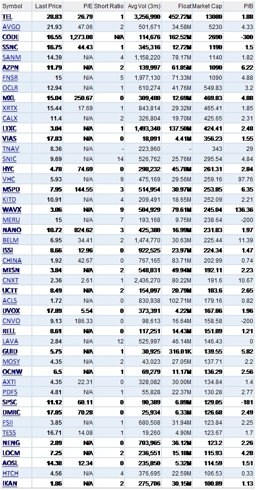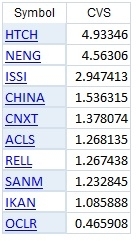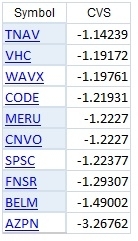 The large cap stocks should be added, so TEL, AVGO, CODE, SSNC, and SANM would be reasonable candidates. Finisar (NASDAQ:FNSR) just reported earnings that exceeded expecatations and is a firm that I wrote about earlier. I feel that this company is a company worth considering for a long term investment as well. If it is added it will probably be considered in the growth segment.
Looking at short ratios, SNIC and LAVA could move as we get closer to the reconstitution date.
UTILITIES

Iridium is the largest Utilities company in the Additions list and has a high short ratio. Given its low P/B IRDM looks like an interesting company to consider to play the reconstitution, maybe by options. July $10 Calls are going for $0.25, which I will probably consider getting in the next week.
Vonage (NYSE:VG)…all I can say is that their jingle is stuck in my head as I write this…but it will probably be added to the indexes.
Fiber Tower (NASDAQ:FTWR) looks fairly cheap at first glance, its worth a deeper look.
Conclusion
This is the list of firms from which the new firms will be added to the Russell indexes. I will probably go with out of the money July calls on firms that meet my momentum quant screen or value screens.
Disclosure: None yet