The video streaming juggernaut Netflix (NASDAQ:NFLX) is taking further steps to expand its international operations. This time the company has selected France for its expansion plans, as France is one of the world's biggest broadband markets and due to its presence in Canada, Netflix already has its offering localized in French. The company plans to launch in France this fall and has approached French operator Orange (NYSE:ORAN) for a possible distribution deal. Netflix closed out 2013 with 31.7 million paid subscribers in the U.S. and another 9.7 million abroad spread across the 41 countries in which the company operates overseas. About one third of the latter figure is estimated to come from Netflix's first international market, Canada, where it launched in 2010. Latin America was inducted in 2011, followed by the U.K. and the Nordic countries in 2012. From the start of 2013, Netflix signaled that its expansion plans would have to decelerate for cost-control reasons, but still added one small market, the Netherlands, in 2013.
Preview
In this article I will discuss and analyze the company's plan to expand its operations in France and identify some challenges it might face when it enters the French market. Moreover, I will also analyze the company's possible collaboration with Orange France, one of the biggest telecom operators in France, and how this deal would benefit Netflix in efficiently expanding its operations.
Big Market, Big Opportunity
Analysts say that Europe offers compelling target markets for Netflix. Germany and France are the fourth- and sixth-largest broadband markets in the world, respectively, according to market researcher SNL Kagan. As a whole, Western Europe had 134 million broadband homes by the end of 2013, compared with the 88 million in the U.S.
The market for streaming-video services is still promising in a majority of European countries. It is now expected to grow faster in Western Europe than the world as a whole with revenue expected to reach $1.1 billion in 2017 up by two thirds from 2013, according to SNL Kagan.
So far, Netflix has performed better in Europe. Since launching in Sweden in 2012, the company has become the top streaming service in the country with more than double the daily usage of its next-biggest competitor, Viaplay, owned by broadcaster, Modern Times Group MTG AB (OTCPK:MDTMY).
Befits of Collaboration with Orange
As mentioned earlier, it's unclear exactly how Netflix wants to cooperate with Orange. If the company does decide to collaborate with Orange it will have a huge advantage to expand its operations more smoothly and rapidly. In addition, considering the wide array of low-cost TV packages from the telecommunications groups available in France, it would be more feasible to consider striking a partnership deal with Orange to take advantage of the scale of the existing sector player.
One of the biggest advantages for Netflix would be the fact that Orange is a state company meaning the state is still a major shareholder and usually picks the CEO. This will help the company to better negotiate terms with the government. Secondly, Orange is the largest telecommunication and internet service provider in France, with more than 50% of the population covered, including 10 million internet subscribers. This will give Netflix rapid access to such a vast subscriber base without making serious efforts. Moreover, Orange's one million 4G mobile broadband customer base in France, with more than 4,200 sites, will also help Netflix to attract a diverse customer base who will able to watch TV on multiple platforms.
Analysis
Building scale in new markets has been a long and expensive process for the company. In Latin America, e-commerce is less established and converting free-trial users into paying subscribers has proven difficult. In 2013, the "contribution loss" of Netflix's international streaming unit was $274 million compared to a profit of $622 million for the U.S. streaming business. However, if you look at the company's overall contribution loss per paid subscriber you can see a substantial improvement, which I believe is a big achievement for the company.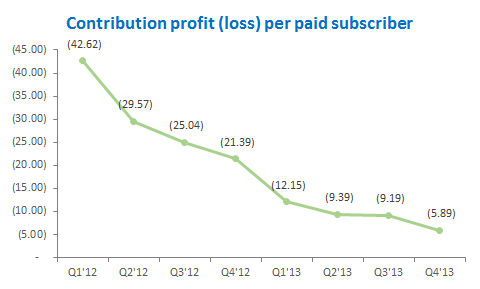 Source: Netflix annual report 2013
In the first quarter of 2012, the contribution loss per paid subscriber of its international streaming unit was $42.62. After that the company consistently managed to reduce its loss over the period to $5.89 in the fourth quarter of 2013. The fact that the company managed to reduce its loss by 86% in less than two years is a big achievement, but I believe that this contribution loss will most likely be increased in 2014, as the company successfully initiates its expansion into France.

Source: Orange financial 2013
In order to project the company's international subscriber growth for the next four quarters I used some given figures and made certain assumptions accordingly. As per world population statistics, the population of France is around 65.8 million. Based on the current (50%) market share of the company, Orange France provides service to around 32.9 million customers in France and that includes 10 million internet subscribers which I believe is the potential target market for Netflix. Let's suppose the company managed to attract 25% of Orange France's broadband subscribers and manages to convert 3% of its mobile subscribers to shift to broadband. This would equate to the addition of 3.58 million members to its international subscribers, which I believe is a big achievement. Similarly, I assume that the company will add more customers to its subscriber base over the year, but at a lower rate than in the first quarter of 2014.

Source: Netflix annual report 2013
By adding the total addition to Netflix's subscribers (calculated above), I managed to forecast the company's international subscriber growth along with the revenue and cost per paid subscriber. Based on my above assumptions the company will manage to grow its international subscriber base by 153% Y/Y, which I believe is justifiable. However, this scenario entails international subscriber growth will only come from France. This obviously will not be the case and the overall growth in subscribers would be higher than my projection.
Challenges
Despite offering a big potential market, French policies could put up big barriers to Netflix's entry. Investment quotas, higher taxes, and strong competition are among the biggest challenges. According to French polices, subscription video on demand (SVoD) services that are headquartered in France and have annual revenues exceeding 10 million Euros must inject 15% of their revenues into European films and 12% into French movies; in addition they have to pay a value-added tax of 19.6% on VOD sales.
In addition to that, Netflix would have two major SVOD rivals in France including Canal Plus' Canal Play "Infinity" and Wild Bunch's "Filmo TV". Both platforms have strong ties to the local film businesses but neither has been able to grow in any major way because the SVOD window is locked at 36 months. That means SVOD service providers can't have access to new films before 36 months of theatrical bow.
Both of Netflix's competitors have strong roots in the French market. Canal Play Infinity boasts 1,200 films and 1,300 episodes of various TV series and is available as a standalone SVOD service priced at 6.99 Euros per month. The platform had an estimated 300,000 subscribers at the end of 2013. Meanwhile, FilmoTV features over 1,000 films for a monthly rate of 9.99 Euros and an OTT service; FilmoCloud, launched in September 2013. The cloud-based service has all the content and services available on the VOD and SVOD platforms and boasts over 2,000 videos of exclusive film-related content including magazines, introductions to films, and interviews.
Conclusion
This worldwide growth effort isn't some secondary experiment for Netflix. A more diverse subscriber base will go a long way towards recovering the $3 billion it spent on content in 2013. It will also aid in improve improving its free cash flow, which has been in the red over the past two years, despite generating $112 million in net income last year. The company's plan to enter the French market will help the company to grow its subscriber base and its revenues. Though initially it will put some downward pressure on the bottom line of the company, the bigger picture is quite optimistic. Moreover, Netflix's value proposition, cheap subscription fees, one billion hours of TV shows and movies available per month (including original series and high quality content) and the convenience of being able to watch whatever you want on whatever platform will surely appeal to plenty of French consumers. And as far as investing in the French film industry, the company has expertise in creating its own original series that will help it to produce some original movies for the French in order to follow the state's policies and generate some cash out of it. I believe that this is a good stock for investors.
Disclosure: I have no positions in any stocks mentioned, and no plans to initiate any positions within the next 72 hours.
Business relationship disclosure: The article has been written by APEX Financial Consultants. This article was written by one of our research analysts. APEX Financial Consultants is not receiving compensation for this article (other than from Seeking Alpha). APEX Financial Consultants has no business relationship with any company whose stock is mentioned in this article.