Piqqem released its weekly technology sentiment update for the week ending June 11, 2010, and although the overall Piqqem technology index was relatively flat, the semiconductor sector showed a sharp decline and is now down 10 points from its high on April 16. This index seemed to forecast the overall decline in the market with the worst May in history.
Brocade Communications (NASDAQ:BRCD) and Sandisk (SNDK) lead the semiconductor index lower this week. Within the technology sectors, the semiconductor index was down 1.50 to end at 26.46, software and gaming was down .97 to end at 28.54, hardware and networking was down .44 to end at 31.05, and finally internet and mobile rose .17 to finish at 22.59. A sentiment rating of 25 and above is considered positive. The piqqem sentiment index has been heading down for the entire year. The big question is whether sentiment will reverse its trend and move positively in spite of the European debt crisis and the weak job market.
Top Technology Stocks
Leaders within each sector included: Apple (NASDAQ:AAPL) leading the hardware and networking sector, eBay (NASDAQ:EBAY) leading the internet sector, Activision (NASDAQ:ATVI) leading the Software and Gaming, and Intel (NASDAQ:INTC) leading the semiconductor sector.
About the Piqqem Technology Sentiment Index
Piqqem tracks sentiment on all securities including stocks, mutual funds, ETFs, and major market indices. The Piqqem sentiment scale runs from 100 on the high end to -100 on the low end. The actual Piqqem Technology Sentiment Index is proprietary blend of technology stocks covering the hardware, internet & mobile, software & gaming, and semiconductor sectors.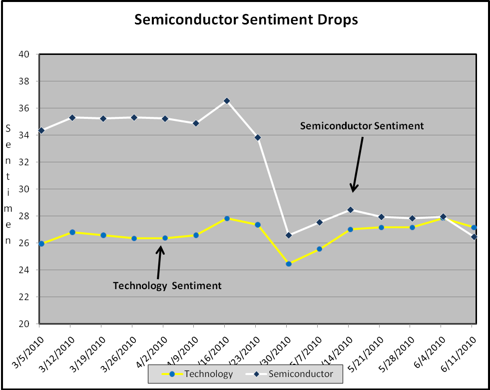 Disclosure: No Positions