I've been writing about Yahoo (NASDAQ:YHOO) and the Alibaba (ABABA) IPO for over a year, and we are finally nearing the time of the actual IPO. Yesterday CNBC commentators were covering the ABABA IPO and they were discussing different investment strategies.
Point #1: YHOO has a market cap of $40 billion and owns 24% of ABABA. If ABABA goes for $167 billion, then basically 100% of YHOO's market cap is its ABABA holding. $167 billion is within the estimated IPO range.
Wall Street is far more upbeat about the impending IPO of Alibaba. While the company keeps a tight lid on financial details, estimates of Alibaba's potential market value range from $150 billion to $200 billion.
Point #2: How YHOO does post ABABA IPO depends on what it does with the cash. YHOO is required to sell 10%, so it should get around $15 billion. YHOO can buy back shares, make acquisitions or invest internally.
Point #3: Large IPOs, like the Facebook (NASDAQ:FB) IPO, can suck a lot of air out of the markets. That has three effects:
Other stocks in its sector like Amazon (NASDAQ:AMZN), eBay (NASDAQ:EBAY) and Google (NASDAQ:GOOG) may be sold to fund the ABABA purchase.
Indexes will be rebalanced to adjust for the new, very large, addition.
It may make it difficult in the short-term for IPOs that come after ABABA.
Point #4: Both YHOO and Softbank (OTCPK:SFTBF) own shares in ABABA. SFTBF owns more of ABABA, 37% vs 24%, but has a market cap of $92 billion; over 2.25x the size of YHOO. Clearly on a weighted basis, a successful ABABA IPO should have a greater potential to impact the price of YHOO than SFTBF. However, SFTBF has outperformed YHOO over the past year.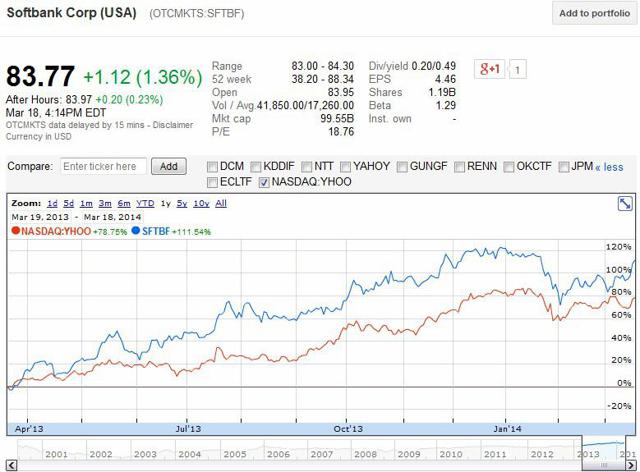 Image Source: Google Finance
Point #5: The average price target "on the street" for YHOO is $41.48, and YHOO closed today at $39.45. Clearly the easy money has already been made.
Looking forward I am expecting a successful ABABA IPO, and would watch for YHOO to outperform SFTBF, AMZN, EBAY and even GOOG. However, post IPO, I would expect ABABA to outperform YHOO, and the sheer size of ABABA to disrupt performance of stocks that may be at risk of being rebalanced to a lower weighting in a portfolio or index.
Disclaimer: This article is not an investment recommendation or solicitation. Any analysis presented in this article is illustrative in nature, is based on an incomplete set of information and has limitations to its accuracy, and is not meant to be relied upon for investment decisions. Please consult a qualified investment advisor. The information upon which this material is based was obtained from sources believed to be reliable, but has not been independently verified. Therefore, the author cannot guarantee its accuracy. Any opinions or estimates constitute the author's best judgment as of the date of publication, and are subject to change without notice. Past performance is no guarantee of future results. For my full disclaimer and disclosure, click here.
Disclosure: I have no positions in any stocks mentioned, and no plans to initiate any positions within the next 72 hours. I wrote this article myself, and it expresses my own opinions. I am not receiving compensation for it (other than from Seeking Alpha). I have no business relationship with any company whose stock is mentioned in this article.