Overview
Yesterday, the day that Disney (NYSE:DIS) released its massively successful film, Frozen, onto blu-ray/dvd/and digital home video, it's stock increased $0.60 (or 0.74%) to close the day at $81.99. This has become somewhat routine as Disney has outperformed both the Dow Composite and the S&P 500 so far this year, increasing 7.49% compared to 2.14% and 2.00%. Over the past five years, the results have been just as impressive.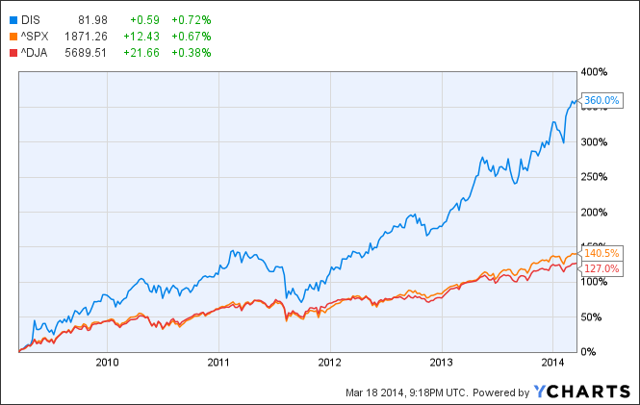 With this success, many investors are wondering if now is the time to sell their stock in this company. My belief is that the answer to that question is no. While there is always the possibility the stock could see a downturn with an overall market correction, there is nothing about this company to suggest that it will not continue growing its revenue and earnings for years to come. Because of this, I believe long term investors should hold onto this investment and I believe that Disney's current price is still an attractive entry point for long term investors looking to start a position.
Revenue/Earnings
Perhaps even more impressive than Disney's stock performance over the past several years is its strong history of consistently being able to raise revenue year over year, with only minor hiccups along the way. Looking at the chart below, you can see that over the past 20 years, Disney's increase in revenue has almost been a steady line up.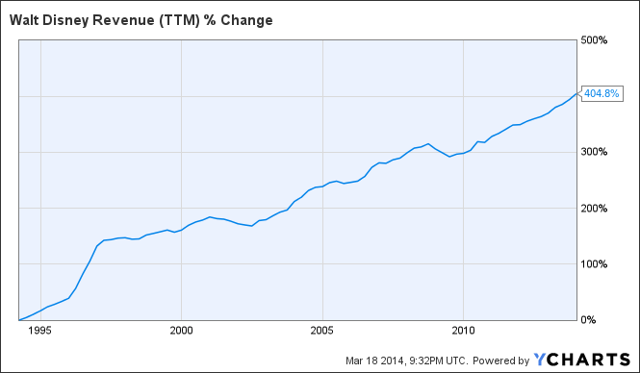 DIS Revenue (TTM) data by YCharts
The solid performance of Disney doesn't end with revenue. Disney has shown a strong ability to translate its increased earnings to its bottom line. As the company's revenue has increased over 400% over the past twenty years, it's earnings have increased well over 600% during the same time period.
What's important about this is not just the past performance of this company, but the fact that there is zero reason to assume that this same type of growth will not continue for the next several years.
That is why I don't think investors should worry about the current high price of Disney stock, as I have no doubt it will continue going higher. Now if a stock like Coca-Cola (NYSE:KO) (a stock that I currently recommend as a long term buy), had a 1 year price return near 50%, I most likely would no longer be recommending the stock because Coke is a slow growth stock. That isn't the case with Disney. The company has several projects, properties, and assets that will continue to be large money makers for years to come.
Frozen - The film was a massive hit that has made over a billion worldwide, but the money from this film will continue to pour in. One of the most popular video titles in 2013 was Wreck-It Ralph with over 4 1/2 million units sold equaling over $110 million in consumer spending. I fully expect Frozen to surpass those numbers, not to mention the large amounts of toys, clothing, and accessories related to this film that are not only selling, but selling out.
Other films -2014 - While many think that 2014 is a humdrum year for Disney films, I think a lot of people will be surprised at just how well some of these films do. If Thor: The Dark World is any indicator, the Captain America sequel should improve on the original's $370 million worldwide box office numbers and I'm guessing will end north of $500 million. Guardians of The Galaxy has received positive buzz from its trailer and looks to incorporate similar humor that helped make the original Iron Man a massive success. Maleficient is another film with quite a bit of buzz and I believe it will perform better than the 2012 film Snow White and the Huntsman which made $400 million worldwide.
Other films 2015 and beyond - I think its already accepted that 2015 is going to be a massive year for Disney at the box office with Cinderella, Avengers, Tomorrowland, Ant Man, The Jungle Book, The Good Dinosaur and of course Star Wars all slated to open. Also sequels to films like Finding Nemo, The Incredibles and Cars will continue to generate lots of revenue.
Theme Parks - The investments that Disney has put into its theme parks are paying off as attendance, revenue, and operating profit continue to rise. And as the company continues to expand internationally (Shanghai Disney Resort is set to open in December 2015), I believe growth in this segment will continue strong.
Media - Disney and Disney Junior are popular children's networks that not only bring in revenue dollars, but also continue to spur new sales in toys, etc. as the channels build strong brands such as Jake and the Neverland Pirates, Sofia the First, Doc McStuffins, etc. The strong list of shows and original programming has kept Disney the #1 kids channel for years. ESPN is also a strong channel, and even ABC has been improving with strong ratings (finishing #1 in two of the last three weeks) from recent shows such as Resurrection, Mind Games, and Trophy Wife, while more seasoned shows such as Grey's Anatomy, Scandal, The Bachelor, Revenge, etc. continue to perform well.
Dividend
Often overlooked in the discussion of Disney is its dividend. With a yield of just 1% its easy to dismiss the dividend, but that would be a mistake. After all, would you rather have a high yield stock with stagnant dividend growth when the yield is high simply because the stock price has fallen, or would you rather have a low yield stock whose with steady dividend growth and stock appreciation? I choose option number two.
| | |
| --- | --- |
| 12/12/2013 | $0.86 |
| 12/6/2012 | $0.75 |
| 12/14/2011 | $0.60 |
| 12/9/2010 | $0.40 |
| 12/10/2009 | $0.35 |
| 12/11/2008 | $0.35 |
| 12/5/2007 | $0.35 |
| 12/13/2006 | $0.31 |
| 12/8/2005 | $0.27 |
| 12/8/2004 | $0.24 |
| 12/10/2003 | $0.21 |
Looking at the table above, you can see that Disney's dividend has steadily grown at almost a yearly pace significantly over the past 10 years. The dividend is safe and is in no danger of being cut. And as long as the company continues to grow it's revenue, which it has been able to do consistently throughout its history, there is no reason to assume Disney won't be able to continue growing its dividend as well.
Conclusion
I can understand investors wanting to take profits when a stock and the market in general are at all-time highs, but I would caution against selling your entire position in Disney. All signs point to Disney continuing its trend of growing revenue, profit, and earnings for years to come, and while there is a chance you could get shares cheaper at some point with an overall market correction, there is also a chance that you will continue waiting for an entry price point that never arrives.
In my opinion, long term investors have no reason to worry in terms of holding or even acquiring new Disney shares at its current price. If you are unwilling or unable to hold shares long term in the event that a bear market arrives, it is understandable to perhaps sell some shares now, but if you have intentions of holding your position for several years, there is no need to sell as I'm confident Disney stock will continue setting new highs for years to come. As always, I recommend individual investors perform their own research before making any investment decisions.
Disclosure: I have no positions in any stocks mentioned, and no plans to initiate any positions within the next 72 hours. I wrote this article myself, and it expresses my own opinions. I am not receiving compensation for it (other than from Seeking Alpha). I have no business relationship with any company whose stock is mentioned in this article.