Lately, much has been written about the subject of whether the stock market is in bubble territory. Rest assured, the answer to the question is quite simple - of course, it is.
Based on any number of market valuation metrics, the stock market is significantly over-priced. So whether you're a fundamental buyer of equities or a technical trader, no serious argument can be made to dispel the fact the market is significantly over-priced.
Does this mean investors should take their profits and head for the sidelines? Surprisingly, it doesn't. But before we examine why, let's look at the evidence that suggests the market is over-priced.
Cyclically Adjusted Price Earnings (NYSEARCA:CAPE)
The CAPE metric, originally developed by Benjamin Graham and David Dodd and modernized by economist Robert Shiller, can be applied to broad equity markets as well as individual stocks. It is calculated by dividing a stock or index price by the average of ten years earnings on an inflation-adjusted basis.
Historically, the CAPE has averaged 16.3x earnings. The CAPE is currently trading at a price of 25.62x, a premium of 57.1% over the historic average. This leaves little doubt the market is over-priced.
Further, this valuation is unaffected by those claiming that new accounting standards have put a downward bias on earnings, such as Wharton's Jeremy Siegel. Siegel's claim the 10-year average of earnings is being unfairly penalized by deflated earnings levels from the Great Recession doesn't drastically impact current valuations.
Stock Market Capitalization/GNP
This tool is a favorite of famed investor, Warren Buffett, for good reason. This valuation metric measures the ratio of total US stock market capitalization to Gross National Product - note the use of GNP as opposed the more familiar GDP.
Buffett claims it is the best single measure of where valuations stand at any given moment in time. I think he's right.
The standard measure of Market Cap/GNP is broken down into five categories
Significantly Overvalued (SO): ratio > 115%
Modestly Overvalued (MO): ratio between 90% and 115%
Fairly Valued (FV): ratio between 75% and 90%
Modestly Undervalued (MU): ratio between 50% and 75% .
Significantly Undervalued (SU): ratio < 50%
The current value of this metric stands at 121.9% (significantly overvalued), and this is down sharply from 124.4% earlier this month. Clearly, this signal is saying now is the time to keep new money on the sidelines.
Economic indicators are also telling a story…
The following graph shows the relationship between real GDP and the growth of the money supply.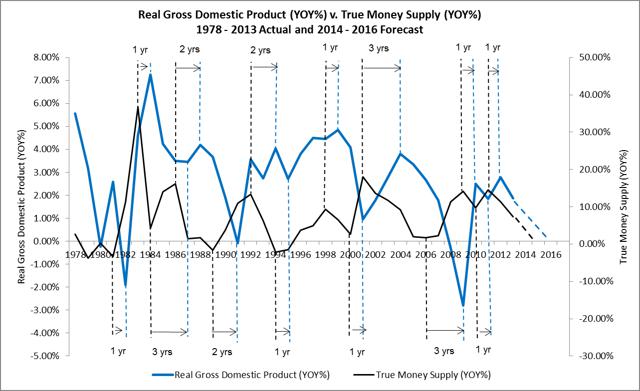 Source: RealForecasts.com
Real GDP peaks with a lag to the growth rate of the True Money Supply (TMS). So, GDP generally peaks from 1 to 3 years after the TMS growth rate tops.
On February 28th, the Commerce Department released its revised number for real Q4 2013 GDP, which was revised down to 2.4% from the original estimate of 3.2%. This means real GDP numbers gained only 1.9% in 2013 after rising by 2.8% in 2012.
The TMS has been increasing over the past two years, but at a relatively slower rate. Further tapering will likely decelerate the growth of TMS even further, setting the stage for the next credit crisis.
So where does the economy go from here?
TMS growth will likely approach zero in early 2015, setting the stage for a credit crisis near the end of 2015 or the beginning of 2016. And based on the one-year lag between the TMS growth and real GDP, the growth rate is should approach zero in early 2016.
And yet, for all of this, the markets remain at all-time highs.
The Chinese Factor
Investors are also slow to react to significant signs of a slowing Chinese economy. China's recent move to weaken its currency, with the yuan now trading at its lowest level in months, is a direct response to its worsening relationship with Japan.
China doesn't like "Abenomics" and its resulting impact on Chinese exports - which become more expensive compared to Japan. Thus, Japan's continued devaluation is causing a widening spread between the two currencies, as illustrated in the following graph: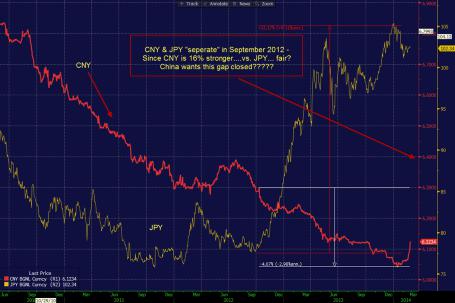 Source: Bloomberg
In order for Chinese exports to keep pace with current trends, China must continue to devalue its currency in response to Japan's Central Bank actions. By default, this will push Chinese GDP lower for the time being. Expect future Chinese GDP growth rates of about 5%, down from earlier estimates of 7.7%. While 5% is still very respectable growth, this level represents more than a 50% decline in GDP growth since 2010.
And still, the stock market has failed to respond appropriately to these developments.
So, let's go back to the original question: Should investors take their profits and head for the sidelines? Surprisingly, the answer is no. While I don't think it's prudent to put new money to work at these levels, this doesn't mean that investors should take profits and run for safe harbors. Why?
The FED!
The Fed has changed everything with its monetary policy.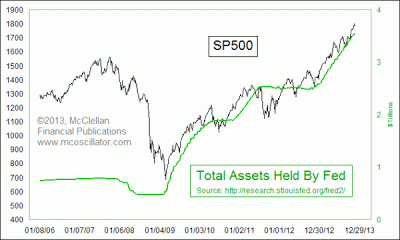 Source: Blogspot.com
The chart above shows a popular graph of the correlation between asset purchases and the broad stock market index, the S&P 500. Repeated rounds of quantitative easing have fueled stock gains to the point where all but the most die-hard Keynesians say prices are no longer reasonable. Simply put, asset prices are higher than fair value, based solely on fundamentals.
So, while companies are making large profits, the profits are not coming from higher sales, but rather from holding down costs - particularly labor. Thus, the Fed's monetary policy has fueled the better part of the stock market gains for the past three years, and not earnings as many assume. Therein lies the hook.
Assuming the Fed continues its tapering through the end of the year, the Fed will add another $500 billion of stimulus - taking the Fed's balance sheet to about $4.5 trillion. This means asset prices are likely to climb further in 2014, although at a slightly slower pace.
Does this mean they'll start falling once the Fed terminates its asset purchases? Again, the surprising answer is no.
The Fed's tests of the fixed rate full allotment overnight reverse repo market has gone exceptionally well, and has provided the Fed with a proven method of controlling short term interest rates well into the future. And keeping short-term rates is key to providing businesses with access to cheap money in the hopes that real GDP can turn a corner, and this will keep stock prices pumped for the time being.
Furthermore, with banks sitting on more than $2.5 trillion of excess reserves, in addition to the Fed's $4.5 trillion balance sheet, the Fed will be forced to keep a lid on those rates for several years to bring monetary policy back to normal levels - assuming they even intend to do so.

So while stock prices are too high, based on normal metrics, the game is not played the way it was in years past - and this means that higher highs could be in our future.
In the end, the Fed's policies will end badly, but for now, keep looking higher.
Disclosure: I have no positions in any stocks mentioned, and no plans to initiate any positions within the next 72 hours. I wrote this article myself, and it expresses my own opinions. I am not receiving compensation for it. I have no business relationship with any company whose stock is mentioned in this article.