As a value investor who loves technology, I often find myself poking around low P/E tech stocks hoping to find an opportunity. After reviewing a few tech large caps, I made a stop at Apple (NASDAQ:AAPL), whose stock has moved sideways for close to six months.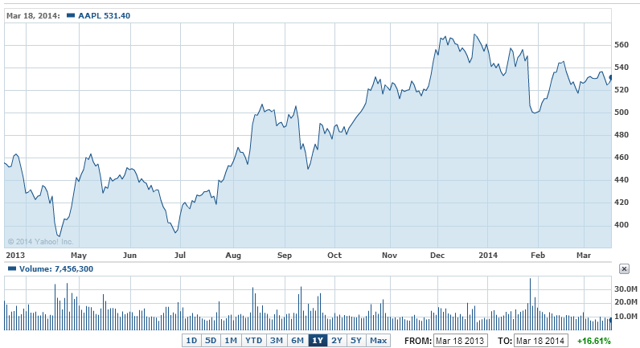 Source: Yahoo Finance
One of the ways I like to value a stock's price is by taking the historical forward P/E multiples and apply conservative averages to future analyst estimates. I was hoping to find that Apple's sideways movement had built in a lower forward P/E (implying future earnings growth on no stock return). However, I was disappointed.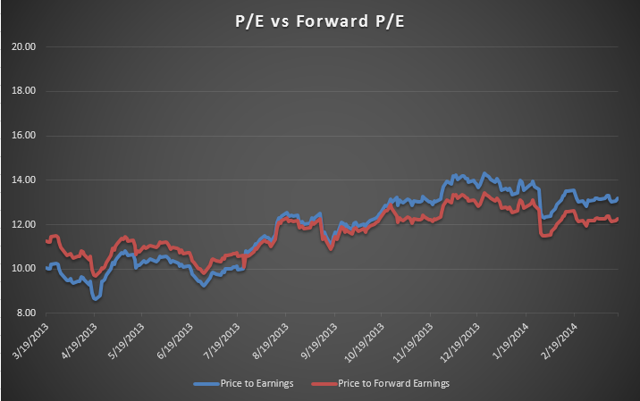 (Data is compiled from Yahoo Finance price history and CNBC forward earnings estimates)
Two things stand out with this chart. The first is obviously the stock is trading towards the high end of its 52 week forward P/E range. The second observation is that the gap between forward and trailing P/E is near its widest point (albeit narrow). This implies that analysts are expecting some earnings growth.
In order to develop an ideal conservative forward P/E, we need to look at the frequency, and consequently, probability distribution of Apple's stock.
While this chart indicates the most popular frequency of 12.25, I want to choose a forward P/E that the price is likely to trade at or higher. For that, I gathered each of these values into a probability distribution table.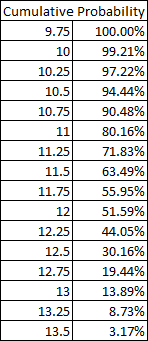 I like the 71.83% probability of a 11.25 forward P/E, as I tend to choose in the range of 65-75%. If we take this multiple and apply it to the forward earnings provided by CNBC (link above) and Nasdaq, we get the following results: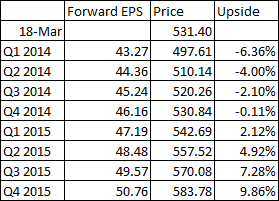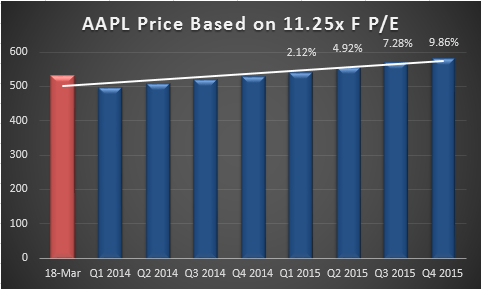 This was not the glitz and glamour I had hoped for, however, I could not be too surprised. In order to give Apple and its bulls the benefit of the doubt, I decided to run the analysis again, only go back with two years of data.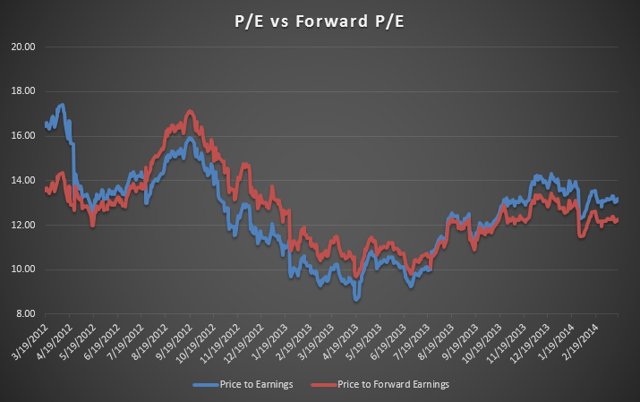 The company had good earnings in 2012, which is why Apple touched $700 per share, but in that spike, they appreciated their multiple (stock price grew faster than earnings) and the end result was unsustainable levels.
Expanding to two years of multiples changes the probability distribution data.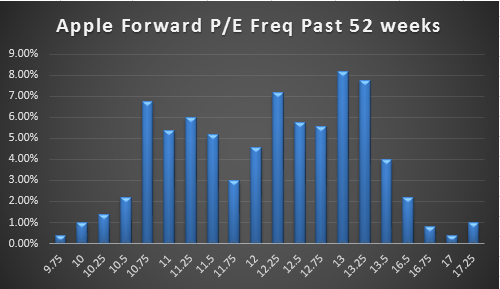 I'm going to be generous here and select 12.25 times forward earnings as my multiple despite it being outside my probability range.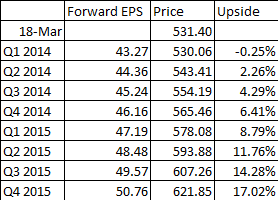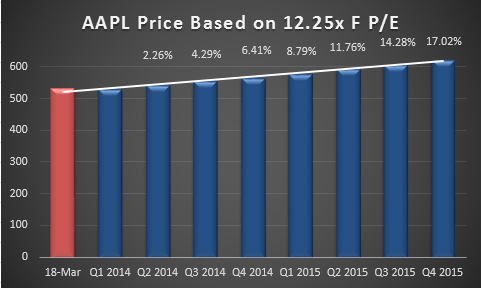 In my humble opinion, the second data set essentially places Apple at fair value with modest price growth through the end of next year. An additional note would be that Apple gets nearly half of its annual earnings from the first quarter, and since it is the most recent quarter reported, Apple shareholders seeing earnings surprises in Q2 and Q3 may be disappointed with a lack of share price appreciation until holiday guidance can be affirmed or increased.
Sign of Hope?
Since Apple is a mega-cap company, I wanted to compare some of its earnings metrics to comparable size companies.

Source: Fidelity Stock Screener
Apple is one of three companies with a $300 billion market cap or more. Based on the next four quarters of forward earnings, Apple is trading at the lowest. It's also second to Google (NASDAQ:GOOG) in terms of estimated earnings growth. Finally, Apple did have modest earnings surprises (not reflected on this chart).
This indicates that if Apple were to trade along the lines of its mega cap peers, its stock price would increase. Unfortunately, based on forward P/E history, as well as probability distribution, I have to be a hold on Apple.
Disclosure: I have no positions in any stocks mentioned, and no plans to initiate any positions within the next 72 hours. I wrote this article myself, and it expresses my own opinions. I am not receiving compensation for it (other than from Seeking Alpha). I have no business relationship with any company whose stock is mentioned in this article.