The yield on the 10-Year Treasury remains low but rose last week. Gold sets a new high last week at $1254.5. The euro is trying to rebound towards my quarterly pivot at 1.2450 to alleviate oversold conditions. Crude oil is trying to return to my annual pivot at $77.05. Stocks are trying to return to their June 3rd highs. To get those home buyer tax credits home sales must close by June 30th. Congress focuses on Financial Reform. The FDIC loses just one bank last Friday.
US Treasury Yields –It appears that the yield on the 10-Year is in a trading range between the 200-day simple moving average at 3.548 and the recent low yield at 3.061. On Thursday the US Treasury announces its next supply deluge and next week will auction $40 billion 2-Year notes on Tuesday, $39 billion 5-Year notes on Wednesday and $30 billion 7-Year notes on Thursday. Freddie Mac (FRE) reported a 4.72% fixed rate for its 30-Year mortgage last week with Bankrate.com at 4.84%. On March 31st the spread to the 10-Year was 115 basis points, today the spread ranges between 148 and 156 BPs.
click to enlarge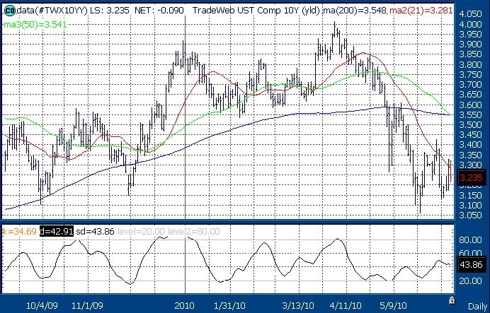 Chart Courtesy of Thomson / Reuters
Comex Gold – A close below the 21-day simple moving average at $1215.8 indicates risk to the 50-day simple moving average at $1186.5. Gold is consolidating last week's move to a new all time high at $1254.4. Semiannual support is $1186.5 with monthly and weekly resistances at $1265.9 and $1272.9.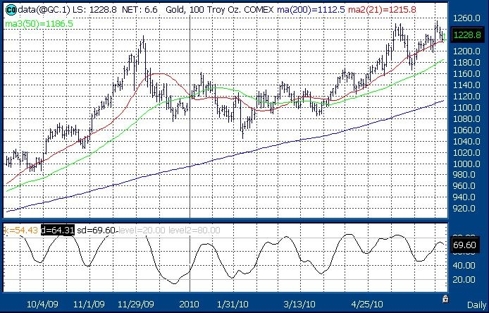 Courtesy of Thomson / Reuters
Nymex Crude Oil – shows rising MOJO on its daily chart with the 200-day simple moving average at $76.76. This week's support is $68.34 with my annual risky level at $77.05.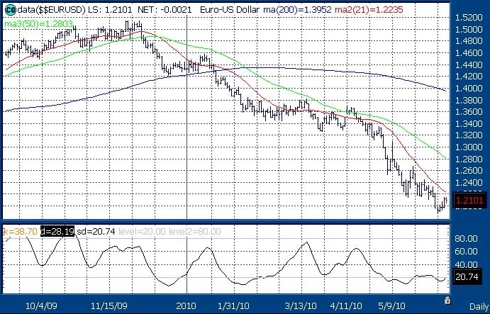 Courtesy of Thomson / Reuters
The Euro – is no longer oversold on its daily chart. Daily and weekly supports are 1.1899 and 1.1564 with quarterly and monthly resistances are 1.2450 and 1.2679.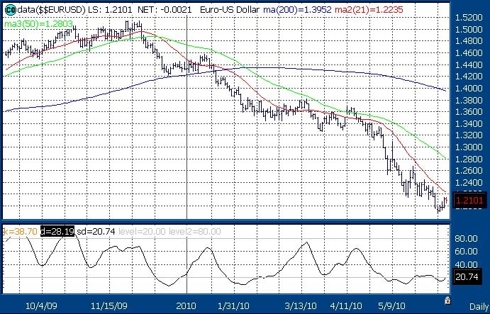 Courtesy of Thomson / Reuters
Daily Dow:The Dow could not take out its 200-day simple moving average at 10,299 on June 3rd, and this week's challenge is the 200-day, now at 10,313 with my annual pivot at 10,379. Rising MOJO means that a close today above the 21-day simple moving average at 10,201, which will target 10,313 and 10,379 with the 50-day 10,662. It seems that the April 26th high at 11,258 ends the bear market rally since March 2009, and starts the second leg of the multi-year bear market.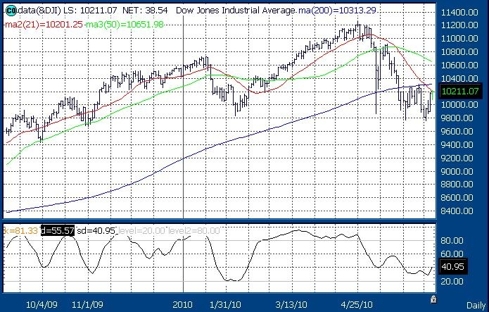 Courtesy of Thomson / Reuters
Going to Contract on Time - Remember the rush to go to contract to purchase a home by April 30th? There were two home buyer tax credits: $8,000 for first time homebuyers and $6,500 for existing home owners on the move. The catch is to close on that home by June 30th. Now that this date is just about two weeks away Congress is concerned that about 180,000 home owners may miss this deadline. That's an estimate from the National Association of Realtors. Remember that I predicted that many qualified home buyers who went to contract by April 30th would not close by June 30th?
Senate Majority Leader Harry Reid, realizing this point at the last minute, wants to extend the date to September 30th without reopening the tax credit to additional buyers. Reid introduced an amendment to a bill that would extend jobless benefits through the end of November. The Senate is expected to take up this amendment this week, but they have not secured enough votes to pass the jobless benefits bill.
The major issue for the 180,000 in closing limbo is getting final approvals for mortgages by July 30th. There are probably some who bought new homes that cannot be completed by June 30th. What was the reason for having a double-deadline in the first place?
Update on Financial Reform - Exotic trading, risk taking and credit card rules are among the issues lawmakers are considering in new Financial Regulations that are supposed to prevent another financial crisis. Unfortunately it appears that the final bill will not eliminate the mantra of "too big to fail".
Bank Failure Friday – There was only one bank failure last Friday, which was a private bank overexposed to C&D and CRE lending. The bank's real estate loan pipeline is 89.1% funded. The FDIC Deposit Insurance Fund (DIF) ended the first quarter of 2010 in arrears by $20.7 billion and so far in the second quarter $10.7 billion has been used to bailout another 41 banks. The cumulative loss year to date is $31.4 billion.
Only 25 banks failed in 2008, as the FDIC was slow closing community and regional banks.

There were 140 bank failures in 2009 with a peak of 50 in the third quarter.

In the first quarter of 2010 there were 41 failures, and so for in Q2 the total is 41 for a year to date total of 82.

At this pace bank closures in 2010 will be at the high end of my 150 to 200 estimate.

Since the end of 2007, the FDIC has closed 246 banks on the way to my predicted 500 to 800 by the end of 2012 into 2013.
Disclosure: No positions