On Dec 16, 2013, (NYSE:KKR) offered to purchase their "daughter" (KFN) for an all stock transaction, exchanging one share of KFN for .51 shares of KKR. Based on that day's close (KKR = $25.08), it implied a $12.79 take out price, a 35% premium to KFN's close of $9.45. Using today's prices would imply a more muted ~$11.95 take-out. A presentation on the transaction can be found here and a bullet point pro/con description is here. As described therein, KKR argued this was a benefit to KFN shareholders for the following reasons:
· Significant premium for KFN shareholders as of December 16, 2013 as well as on a trailing 30-day volume-weighted average closing price basis:
· 35% premium based on KKR and KFN's closing prices on December 16 (1-day premium)
· 27% premium based on volume-weighted average price from November 4 to December 16, 2013 (30 trading days)
· Multiple of 1.15x KFN's GAAP book value per common share of $10.42 as of September 30, 2013
· Materially enhanced trading liquidity
· Over the last 12 months, KKR's average trading volume has been over $40mm per day vs. approximately $10mm per day for KFN
· Ability to participate in value enhancement across KKR's businesses
· Opportunity to participate in the performance of all KKR businesses, including alternative asset management, capital markets and the KKR balance sheet
One can see in the chart below that KFN's share price was depressed around the time KKR made their offer. The shares traded as low as $8.91 on 12/10/11, a few days before the announcement, and closed at $9.45 on 12/16/13, the day of. Typically, partnerships exhibit year-end selling and last year was no exception. From, MLPs to BDCs, there was a general decline from mid-November to late-December. Partly, this is because some investors prefer to "reset" their K-1s each year avoiding the need to keep track of tax details. In addition, in the case of KFN, there was potentially some tax-loss selling. Prior to this "selling season," KFN share price was an average $10.71 on a YTD basis. While KKR stated that KFN shareholders were receiving a 35% premium, in reality that premium was more like 20%. Holding the 35% premium constant, but using a more "realistic" KFN price of say $10.5, would have implied a $14 take-out. However, that is not all.
KFN Share Price (1/1/13 - Present)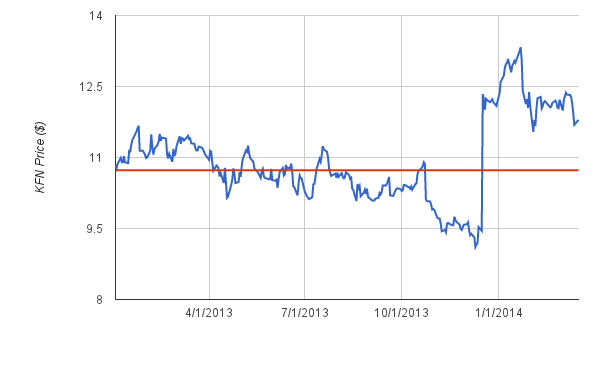 Looking at KKR's share price below, once can see that KKR was at quite a high level when the offer was made. From the beginning of the year, it had gone up ~60%. One might argue this was justified but the run-up starting in October was clearly meteoric. If one was to use a YTD average instead ($19.08 & $10.58, respectively), then the offer price ($9.73) would be a discount. It is hard to argue that KFN shareholders are getting a significant premium, like 35%, unless they were lucky enough to have bought shares in early December. KKR's timing looks quite fortuitous for KKR shareholders and less so for KFNs. As such, we discount the first two reasons for why this transaction benefits KFN shareholders.
KKR Share Price (1/1/13 - Present)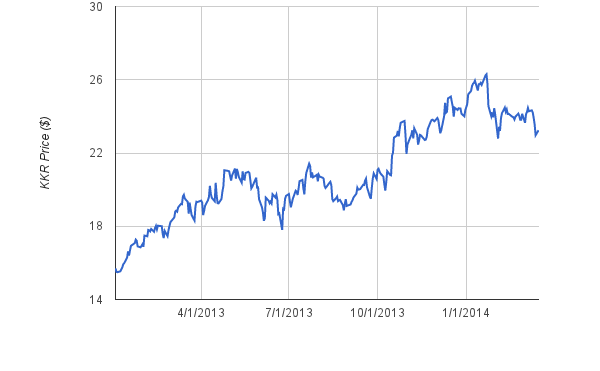 We wrote an article on KFN last November. We were looking for 20% upside this year but were also looking forward to substantial returns beyond. We admit to have traded the stock some and reinstated our long position recently. One of the selling points KKR made is that they are paying 1.15x GAAP book value for KFN (at $12.79 share price). At the current conversion price, however, and using Q4's increased book value for KFN, that premium is lower. Notwithstanding, we believe that KFN's book value is an underestimate.
First, and foremost, KFN has recorded oil and gas properties on their year-end balance sheet of about $400mn (10-k, page 153). Assuming this was done according to SEC standards, reserves and their value are based on the trailing twelve month (NYSE:TTM) average for commodity prices. The TTM price for Henry Hub natural gas was 3.73. This is in contrast to the FTM price of $4.67 imputed using actual prices YTD and CME natural gas futures. Needless to say, using SEC TTM pricing can have a big effect on the balance sheet. It not only decreases the value of reserves but also the amount. Some reserves will be labeled uneconomic at TTM prices, reducing the amount of reserves. In a nutshell, any transaction contemplated should consider the value of the assets in a more realistic pricing environment. This could easily increase the value of their properties by 25% in our view.
In addition, according to filings, the carrying value of KFN's corporate bond holdings are about $50mn below fair value. In addition, there are cases where fair value may be an underestimate. For example, KFN holds a desirable position in the senior debt of Texas Competitive Electric Holdings, LLC, a company that KKR led private a few years back but is now near insolvency. Those are on the books near 70c on the dollar but most experts believe the recovery value is much higher. Our estimate is that they are worth 90% of face value. Interestingly, KKR holds an equity position, which would most likely be worth little in a bankruptcy situation. Any transaction contemplated should have a detailed analysis of the true value of KFN's asset holdings. All total, we estimate that KFN's adjusted book value is closer to $11.5 vs the GAAP value of $10.58. Goldman Sachs appears to agree with us as shown by this SEC filing (See slide titled "Kevin Adjusted Balance Sheet). At today's offer price, KFN shareholders are receiving only a ~5% premium to our adjusted book value per share.
KKR Organizational Chart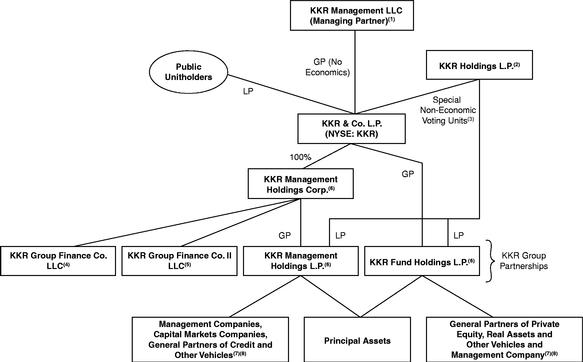 As the chart above shows, KKR is a fairly complicated structure. In particular, there are 693mn in what are called general partnership units, or GPUs. About 288 mn belong to the publicly traded KKR & Co., L.P. while the other 405mn units are KKR Holdings, L.P. which is controlled by KKR principals. KKR Holdings receives not only their portion of earnings as the diagram suggests but also receives interest from a "carry pool" which is similar to incentive fees that a hedge fund would earn. They also do not appear to have exposure to the debt issued through KKR Group Finance et. al. Finally, they have special voting rights in KKR & Co., L.P., effectively giving the principals control of KKR. From our interpretation, KFN will be a subsidiary of KKR Fund Holdings, L.P. While KFN will no longer have to pay a management fee, per se, it is unclear to us if KFN will be paying into the carry pool. Given that public KKR shareholders do not receive income from the carry pool, this is an important issue to be addressed prior to the merger. In addition, once KFN shareholders receive KKR shares, they will be on the hook for KKR's debts.
Once the conversion occurs, there will be 798mn GPUs. Looking at the presentation (page 9; as of Dec '13), it is stated that the merger would be 2% accretive to Total Distributable Earnings at $1.96/share (using the then street estimates for each). This implies that KFN earnings would have been $231mn for 2014 or $1.13/share. This compares with net income for 2013 of $1.31 for diluted common KFN share. Thus, it appears that KFN shareholders will experience earnings dilution not including any potential carry pool allocations. Using last year's net income of $2.40 (on full share count) for KKR, KFN earnings would need to be only $1.25 for the transaction to be "earnings neutral." Simply stated, for the merger to be beneficial to KFN shareholders, one has to believe that KKR (Co. + Holdings) earnings as a standalone entity will be at least 7 times that of KFN.
Using street estimates of $2.42 for the combined KKR-KFN (Q2 merger), implies a forward earnings estimate for KFN alone of about $1.35. Given today's conversion price of $11.95, this would imply that KKR is buying KFN at about 9x forward earnings. While KKR looks potentially cheap at ~10x forward earnings, it is hard to argue that KFN shareholders are being rewarded. Further, as KFN management stated recently, current investments in O&G, commercial real-estate, and maritime finance have a "J-curve" effect leading to substantial distribution growth starting in late 2014 and into 2015. This will now have to be shared with KKR shareholders. Finally, the current TTM dividend for KKR is $1.40 so, at the .51 conversion, KFN shareholders would only received 71c in contrast to KFN's TTM dividend of 86c. In our estimation, KFN's distributable cash flow, or DCF, was likely to exceed $1/share this year therefore KFN shareholder's will see a lower dividend after the merger.
The last bullet points in the KKR transaction summary are hard to quantify. KKR is a more liquid stock but it is not like KFN was illiquid. And the "ability to participate in value enhancement across KKR's businesses" sounds pretty nebulous to us. The main crux is that KKR's fortuitous timing of announcing this transaction along with the current deal valuation implies KFN shareholder's are not getting a significant premium for their shares. KFN's balance sheet is attractive including, amongst other things, an enviable funding schedule with no mark-to-market debt and no recourse maturity until 2036. If KKR had to replicate KFN's balance sheet in the open market, we seriously doubt they could do so at the current deal price. Once again, Goldman Sachs seems to concur, in this filing, where they discuss the difficulties KKR would have raising $2.5bn in equity/debt to finance the requisite asset purchases. Needless to say, buying KFN makes KKR's job a lot easier. In our view, a conversion rate of .6 would price KFN at $14/share representing a 22% premium to our NAV estimate and 10 times our forward earnings estimate. This seems more equitable to us.
Now will KKR raise their offer? They might but we would not bank on it. Unfortunately, we believe the transaction will be ok'd, as is, by other KFN shareholders although we hope that, after review, they will also press for a higher transaction price. If the transaction was to be voted down, then KFN could experience downward pressure but we believe it would be limited and is a better alternative at current levels. If the transaction does go through, it once again highlights the risk of investing in a "daughter" entity. You may think you are buying into equity with significant upside to only have it truncated by a merger into a larger "mother" entity.
Disclosure: I am long KFN. I wrote this article myself, and it expresses my own opinions. I am not receiving compensation for it (other than from Seeking Alpha). I have no business relationship with any company whose stock is mentioned in this article.