Royal Bank of Canada (NYSE:RY) added two senior European executives on Monday, hiring a new head of equities at its London-based investment bank, and head of investments in its wealth management group.
Nick Fothergill stepped up as RBC Capital Market's new head of European Equities, joining the dealer from Nomura, where he he ran the desk in London. Mr. Fothergill also worked as head of sales at Lehman Brothers and an aerospace analyst at Bank of America (NYSE:BAC).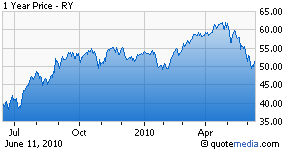 RBC Capital Markets has hired 140 professionals in Europe this year, picking off talent from global investment banks, and now has 1,000 employees in the region.
"We are expanding our business with the aim of building a significant presence in Europe across debt and equity origination, investment banking and sales and trading," said global head of equities Greg Mills.
In wealth management, the bank hired Tracy Maeter as head of investments, British Isles. She will be based in London and responsible for all the funds and investment strategies that RBC offers its clients. Ms Maeter joins the Canadian bank from HSBC (HBC) in London, where she was also head of investments, and led the team that covered wealthy clients. Prior to joining HSBC, Ms. Maeter was at J.P. Morgan (NYSE:JPM).
"This latest hire reflects our continued dedication to building out our British Isles onshore and offshore capabilities and to providing our clients with sound investment advice and access to a broad suite of funds, products and other investment vehicles," said Kevin Flanagan, head of investments for all of RBC's international wealth management groups.