InvenSense (NYSE:INVN), a specialized semiconductor company, is involved in the design and manufacture of MEMS-based motion sensors. It also offers microphone solutions for portable devices. We initiated our coverage on the company with a buy recommendation because of the future growth prospects of motion tracking in portable devices along with InvenSense's unique position in the motion tracking market and the fact that its products are featured in some of the leading smartphones in the industry. Our price target was $21 back then. This report will cover some recent developments, both financial and business, and the price target will be revised based on these developments.
Recent Financial Highlights
Revenue and Income
InvenSense recently reported the results of its 3rd fiscal quarter of 2014. Net revenue was around $66.7 million, an increase of 13.2% on a year-on-year basis. Despite the revenue increase, the company posted a net loss of $0.2 million as compared to a net profit of $16 million in the same quarter previous year. The decline in net income was mainly due to an increased level of R&D and SG&A expenses. The gross margin also declined from 52% to 47%, indicating either a decline in selling price or mismanagement of costs. However, the increased OPEX reflects that InvenSense's management is confident about the future growth of the company. The graph below depicts the OPEX increases in the recent quarter and the nine months ended December 2013: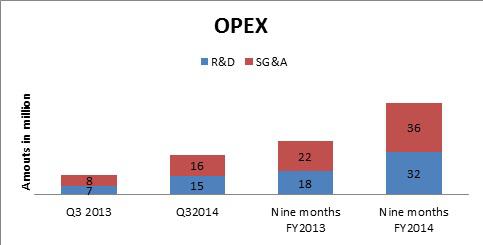 Source: Company's financial disclosures
Cash and Liquidity
The company has around a $96 million cash and cash equivalent balance (most recent quarter). The operating cash flow generated in the last twelve months is around $15 million which is expected to increase due to better future prospects of the company's business. The current ratio is around 5.04 as compared to the industry average of 5.09. InvenSense does not seem to have any liquidity problems.
Overall it seems that the company's financials will follow a growing trend because it is well positioned in the industry with a high growth rate.
Recent Developments
Litigation Settlement
The spotlight development is the settlement of patent litigation between STMicroelectronics and InvenSense. Not only this, both companies agreed to a patent cross license agreement. There are two major implications of this development from InvenSense's perspective.
The company will be able to save on quarterly litigation costs which will boost EPS. In the last earnings call, management disclosed that litigation provisions were $4-5 million per quarter for the foreseeable future. The improvement in EPS will surely affect the valuations of the company.
As a result of the cross licensing agreement, the IP portfolio of the company will be enhanced and having access to the wide range of patents from STMicroelectronics gives InvenSense a competitive advantage in the MEMS industry.
New Products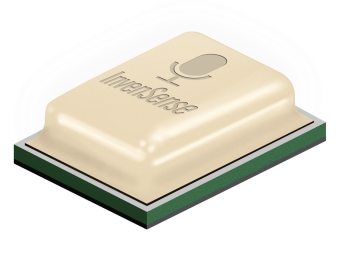 InvenSense recently introduced the world's first 70 dB MEMS microphone for consumer electronics. Management claims that the ICS-40720 is a high performance, ultra low noise and low power analog microphone targeted towards smartphones, tablets and notebook PCs. SNR, in simple terms, is a signal to noise ratio and a microphone with a high SNR will have low residual noise and hence, improved accuracy and recording quality. Moreover, ECM mics do not offer consistent response to sound across all operating temperatures. STMicroelectronics offers MEMS with SNR of around 61-63; this makes InvenSense's offering superior. If the company's claims are true then this product is differentiated and may result in design wins from different mobile OEMS.
AlwaysOn
InvenSense announced a new family of products at the start of the year 2014. These products are an AlwaysOn motion and audio solution that results in an enhanced user experience. For instance, in current phones the microphone shuts off and can only be turned on via hard or soft input. In an AlwaysOn microphone commands can be given without turning it on. The user experience is improved, and these products enable voice to be used as a complete user interface to communicate with a device. Think Google Glass, and you will gain perspective on the potential future growth of these products. The important factor for the AlwaysOn scenario is power consumption and according to InvenSense's recent press release:
"With a supply current of 17 µA, the InvenSense ICS-40310 microphone consumes less than half the power of the nearest competitor, making it ideal for a dedicated 'AlwaysOn' audio sensor".
The high SNR ratio, as mentioned above, makes InvenSense's offering preferable for devices that are meant to be contextually aware. The company has not only launched AlwaysOn products for smartphones it has also launched these products for the wearable sensor market.
The new product launches of the company appear to be differentiated, and we believe they will be the first choice of smartphone manufacturers like Samsung (OTC:SSNLF) and Apple (NASDAQ:AAPL).
Industry Outlook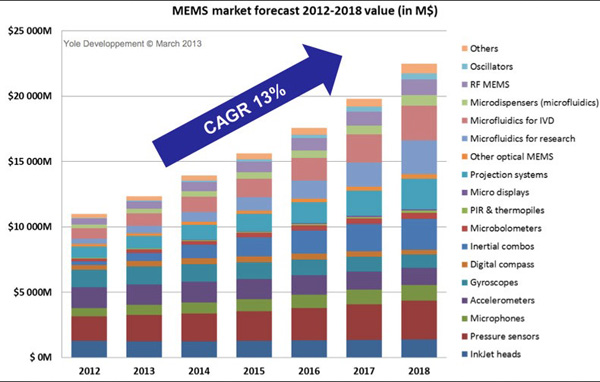 Yole Development predicts that the market of MEMS will reach around $22 billion (which is currently around $12 billion as per the same estimate). This translates to a 13% CAGR. Furthermore, TechNavio's analysts forecast that the global market for motion sensor for tablets will grow at a CAGR of 51.8% and the global consumer motion sensor market will grow at a CAGR of 15% over the period 2012-2016. TechNavio further claims that InvenSense is one of the dominating players of this industry along with Bosch GmbH and STM. In our view, STM offers a very wide range of products whereas InvenSense just offers MEMS sensors and microphones. This focus gives InvenSense an advantage over STM in the MEMS arena, and this is also evident from its recent microphone launch which is superior to STM's offerings. Moreover, the cross licensing agreement puts both these companies in a strong competitive position as compared to Bosch.
Valuation and Bottom Line
Assumptions
Cash flows and capital expenditure will grow in line with the analysts expected growth rate.
CAPM reflects the cost of capital of the equity and U.S. treasury rates can be used as risk free rate of return.
NASDAQ long term CAGR can be used as the overall market return.

The derived price target shows that InvenSense's stock has the potential to appreciate provided that the company maintains the expected growth rate. We believe that due to the growth prospects of portable devices, e.g. smartphone and tablets, along with the increasing demand of wearable devices InvenSense is in a good position to capitalize. The offerings of the company are quite competitive and rather differentiated, and we have no reason to believe that its market share will decline. In fact, it will most probably increase going forward. The recent low power microphones with higher SNR and AlwaysOn features will force OEMS to use InvenSense's products. As a result, the company will gain market share and generate revenues, which will in turn be reflected in the share price. Therefore, we hold our buy rating on InvenSense and revise the price target to $24.5.
Disclosure: I have no positions in any stocks mentioned, and no plans to initiate any positions within the next 72 hours. I wrote this article myself, and it expresses my own opinions. I am not receiving compensation for it (other than from Seeking Alpha). I have no business relationship with any company whose stock is mentioned in this article.
Additional disclosure: Equity Flux is a team of analysts. This article was written by our Technology analyst. We did not receive compensation for this article (other than from Seeking Alpha), and we have no business relationship with any company whose stock is mentioned in this article.