When I want to know what a company is up to and where it is investing, I always make it top priority to comb through the job listings. Very recently, Intel (NASDAQ:INTC) announced that it would be downsizing its workforce essentially by letting natural attrition happen. On the surface, this sounds like code for "hiring freeze", and it very well may be true in the non-technical side of things, but a look at Intel's job postings suggests that it is still aggressively hiring technical talent.
In short, Intel is very aware that its future is determined by the strength of its technology teams and it will not go hog-wild in cutting expenses today in return for a weaker position tomorrow. Say what you will about Intel and how it missed the first wave of mobile, but these guys are serious about winning.
Over A Thousand Engineering Jobs
Take a look at how many job postings that Intel has just in "Engineering":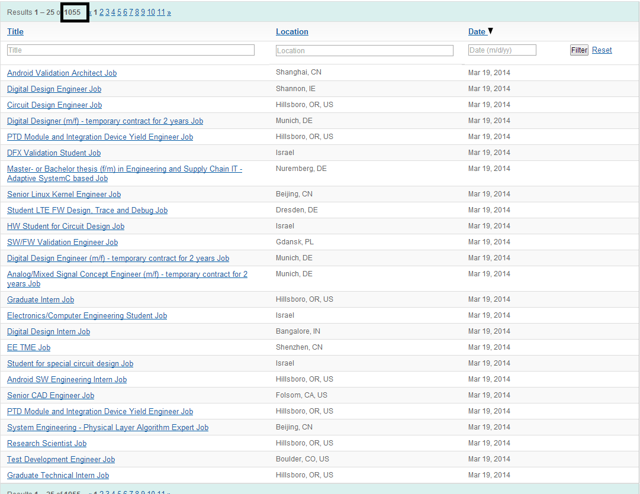 That's 1,055 positions Intel is presumably looking to fill, and if you'll notice, every single job on this page was opened on the 19th (and I'm sure post-publication more positions to fill will be put up). Does this look like a company that's "downsizing" or cutting into its technical bone? No! Intel, the company, is healthy and doing what it needs to in order to emerge from this period of uncertainty and competitive pressure stronger and more powerful. Of course, shareholders get the short end of the stick in the near term (believe me guys, I'm not happy about the share price performance), but this is how you build a company that's successful long term.
What Do The Employees Say?
I'll be upfront: I've never worked for Intel, so I can't speak to what it's like there. However, as an investor, I do care about how the company treats its employees (i.e. will top talent be easily lured away?), and I care very much about what the employees think of the top brass. Does that army of 100,000 individuals really believe in what the company and its management team?
Here's the Glassdoor rating for Intel across a number of vectors: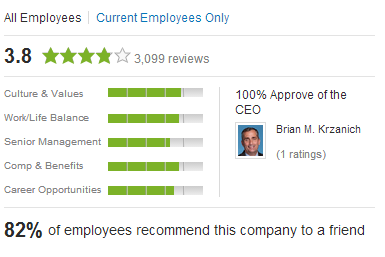 Intel scores pretty decently. It is noteworthy that the lowest score the company received is in "senior management" and the highest scores are in culture & values as well as work/life balance. To me, this suggests that Intel may be a little bit top-heavy, but do keep in mind that Brian Krzanich (current CEO) acknowledged this when he spoke about restructuring the company on his first conference call,
Just a few weeks ago, I announced a significant reorganization. The changes we've made flatten the organization, improved decision making and will contribute to a culture of even greater accountability. These elements are critical in the fast paced ultra-mobile environment.
Further, in an interview with re/code (published on January 2, 2014), CEO Krzanich had this to say,
"There are still a lot of things that slow us down-how we make decisions, the number of people who feel like they have to have a say," Krzanich said. "Those things get in our way sometimes."
So, it's clear that the new CEO at least understands what ails the company and has likely taken pretty significant steps over the last year to correct the problems. I would be much less enthusiastic if he did not address problems that existed within the organization (since as a shareholder I do like to know what's going on in the company that I own a piece of).
For reference, here's the Glassdoor review scores for some of Intel's nearest comps -- Qualcomm (NASDAQ:QCOM), Nvidia (NASDAQ:NVDA), and Broadcom (BRCM):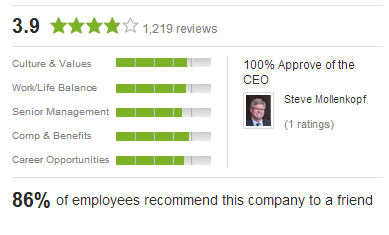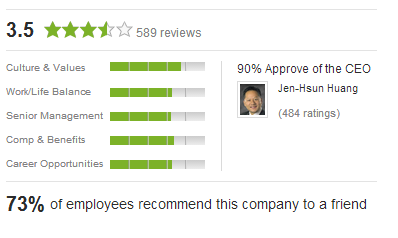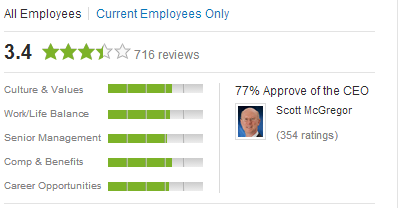 So, it's pretty clear that Intel employees are pretty happy relative to their peers at other, similarly world-class companies. As an investor, I don't worry so much about Intel's best talent getting poached.
Conclusion
What's the takeaway from all of this? Well, it's simple. Intel continues to hire technical talent, showing that it is committed to R&D even during these "tough" times. Good, focused R&D is the only way to come out of a slump or a fundamental business transition, and sometimes this means short-term pain for long-term gain.
Intel is also well recommended and employees seem happy, so there's not much of a worry about Intel attracting and retaining top talent. This is a world-class, top-notch, very rich company with an even richer heritage, and I think the doomsayers claiming that the company is going down without a fight are probably going to be proven wildly wrong longer term.
But shorter term? That's anyone's guess, although for a more detailed look on where I think Intel's stock could be headed over the next year, check out my article, "Intel: Justifying A $33 Price Target".
Disclosure: I am long INTC, NVDA, BRCM. I wrote this article myself, and it expresses my own opinions. I am not receiving compensation for it (other than from Seeking Alpha). I have no business relationship with any company whose stock is mentioned in this article.