UPS is Continuously Adapting
Today's business is evolving very rapidly and this makes it necessary for businesses to keep up with the fast pace by adapting their operations through innovative ideas and technologies. With strong contenders like FedEx (NYSE:FDX) the logistic industry is very competitive. Moreover emerging economies offer good growth opportunities but there is also the threat from new emerging logistic companies from emerging markets hunting for their share in the logistic market. As a leader in the logistic industry United Parcel Service (NYSE:UPS) is working on four transformation strategies to retain its leadership.
The company is deploying technologies to make its operations timely and cost efficient. Global trade is increasing and is especially fueled by emerging economies so UPS is expanding its global network to capture the growth opportunities available. UPS intends to invest an additional $500 million to enhance its network in 2014. The investment will be used in part for the modernization of its hub through sort automation and job simplification. Investments will also be used for facility expansion and would enhance the company's operational capabilities.
UPS is continuously learning how to serve the needs of end customers and extending new service features. UPS is also investing further to provide unique industry specific solutions to its customers such as healthcare distribution, high tech, and retail expansion and reverse logistic solutions. The company's acquisition of Polar Speed thermo logistics is another step forward to grab the specialized logistic opportunities. Polar Speed thermo logistics is a leader in active temperature-controlled pharmaceutical supply chain solutions in the UK.
UPS is a Quick Learner
Delays in package deliveries during the 2013 Christmas holiday season were a nightmare for UPS. The magnitude of the problem was great and it was not easy to escape public criticism. UPS had planned for an 8% increase in ADV but the actual growth was 14% and that was a shock for UPS. This network capacity challenge drove up costs. The 2014 operating cost is expected to increase by $100 million. To avoid such an occurrence in the future, UPS is working on better solutions to improve its peak planning collaboration with high impact customers. UPS is expanding its capacity, and it is modernizing its hub to sustain high volume handling.
UPS is speeding up the integration of ORION (On-Road Integrated Optimization & Navigation) system that would enable it to deliver parcels more efficiently. UPS is planning to make use of ORION in 45% of its routes by the end of this year. The system makes use of advance mathematical models, data planning systems, and customized map data to optimize driver routes. The system adds value by taking into account business rules, customer needs, and service commitments. This system also allows the "what if analysis" and decision making and is particularly useful in planning during peak times such as the Christmas holiday season. UPS has increased its development team to 700 people and this should result in increased operational efficiency.
Online Retail
Online retail is a growth area that UPS is set to capture. UPS is working on collaborating with retailers and through its innovative service features UPS is able to enhance customer experience. UPS MY Choice® is a service that has gained seven million members and UPS has already made 100 million deliveries. The following table shows that online retail is expected to grow by 10.1% in the US and by 14.3% in the global market and this growth is well above the GDP growth rate. UPS is well placed to take advantage of these opportunities.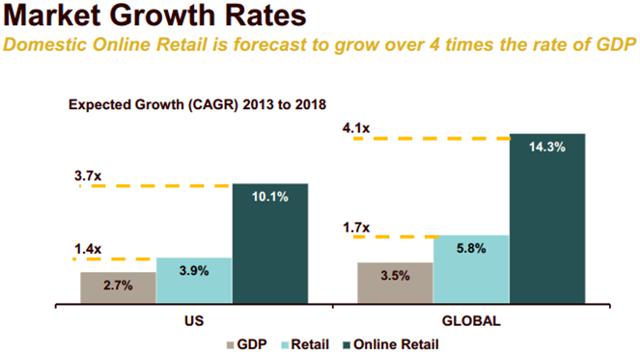 Click to enlarge
Source: Investor presentation
UPS Investment Pays Off
The following is the comparison of UPS's margins with that of the industry. Trailing twelve month and five year average gross margins are at 25.48% and 33.70% and are outstanding compared to the 9.59% trailing twelve month margin and 9.17% five year average gross margin of the industry. The five year average EBITDA margin is 12.69% compared to the industry average of 4.89%. TTM and five year operating margins are 12.69% and 9.17% compared to the 2.61% TTM and 2.09% five year operating margin of the industry. Net profit margins are also well above industry averages. These stats are a clear testimony to the fact that UPS is a very efficient logistic giant that is not easy to compete with.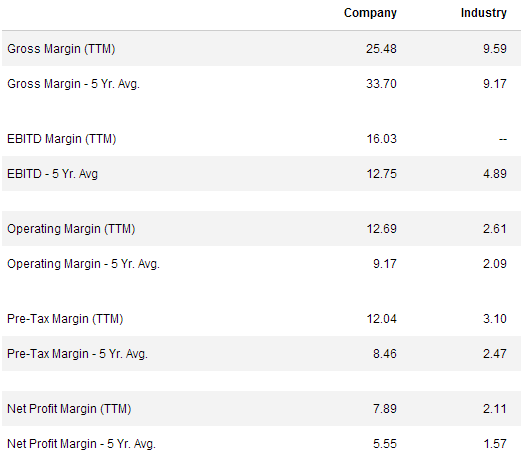 Strong Cashflows and Payouts
UPS is running a strong and efficient business that consistently produces strong cashflow as can be seen in the exhibit below. With the exception of 2006 and 2007, when the operating cashflow was reduced to a low level, UPS produced healthy cash flows in the last nine years. UPS continued its capital spending to sustain its competitive edge and all of the years are shown in the table below. With the exception of 2005 and 2006 there have been positive free cash flows.

Click to enlarge
(Data source: Morningstar.com)
UPS is sharing its success with its shareholders, as can be seen in the table below, with its consistently growing dividend and optimal payout ratio. The dividend grew at a CAGR of 9.2% over the past nine years. The stable business with its strong competitive edge, strong and consistent cash flow stream, and consistent payout of dividend is all that a long-term investor is looking for.

Click to enlarge
(Data source: Morningstar.com)
Valuation
The following table shows the mean and median valuation made by 23 brokers. The mean and median targets are both around $108 reflecting an upward potential of around 9.86%. If realized, the high target price will yield a 24% return on the current price level. Even the lowest target price is above the current market price of the company's stock.

Conclusion
UPS is a market leader with a strong competitive edge over its rivals. It is well placed to capture the opportunities presented by the strong growth in online retail in developed markets and from rapidly growing emerging markets. UPS has proven itself able to overcome the challenges in the past and it is expected to continue to do so in the future. With an optimistic outlook, forecasted upward price potential, and a history of strong cash flows and dividend payouts UPS is a good long term investment opportunity.
Disclosure: I have no positions in any stocks mentioned, and no plans to initiate any positions within the next 72 hours. I wrote this article myself, and it expresses my own opinions. I am not receiving compensation for it (other than from Seeking Alpha). I have no business relationship with any company whose stock is mentioned in this article.