Earlier in the month, Barron's suggested that Berkshire Hathaway (NYSE:BRK.A)(NYSE:BRK.B) represented better value than Icahn Enterprises (NYSE:IEP) for investors. Both companies are run by billionaire investors and reported strong earnings for 2013. At the time, Berkshire Hathaway traded at 1.3 times book value, whilst Icahn Enterprises traded at a 40% premium to its "indicative net asset value". But should Icahn's recent outperformance make you think twice before choosing Berkshire Hathaway over Icahn Enterprises?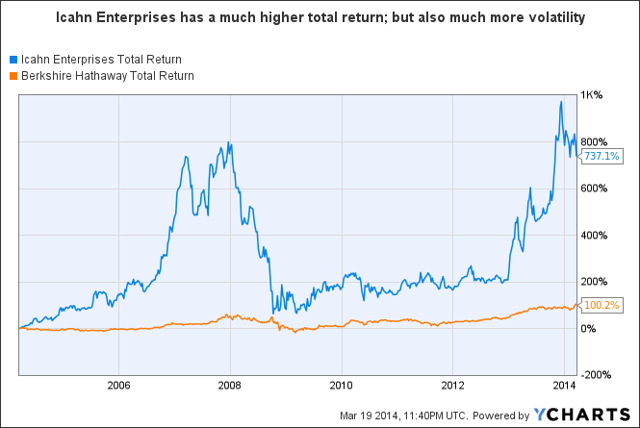 Click to enlarge
IEP Total Return Price data by YCharts
Icahn Enterprises
Icahn Enterprises has had a much higher total shareholder return (assuming dividends are reinvested, and before the effect of taxes) of 737% over the past 10 years, compared to Berkshire Hathaway's total return of 100%. Icahn Enterprises has $3.7 billion invested in various proprietary investment funds. Since its inception in 2004 and until the end of 2013, the investment funds return have returned 257%, which represents an annualized rate of return of 15%. Its return in 2013 was 30.8%, and contributed 79% of the partnership's net income.
| Year | Gross Returns |
| --- | --- |
| 2013 | 30.8% |
| 2012 | 6.6% |
| 2011 | 34.5% |
| 2010 | 15.2% |
| 2009 | 33.3% |
| 2008 | (35.6%) |
| 2007 | 12.3% |
| 2006 | 37.8% |
| 2005 | 17.9% |
| | |
Icahn claims to find undervalued companies using the Graham & Dodd methodology; but unlike most value investors, it also seeks to actively campaign for changes in the management of the target companies. Currently, its largest equity positions include: Apple Inc. (NASDAQ:AAPL), Forest Laboratories (NYSE:FRX), eBay (NASDAQ:EBAY), Chesapeake Energy (NYSE:CHK) and Herbalife (NYSE:HLF). Similar to Berkshire Hathaway, Icahn also seeks to gain majority control of some of its equity investments. Today, its major subsidiaries include CVR Energy, CVR Refining, Federal-Mogul and American Railcar Industries.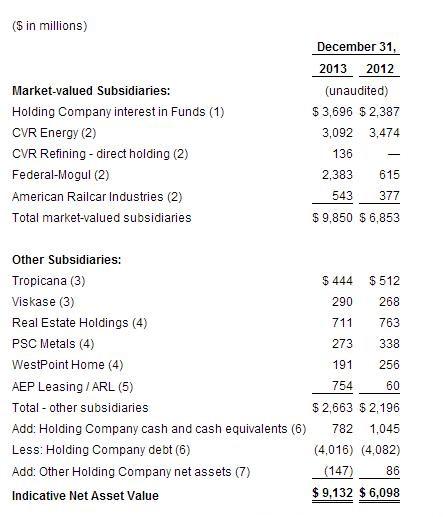 Source: Earnings release
Equity attributable to Icahn Enterprises was $6,092 million at the end of 2013, implying a price-to-book ratio of 1.94. But, as with Berkshire Hathaway, book value may not be representative of the partnership's intrinsic value. The company also provides an indicative net asset value, based upon the market values of its equity stake in various subsidiaries and the book value or market comparables of other assets. In 2013, indicative net asset value rose 50% to $9,132 million. This would imply that Icahn Enterprises currently trades at a 31% premium to its indicative net asset value.
Structured as a master limited partnership, Icahn Enterprises pays a quarterly distribution to its limited partners. In February, the board increased its quarterly distribution by 20% to $1.50 per depositary unit. Its units currently offer a distribution yield of 5.9%. It is also worth noting that Carl Icahn, himself, owns more than 85% of the partnership, which explains why its limited partner units have limited liquidity.
Berkshire Hathaway
Insurance is Berkshire's core business, as it provides the company with a cheap source of funding. The 'float' of premiums received upfront can be invested for the insurer's benefit at no ('direct') interest cost, until it is used to pay claims in the future. Although payments to claimants reduces the 'float,' as Berkshire grows and writes new business, its 'float' had greatly expanded. At the end of 2013, that 'float' had grown to more than $77 billion. The insurance business also earns income from its underwriting profits, which represents the excess of premiums collected on claims made. Berkshire's insurance operations have made an underwriting profit in the past 11 years; and in 2013, its operating profit was just over $3 billion. This underwriting profit is particularly noteworthy, given that the property and casualty insurance industry as a whole is currently operating at an underwriting loss.
Berkshire Hathaway's book value per Class A share was $134,973, at the end of 2013. But, Warren Buffett believes the company's intrinsic value "far exceeds its book value," and the difference between intrinsic value and book value has "widened considerably in recent years." Although Buffett refrains from disclosing his estimate of Berkshire's intrinsic value, he provides two additional quantitative indicators.
In 2013 our per-share investments increased 13.6% to $129,253 and our pre-tax earnings from businesses other than insurance and investments increased 12.8% to $9,116 per share.
He does, however, imply that intrinsic value exceeds 120% of book value, by reiterating its pledge to aggressively repurchase its own shares if Berkshire's share price fall below that level. No shares were purchased in 2013, because its stock price had not fallen below the 120% floor it had effectively set.
Berkshire's largest non-insurance businesses include: Burlington Northern Santa Fe (BNSF), one of the largest railroad operators in North America; and MidAmerica, an international energy holdings company. This is in addition to numerous manufacturing, retailing and finance subsidiaries. Together, these companies generate pre-tax profits of more than $15 billion, and represent a significant proportion of the value in Berkshire Hathaway. The combination of these assets, with its insurance business and investments often leads to difficulties in valuing the conglomerate.
To get a rough estimate of the indicative net asset value of Berkshire Hathaway, we should not value its non-insurance and investment assets at book value, which tends to give a valuation far below their expected market prices. A multiple on pre-tax profits would be a far more efficient method, and is simple to calculate. I have given much thought in how to value Berkshire's insurance business and investments, which generated a pre-tax profit of $7.8 billion. Here, I have decided to stick with the book value approach, despite the benefit of the insurance 'float'. Buffett has suggested that the 'float' should not be regarded as strictly a liability, as it offers intrinsic value to the firm. But, the value of the 'float' can only be maintained if the company continues to write new business and/or make underwriting gains to the extent to which it offsets the reduction in the 'float'; as claim payments are made and underwriting losses, if any, arise. The 'float' does, in a sense, 'belong' to policyholders after all. Although in the meantime, it can be used as a cheap source of funding for the benefit of the firm.

Click to enlarge
If we assume the insurance and investments are worth roughly their book value, and we use a 13.0x multiple on pre-tax profits from non-insurance and investment businesses, we arrive at an estimate of indicative net asset value of $322 billion. This measure should more closely represent the value of the Berkshire's assets, compared to a pure book value approach. You are, of course, able to use your own assumptions to estimate Berkshire Hathaway's indicative net asset value. But, my estimate implies a indicative net asset value of $196,034 per Class A share, which is 6.4% above the current stock price.
Invest in Berkshire Hathaway or Icahn Enterprises?
Carl Icahn does have a tremendous investing track record, but Icahn Enterprises still trades at a substantial premium to its indicative net asset value, which makes an investment in Icahn Enterprises somewhat unattractive at current prices. Icahn Enterprises' smaller size does make it more nimbler, and allows it to keep more focused positions, which could potentially generate much greater returns. The main attractions of Icahn Enterprises are its hedge fund investment strategy and its shareholder activism approach. In the short- to medium-term, the partnership may benefit from its core focus on cyclical industries, and the potential for further improvements in operational efficiency in its subsidiaries. But, as we have seen from the recent recession, it also makes an investment in Icahn Enterprises much riskier.
This is whilst Berkshire Hathaway's stock trades at a modest discount to my estimated net asset value, and the company pledging to repurchase shares if the stock price falls to 120% of book value. Its announcement to repurchases shares, backed by its $43 billion cash hoard, has effectively set a floor on the company's stock price. The market has great confidence in Berkshire's management and its ability to repurchase shares. This significantly reduces the downside risks to investing in Berkshire Hathaway. With this in mind, I would have to agree with Barron's suggestion that Berkshire Hathaway is currently more attractive. But should Icahn Enterprises trade closer to its indicative net asset value, I could be tempted to reconsider.
Disclosure: I have no positions in any stocks mentioned, and no plans to initiate any positions within the next 72 hours. I wrote this article myself, and it expresses my own opinions. I am not receiving compensation for it (other than from Seeking Alpha). I have no business relationship with any company whose stock is mentioned in this article.