The recent market volatility has really beaten down some biotech stocks. With the S&P, Dow, NASDAQ, and Russell 2000 down close to 5%, with some wild swings, the selling had been vicious. It seems that biotech stocks have taken a disproportional beating over this same period, shedding their aggressive gains seen in the first few months of this year in a very short time. This global can be represented by the losses in more popular biotech ETFs over the same time frame: IShares NASDAQ Biotechnology (NASDAQ:IBB) is down 11%, First Trust AMEX Biotechnology (NYSEARCA:FBT) is down 13% , and finally the Biotech HOLDRs (NYSEARCA:BBH) is down 15%. Apart from individual factors for each company, the market's woes are what probably caused an unprecedented ASCO sell-off this year, with the most popular ASCO stocks shedding 20% or more within a few days.
What does this all mean? In a broad sense, nothing. Stocks go up and down for a variety of reasons, and what we have witnessed recently seems to be a culmination of overbought technicals, market conditions, cyclical patterns, ASCO, and the general summer doldrums. "Sell in May and go away", they say. Although apparently exacerbated by the market's troubles, this selloff should not have been a huge surprise: Many biotech stocks rise in anticipation of some key clinical data presented at ASCO, and tend to fade away when investors lose their enthusiasm. In fact, overall biotech stocks tend to have a cyclical pattern, where there is thought to be an established cycle to biotech where biotech stocks tend to rally in the last 3 months of the year (ending January/Feburary of the following year) and sell of slowly after that. An interesting analysis of this cycle is described here.
Looking at the charts of the biotech ETFs, it is obvious that we are at the end of this cycle. What was a surprise was how early and rapid it was. Although picking bottoms is risky, I have seen bargain prices on several good biotech stocks that are too good to resist. Fundamentally, nothing has changed for these companies, only the price of their shares. Right now there are some bargains too good to pass up, and the longer time frame investor can pick up some shares to hold, looking forward to catalysts approaching near the end of the year, right as the biotech cycle begins to pick up steam again.
A cautionary word, however: The general market is still struggling. Fear is causing people to shy away from more risky investments, which biotech certainly is. Look at the prices of many of your favorite biotech companies in March 2009. I wish I had the insight to buy these stocks at the bottom, and I am now looking for the chance to do so again. A fear driven market can drive good companies to irrational lows, so there may still be some pain to come. My recommendation is to set a target final position for these stocks, keep accumulating them if the prices continue to decline, and stop accumulating them when they are no longer bargains.
Risk aversion has and will continue to drive a decline in biotech, until the market sentiment changes. I personally feel we are undergoing a bottoming process right now. The market seems to be stuck between the lower limits seen in the wild dips of recent weeks (S&P at 1040, Dow at 9800, NASDAQ at 2150) and an upper limit we hit our head on during rally days (S&P at 1090, Dow at 10200, NASDAQ at 2300). I expect that we will bounce around in these ranges for a couple more months during this bottoming process and then will begin to gain upward momentum. The signal for the resumption of the uptrend in biotechs is NASDAQ itself. Look for the signals described in this article as NASDAQ leadership will drive the exit from the market doldrums. However, since many biotech stocks are on the NASDAQ exchange, they themselves will be participating in the rally. Patient investors who buy in the coming weeks before NASDAQ leads us out of this correction will see greater rewards.
In my opinion, it is a good time to start accumulating these oversold biotech stocks. As I stated before, nothing has fundamentally changed about these companies. In some cases, things have even improved. In some cases there may be no near term catalysts to rally the price of these stocks, but in all cases there are at least some forward looking catalysts that will drive the stock which will (hopefully) coincide with a more optimistic market and the resumption of the upswing part of the biotech cycle in fall.
Here is a short list of stocks that have had large sell-offs recently and are currently trading about 50% off their peaks:

Celldex (NASDAQ:CLDX)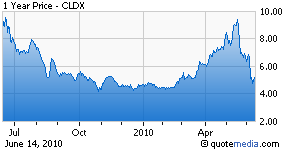 Celldex was an ASCO star; clarity was brought to top line data presented and was deemed robust by the scientific community. Many investors are confused by the 25% ASCO sell off, which brings the stock about 50% from its peak of over $9 in mid-May. I believe that this sell off is due to the factors discussed above, and right now CLDX is at bargain prices.
The Phase II trial data for its cancer vaccine CDX-110 [PF-04948568; a collaborative effort with Pfizer (NYSE:PFE)] to treat glioblastoma multiforme (with EGFRvIII mutant) is very strong. They reported 70% of patients on the drug were alive and had not progressed at 8.5 months (from diagnosis and surgery). This is quite an accomplishment for a vaccine, given that glioblastoma multiforme is the most aggressive type of brain tumor with a typical progression free survival (for patients with EGFRvIII mutant) of 6.3 months under current standard of care.
The next catalyst driven my CDX-110 will likely be the initiation of the phase III trial. Pfizer made an upfront payment of $40 million with a $10 million equity investment in the CLDX to develop CDX-110. Pfizer is funding all development costs, and CLDX will receive more milestone payments. Upon commercialization of CDX-110, total milestone payments will be $390 million, as well as double-digit royalties on any product sales.
CDX-011, their other drug in phase II, is an antibody-drug-conjugate against glycoprotein NMB (GPNMB) to treat metastatic breast cancer. This drug has shown very good results in both GPNMB positive breast and negative cancer patients: Progression free survival was 9.1 weeks for GPNMB negative patients, and 17.3 weeks for GPNMB positive patients. Celldex has created a companion diagnostic for GPNMB to select patients in their planned Phase IIb trial of 120 patients. The initiation of this trial would be a nice catalyst. CDX-011 is also being investigated for treating melanoma. Recently, CLDX announced early phase II results from 34 patients that showed a response rate of 15 percent at the less frequent dosing schedule and 20 to 33 percent response in the more frequent dosing schedule.
CLDX also has two other antibody-drug conjugates in its pipeline: CDX-1307, and CDX-1401; any news on these should be a catalyst. CLDX has 2 more upcoming presentations in New York, Jefferies and Needham. Roth Capital maintains a BUY rating with an upgraded price target of $15 for CLDX.
I recommend investors take a stake in CLDX at these bargain prices and hold for a slow, steady climb as we approach the next biotech up cycle towards the end of the year and enjoy a few news-driven pops along the way.
Biodel (NASDAQ:BIOD)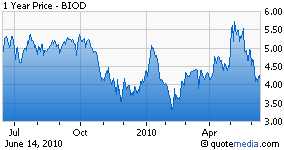 Biodel stock has been beaten down from from $18 to the $4 range on problems with a subgroup of data from their controversial pivotal phase III trial for VIAject which compared it to regular insulin at meal time. I discussed Biodel in great detail in this article and this article.
The stock will surely have a run-up towards its October PDUFA date for VIAject. What is currently holding the stock back is the concern from the Indian portion of the data from the phase III study, which met its primary endpoint in all the other data collected. The Indian data was rife with errors due to sample mishandling and was submitted to the FDA in the VIAject NDA in a modified form accounting for the discrepancies. Investors are worried that the FDA will reject the NDA based on the Indian data.
However, investors should take some comfort in a closer look at the data: Biodel will be presenting findings from a number of studies at the American Diabetic Association meeting on June 25th-June 28th. One of their abstracts goes into more detail describing the controversial Indian data. The abstract describes data from the 6 month study in 471 patients conducted in USA (n=327), Germany (n=60) and India (n=84) that demonstrates the efficacy of VIAject. The data shows that VIAject reduced A1C levels in a similar way but also reduced 2-fold the hypoglycemic events. Patients treated with VIAject gained significantly less weight than regular insulin. They also clarify that pain at injection site caused by VIAject declined during the course of the study.
This data should be a catalyst to give investors clarity and comfort leading into the PDUFA date this October, which is the upcoming major catalyst. The recent trading range for BIOD has been above $6 on the high end, and $4 on the low end. Right now in the $4 range, it is a good buying opportunity. As I recommended in the $4 range before, I recommend again that investors take a stake in BIOD at these bargain prices and hold for a slow, steady climb as we approach the October PDUFA date. BIOD stock should have a nice rally if investors take comfort in the data presented at the ADA conference.
Mannkind (NASDAQ:MNKD)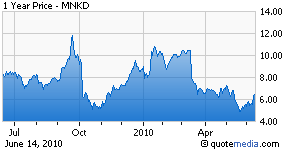 Although I have been a vocal critic of MNKD's Afrezza, an inhaled form of insulin, in this article and a follow-up article, MNKD has recently approached value pricing in my mind. After reaching a peak of over $10, MNKD fell off a cliff in mid-March when the FDA announced it is delaying its decision. This sparked insecurity and doubts about Afrezza's approval, and in the following months, MNKD stock slid down below $5. Despite my criticisms, I am willing to buy MNKD in the $5 range, in line with a risk-weighted assessment of the situation. We may finally see some progress with the FDA for Afrezza by fall; this would be a major catalyst for a rally in MNKD. I do not believe approval is anywhere close to a sure thing, based on my discussion in the above articles, but in the $5 range the risk becomes worth the reward. An FDA rejection at $5 is likely to cause a 40% haircut, but that is much better than the 80% haircut it would receive if it was at $10. Prices above $10 are very likely if Afrezza receives approval. Mathematically, if you believe the chances of Afrezza are at least 50% (about where I put them), then you have the right risk-reward ratio for a speculative investment.
Recently, MNKD has been trading over $6. The recent run-up is caused by rumors that MNKD is meeting with the FDA and the FDA is going to set a decision date. There are no validated claims by MNKD or anyone else to support this rumor. When nothing happens in the next couple weeks, I expect the stock to fall back down to the mid to low $5, maybe even overshoot it a little, as impatient investors exit. For me, this would be a great entry point, looking forward to some progress with the FDA, perhaps a new PDUFA date or even a surprise outright approval based on internal talks/action with MNKD. I plan to buy and hold MNKD at these levels until there are more developments.
Pozen (NASDAQ:POZN)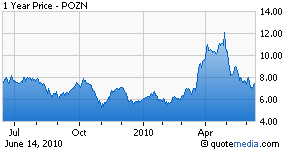 Pozen is down about 40% in the last few weeks after the positive announcement that the FDA approved Vimovo. Vimovo is a fixed-dose
combination of enteric-coated naproxen and immediate-release
esomeprazole. Vimovo is indicated to provide pain relief for osteoarthritis, rheumatoid arthritis, and ankylosing spondylitis in patients at risk of developing gastric ulcers. Vimovo was designed to provide the pain relief benefits of the pain-relieving nonsteroidal anti-inflammatory drug naproxen, while providing protection against developing gastric ulcers associated with chronic NSAID use by including esomeprazole magnesium, a proton pump inhibitor in the formulation.
Nexium is a $5 billion-a-year drug, but is losing patent protection. AstraZeneca has been trying on several fronts to extend the life of its Nexium by developing novel formulations. Vimovo decreases the risk of developing gastric ulcers in patients taking NSAIDs- a very large market. Vimovo was created in collaboration with AstraZeneca (NYSE:AZN), and triggered a $20 million milestone payment from AstraZeneca to Pozen.
Investors responded viciously with a sell-on-news event, followed by more bad news about the patent infringement suit against Teva Pharmaceuticals (NASDAQ:TEVA). Pozen settled its legal dispute about Teva's desire to market a generic version of Treximet (sumatriptan/naproxen sodium), which is marketed by Pozen's exclusive U.S. licensee, GlaxoSmithKline (NYSE:GSK). Under the terms of the settlement, only the suit against Teva by Pozen will be dismissed, still leaving the door open for generic Treximet.
These events in a general market downturn have been devastating to Pozen shares, but there are several silver linings in these clouds. First, Vimovo sales should be quite significant, and with a partner like AstraZeneca doing the marketing, sales should be successful and royalties to Pozen should be substantial with little expense to Pozen. A couple weeks ago, the FDA delayed approval of Axanum, a drug combining Nexium with aspirin, requiring more information. Thus, AstraZeneca will really have to focus on Vimovo sales.
Second, GlaxoSmithKline will continue to sell Treximet even in the face of a generic. Treximet will maintain its market penetration for quite some time before the generic is widely accepted; sufficient time to allow income from Vimovo sales to fill the gap by end of the year when Vimovo reaches the market. Treximet sales pale in comparison to the potential in Vimovo. Treximet sales were $86 million in 2009 and licensing revenue to Pozen was $6.9 million during the first quarter of 2010. Although this is still much needed money, Pozen will receive up to $260 million in milestones plus royalties. Vimovo licensing revenue is expected to approach $30 million annually based on the target or $300 million annual Vimovo sales by 2014. So any loss of Treximet sales is not a significant issue.
Finally, Europe should also approve Vimovo by the end of the year, which would be a good catalyst. So by the time the biotech cycle begins again in the fall, there will be plenty of catalysts to drive a sustained rally for POZN. As investors realize that Treximet sales didn't fall off the face of the earth, and sales of Vimovo make Treximet sales look like a drop in the bucket, they should be comforted. I anticipate POZN will be profitable in early 2011, which would be another catalyst. Also,, with its current low market cap, POZN is an excellent buyout candidate; it seems logical that AstraZeneca could just buy POZN for $400 million ($12.50 per share) rather than pay out the $260 million in milestones and $30 million per year in royalties if Vimovo sales reach the expected $300 million. Recently Jefferies & Co. analyst upgraded shares of Pozen to "Hold" from "Underperform" and reaffirmed a $10 price target.

Disclosure: I have a long position and am continuing to patiently accumulate shares in all of the mentioned stocks as outlined.