Regular readers of my columns know that I like stocks between $3 and $5 within my small cap portfolio. This level offers plenty of "under the radar" picks that receive scant analyst coverage. In addition, many institutions are prohibited from owning equities that are priced under $5. Equities that breach that level can pick up significant momentum as new buyers come into the market for their shares.
I, and hopefully some of my followers, have had some huge gains in recent years from stocks spotted in the range. These include Himax Technologies (NASDAQ:HIMX) and GT Advanced Technologies Inc. (GTAT). Both were highlighted near the $3 a share level, and now fetch close to $20 a share.
Trying to continue this tradition, here are a couple of attractive small cap stocks going for just under $4 a share.
I continue to like the long-term prospects of Abraxas Petroleum (NASDAQ:AXAS). I have owned the shares since I picked them up near $2 a share last summer. The shares are nearing $4 a share and seem to be in a breakout mode. The shares continue to be my "Best Idea" over at the TheStreet.com.
Abraxas Petroleum is a small (~$470mm enterprise value) E&P concern, with acreage in most of the core shale-producing ranges in the United States.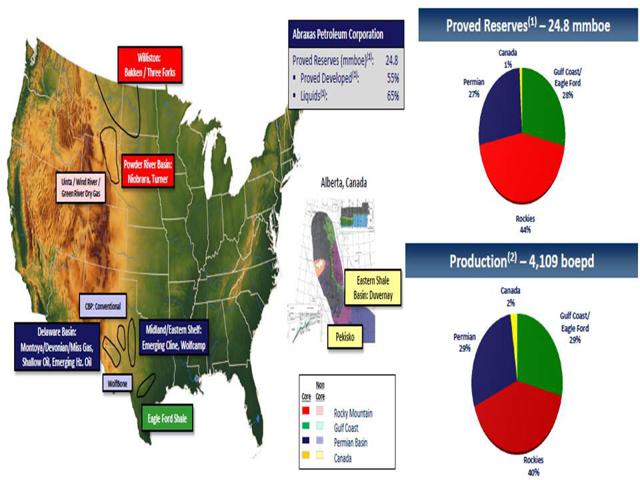 Source: Company Investor Presentation
The stock has been on the move recently, as the company reduced its debt load some 40% by selling some non-operated Eagle Ford assets. The stock also got a nice upgrade to "Accumulate" over at Global Hunter from "Neutral" after a positive conference call, where Abraxas raised its production guidance for 2014.
Earnings should be up more than 150% Y/Y to 30 cents a share in FY2014. Analysts believe earnings will post another 40% gain in FY2015. Revenues are consistently growing above the 20% level. Even after the stock's recent run, AXAS is priced at less than 8.5x FY2015's consensus EPS.
Sonus Networks (NASDAQ:SONS) is a recent addition to my small cap portfolio. Sonus is a VOIP (Voice over Internet) communication equipment provider. The stock is starting to get noticed, as it recently published plans to raise its operating margins from under 3% currently to 10% by the end of 2015. Obviously, this would have a major impact on earnings and valuation.
The company has done a great job moving out of the lower-margin/slow-growing Gateway market into the higher-margin/faster-growing SBC (Session Border Controller) space. This market is expected to grow in the 25% to 30% annual range over the next five years. In 2011, only 20% of Sonus' revenues came from this sector. This number is now in the 55% range and continuing to grow as a percentage of sales.
Sonus also has a fortress balance sheet, with over $200mm in net cash on the books, which represents more than 20% of its overall market capitalization. The company is showing positive cash flow and is profitable at current levels. The company is seeing annual revenue growth in the 8% to 10% range.
If Sonus can achieve its margin goals, the stock should move substantially above its current ~$3.60 a share level. Jefferies has a $5 price target, but believes the stock could eventually see $10 a share. Finally, Oracle bought SBC-maker Acme Packet last year for a significant premium. Sonus has less than a $1B market capitalization, and would be a bite-sized acquisition for a larger player.
Disclosure: I am long AXAS, SONS. I wrote this article myself, and it expresses my own opinions. I am not receiving compensation for it (other than from Seeking Alpha). I have no business relationship with any company whose stock is mentioned in this article.