Introduction
In this article I'll have a closer look at Franco Nevada (NYSE:FNV) again, as the company has just reported on its results for 2013. I'll provide my view on the company's financial results and the status of its balance sheet. Thereafter I will briefly discuss the outlook for Franco Nevada which will result in my conclusion at the end of this article.
All images in this article were sourced from the company's press release.
My view on the financial results
In the financial year 2013, Franco Nevada sold just over 241,000 gold-equivalent ounces and reported a revenue of $67M from its oil and gas assets. This brought the total revenue for the year at $401M which is just 6.5% lower than in 2012 even though the gold price nosedived. Fortunately the cost of sales was relatively stable and the administrative costs decreased slightly. However, as Franco recorded an impairment charge totaling $143.6M, the net income dropped by 90% to just $11.7M or $0.08/share.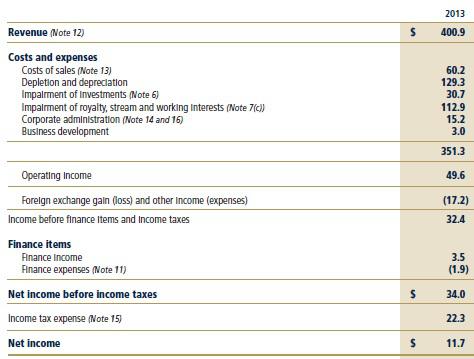 As most of my readers know, I always like to have a look at the cash flow statements of a company as well, as I believe those statements offer a better indication of the quality of the underlying business. This is especially the case when companies are recording impairment charges, as those are non-cash charges. So when looking at the cash flow statements, Franco Nevada generated an operating cash flow of approximately $293M before changes in working capital. As the capital expenditures in new assets were just $135M, the company was essentially free cash flow positive to the tune of $158M in 2013. Approximately 2/3rds of the free cash flow was distributed as a dividend which emphasizes Franco Nevada's goal to reward its shareholders.

My view on the balance sheet
Moving over to the balance sheet, Franco Nevada had a working capital position of $861M as of at the end of 2013, with a current ratio of almost 18 which is extremely high. Keep in mind a ratio higher than 1 means the company has sufficient current assets to cover its current liabilities, so I don't expect any financial difficulties in the near term. I don't expect any in the longer term either, as Franco Nevada's amount of total liabilities was just $81.1M.

The book value was slightly lower than $21/share at the end of December, which means the company is effectively trading at 2.25 times its book value which isn't exactly cheap even though Franco plans to increase its gold-equivalent production numbers by 25% within five years.
Outlook
Franco Nevada has guided for a gold-equivalent production of 245-265,000 gold-equivalent ounces and $60-70M coming from its oil and gas assets, but I care more about the company's five year plan. This longer-term plan is guiding for a total production of 300-325,000 gold equivalent ounces by 2018 which would be a 25-30% increase from the 2013 output. The additional ounces will come from the Cerro Moro and Detour Lake mine in respectively Argentina and Canada and the successful startup of First Quantum Minerals' Cobre project in Panama.
Additionally, the board of Franco Nevada has approved to increase the dividend by 11% to $0.20 on a quarterly basis instead of the monthly dividend of $0.06/share right now. According to the company this change was implemented to reduce the foreign exchange exposure risk, but I'm not entirely following this explanation, as having 12 dividend payments per year versus 4 actually reduces the forex risk as you'll incur the dividends at 12 different exchange rates instead of just 4 throughout the year.
Conclusion
Franco Nevada will keep on growing towards its target of 300,000+ gold-equivalent ounces in 2018. However, it will be mandatory for shareholders to keep a close eye on the development projects in Franco's portfolio, as for instance the New Prosperity project has been shot down by the Canadian government.
In my previous article, I recommended to write a P35 January 2014 for $0.50 and a P30 July 2014 at $1.25. The share price of Franco Nevada was higher than $35 at the expiration date in January and the written put option expired worthless for a 100% gain. Looking at the current share price of Franco, it seems very likely the P30 July will also expire worthless, pocketing another 100% gain. As the current share price is quite high, I'm waiting to write more put options until the option premiums improve.
Disclosure: I have no positions in any stocks mentioned, and no plans to initiate any positions within the next 72 hours. I wrote this article myself, and it expresses my own opinions. I am not receiving compensation for it (other than from Seeking Alpha). I have no business relationship with any company whose stock is mentioned in this article.
Additional disclosure: I have no position in FNV but wrote a P30 July 2014.