On Tuesday, Barclays' downgraded Cisco (NASDAQ:CSCO), moving its price target from $25.00/share to $23.00/share. Since the Barclays' downgrade Cisco's shares have actually held their ground and outperformed the market. CSCO's current share price of 21.63 is still roughly 6% less than Barclays' new price target. Analyst Ben Reitzes spoke about CSCO shares been possibly "range bound" in the short term due to uncertainty in the IT sector, citing "uneven demand trends, secular headwinds, and a lack of major catalysts." The downgrade was highlighted by a projected support range in the low 20's because of Cisco's $0.19/share quarterly dividend which yields 3.51% at CSCO's current stock price. For shares to move higher Barclays' believes that Cisco will have to prove itself in regard to its current transition taking place in its major product lines, cloud services, and SDN.
(click to enlarge)
*the yellow line represents the time of the downgrade.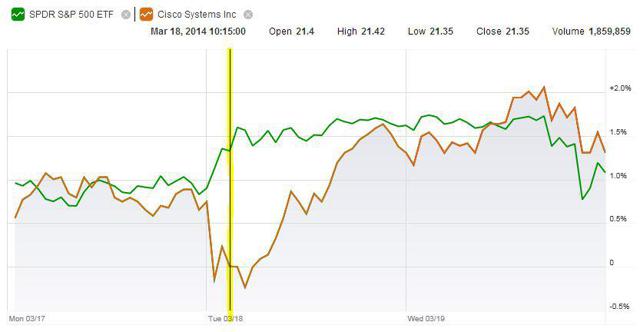 Cisco currently makes up 1.70% of my personally managed portfolio. When I see a major bank or research group downgrade one of my holdings it is cause for concern and I knew that I would have to take a closer look at CSCO to see if anything has changed since my original purchase in December last year ($21.29 entry point). I bought CSCO because I believed the tech giant offered me more exposure to an industry that I like long-term while simultaneously giving me a safe dividend above 3% with great opportunity to grow. I knew moving into the stock that CSCO had been beaten down and required a restructuring of its products and services to maintain its position as a leader in its field. I'm not entirely surprised to see downgrades after the company's most recent quarterly earnings report and the conference call associated. Cisco did beat analyst estimates on both the top and bottom lines during Q2 2014 with an EPS of $0.47/share versus the $0.46 expectation and $11.2B in revenue, beating estimates by $170M (this $11.2B total was -7.4% Y/Y). I try not to worry too much about analyst estimations, my focus in on company fundamentals and whether or not I think a business is trading at an evaluation less than its actually worth.
To do this, you have to take a look at the numbers, and here's what I saw. Overall, Q2 did not bode well for Cisco. The company posted negative Y/Y revenues in many of their core segments and the company's forward guidance for Q3 also pointed towards negative earnings growth, although their figure of -6-8% was right in line with analyst estimates. During Q2 Y/Y product orders basically declined across all spectrum: Americas down 5% with the public sector seeing s 4% decline (education increased 4%, but U.S. Federal decreased 16%), the Asia-Pacific region also saw a 5% decline highlighted by an 8% decline in China, the Europe, Middle East, Africa, and Russia region declined 2% with apparent positive momentum in Northern EU and the U.K.. Several of CSCO's largest business segments, switch sales (39% of product revenue) and router sales (21% of product revenue) fell 12% and 11% Y/Y respectively. The company's service provider business suffered in the quarter as well with the segment declining 12% Y/Y with SP video orders down 20%, and SP orders excluding video down 7%. All in all, there was a lot of red in the Q2 statement showing the need for continued change within the business.
With regard to business transition, I am happy to see that CISCO and its upper management are so willing to change. Push back against innovation and an unwillingness to make drastic changes to product line or business model seems to be major difference between the "old tech" that continues to be market laggards and "old tech" who make breakthroughs as far as market sentiment and stock price appreciation goes, think Microsoft (NASDAQ:MSFT) and the pop that the stock got yesterday on announcement concerning release date of its Office platform apps for Ipad or Hewlett-Packard (NYSE:HPQ) who received a Barclays' upgrade based on possible market share expansion in the x86 server market. Right now the "old tech" companies who are willing to reshuffle their decks and use their massive size and cash holdings as means to become disruptive forces in the market are being rewarded. I don't see the overall focus of tech investors shifting away from growth towards fundamental stability in the near future and showing the ability to be nimble in the tech space is necessary for the older giants until investors see the need to find more defensive shelter.
As far as Cisco goes, CEO John Chambers made several statements during the Q2 conference call that show promise in regard to Cisco's willingness and ability to change:
"First, our willingness to change and disrupt. You heard me say for at least two years, the pace of change has become exponential. Multiple transitions are occurring at the same time requiring Cisco to transform on multiple fronts faster than we have done before."

"Change has always been good for Cisco and our track record for transforming ourselves, both as a company and as leaders, is unparalleled. We are as close to our customers and partners as ever. We understand their challenges and where they need us to be there, and we are using this position to build the products, solutions and platforms to meet the demands of the market. This to me, has always been the key leading indicator of future success and financial results, and gives me confidence that we will emerge as the number one IT company. "
But, enough negativity, let me focus on several of the positive aspects of Q2 for investors. As a shareholder I am happy to hear Chambers adamantly speak about CSCO creating shareholder value. In the Q2 conference call Chambers said that CSCO is "committed to returning at least 50% of cash flow annually to our shareholders." During Q2 14 Cisco set a record for dollars returned to shareholders: $4.9B. Obviously, as an owner, I am glad to hear this. Cisco raised its dividend by 11.7%, from $0.17/share quarterly to $0.19/share. If you know anything about my investment philosophy you know that dividend growth is paramount. CISCO, who didn't pay a quarterly dividend in 2010, has been a dividend growth stalwart in recent years more than doubling its dividend in 2012 and 2013. The growth pace has slowed, but the company is still increasing its payments in the double digits and maintains a healthy TTM payout ratio of 44.5. After adding $15B to its authorized buy back program in Q1 2014 CSCO bought back $4B worth of its own shares in Q2. This comes after a $2B share repurchase in Q1 14 and a $1.2B repurchase in Q4 13. It is obvious that CISCO is committed to returning value to its shareholders through both its buyback program (which I expect to continue, especially with its current depressed share price) and growing its dividend.
Another positive for investors are CSCO's fundamentals. The company trades at a TTM P/E ratio of 14.3 and a forward P/E of 13.6. On an ex-cash basis Cisco is trading at an even more attractive multiple: roughly 8x. These figures are significantly lower than its peer group whose average P/E is 17.3. The company boasts attractive 1 year and 5 year EPS growth rates: 24.71% and 7.27% respectively. CSCO's margin numbers to lag their peer group slightly, but the company boasts a 58.94% gross margin and a 17.07% net margin TTM. Q2 non-GAAP gross margin was 61.3%, which fell nicely into the company's expectation of 61-62%.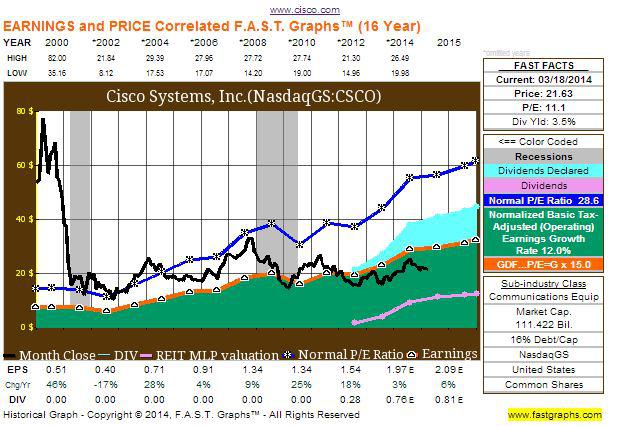 Source: F.A.S.T. Graphs
From a technical perspective, CSCO is trading in line with its 20 day SMA and EMA. Cisco's current RSI is slightly below the mid point, neither considered to be strongly over bought nor over sold.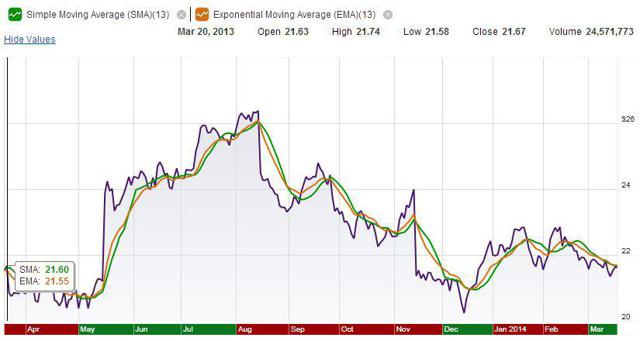 CISCO began to show progress in streamlining its operations with its Non-GAAP operating expenses falling 9% Y/Y in Q2 as the company focuses on an overall business transition towards simplicity and efficiency for itself and its customers. The company also had a positive highlight with the announcement of double digit booking growth in its advanced cloud infrastructure portfolio of products. Chambers feels strongly that Cisco is able to offer customers a unique cloud experience saying, "While our peers' talent workload mobility within their proprietary cloud offerings, only Cisco can enable organizations to combine and move workloads, storage, compute and applications across different clouds and hypervisors, securely, with all the associated network and security policies." Data center and security revenue were another bright spot during Q2 with data center posting 10% revenue growth Y/Y and security posting 17% growth, both with impressing order growth rates to boot.
So, after having looked everything over, I've come to the conclusion that in regard to the overall picture, not much has changed since my entry into the stock, and surely not enough for me to sell my shares. I wanted a safe dividend in the tech sector and I still have a safe dividend in the tech sector. When it comes to dividend growth companies doing nothing and allowing re-invested dividends to compound is usually be best course of action. Yes, the there is still restructuring work to do, but the company recognizes this and seems to be taking steps to solves its issues. Chambers was exceedingly positive when speaking about CSCO's transition progress saying, "As we move into this next era of the Internet with our customers, our commitment to you is to invest to sustain our industry leadership position while balancing the evolution in our business and a very strong focus on shareholder return." This focus on shareholder return is what keeps me in the stock; I want to generate a reliably increasing stream of passive income with my portfolio and I believe that owning CSCO helps me to achieve this goal. I do worry that such high levels of shareholder return will be difficult to sustain for much longer with the business under performing, but I am a believer in the turnaround potential of this company, especially with its heavily loaded balance sheet and wide reach within the IT services sector. I think the company will move away from several of its under performing segments; its video SP for example, and I like the prospects of the architectural services due to the wide scale of benefits that CSCO's portfolio offers customers and I think that there will be a continued move into the security sector which will be a hot spot for growth for tech companies moving forward in this vastly digital world. I'm not adding shares at this point because I am satisfied with my exposure to this company. But, I feel comfortable re-investing my dividends and would strongly consider adding shares if the company tests the support in the low 20's that Reitzes mentioned.
Disclosure: I am long CSCO. I wrote this article myself, and it expresses my own opinions. I am not receiving compensation for it (other than from Seeking Alpha). I have no business relationship with any company whose stock is mentioned in this article.