Horizon Pharma (NASDAQ:HZNP) had a truly transformational year in 2013, and is set to deliver strong revenue growth and achieve non-GAAP profitability in 2014. The company successfully marketed Duexis and Rayos, acquired the rights for Vimovo from Astra Zeneca in November 2013 and recently acquired Vidara Therapeutics for $660 million. Duexis, Rayos and Vimovo have clear advantages over its competitors that may enable Horizon to grow its top and bottom line significantly in the next couple of years, and Vidara's Actimmune provides a meaningful increase in the company's expected revenue in 2014. Although Horizon is up more than 700% in the last twelve months, there is still room for a significant increase in its share price going forward, since the valuation is still quite attractive.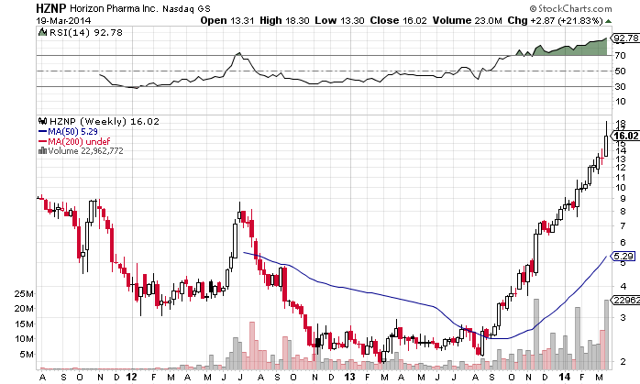 Source: Stockcharts.com
Company overview
"Horizon Pharma is a specialty pharmaceutical company that has developed and is commercializing products to primary care, orthopedic surgeons and rheumatologists. The company markets Duexis, Rayos/Lodotra and Vimovo, which target unmet therapeutic needs in arthritis, pain and inflammatory diseases. The company's strategy is to develop, acquire or in-license additional innovative medicines where it can execute a targeted commercial approach among specific target physicians while taking advantage of its commercial strengths and the infrastructure the company has put in place."
Duexis is approved by the FDA to treat signs and symptoms of rheumatoid arthritis (NYSE:RA), osteoarthritis (NYSE:OA) and to decrease the risk of developing upper gastrointestinal ulcers in patients who are taking ibuprofen for these indications. Duexis was approved in April 2011, and has been the strongest growth driver for the company in 2013, with $59 million in net sales for the year, as opposed to $10.3 million in 2012.
Rayos was approved by the FDA in July 2012 to treat polymyalgia rheumatica, psoriatic arthritis, ankylosing spondylitis, asthma and chronic obstructive pulmonary disease and a number of other conditions. Rayos is known as Lodotra outside the United States and is currently marketed by Mundipharma. Full launch of Rayos in the U.S. began in late January 2013, and net revenue for the year was $5.8 million.
On November 18, 2013, Horizon Pharma entered into agreements with AstraZeneca to acquire the rights for Vimovo. Vimovo (naproxen/esomeprazole magnesium) was approved by the FDA in April 2010 for the relief of the signs and symptoms of rheumatoid arthritis, osteoarthritis and to decrease the risk of developing gastric ulcers in patients at risk of developing NSAID associated gastric ulcers.
As a result of the acquisition of the U.S. rights to Vimovo, Horizon began the expansion of its sales force to approximately 250 primary care representatives and 40 rheumatology sales specialists. The company completed the hiring and training of the expanded sales force in January 2014 and began full promotion of Vimovo in early February 2014.
Horizon's internal analysis indicated that there is about 30% overlap of physician targets who prescribe both Duexis and Vimovo. The company plans to execute individual target-by-target promotional plans and to promote both Duexis and Vimovo to these targets. Horizon's strategy with Vimovo is to bring its pricing in-line with Duexis and significantly increase the value realized per prescription while lowering the monthly out-of-pocket costs to patients taking Vimovo. The company has also included Vimovo in its Prescriptions-Made-Easy specialty pharmacy program, along with Duexis and Rayos, and will offer co-pay assistance to all of the marketed products.
Vidara acquisition
On March 19, Horizon announced that it has entered into an agreement to acquire Vidara through a reverse merger for stock and cash valued at $660 million. Horizon will now be organized under the laws of Ireland with a portfolio of four products marketed primarily in the United States. Vidara shareholders will retain approximately 26% of Horizon Pharma and receive $200 million in cash.
There are several financial benefits of the transaction. The company will have a tax efficient corporate structure that will further improve organic growth and its potential new acquisitions. It will accelerate the transformation of Horizon to a profitable specialty pharma company. Horizon guided full year 2014 revenue between $250 million to $265 million, up from $190 million to $205 million. If we assume that the increase in guidance was just because of the acquisition, which is safe to assume, since the company just released its Q4 report and 2014 guidance, it means that Actimmune sales are expected to be around $60 million, which would be just a slight increase from 2013, when Actimmune recorded sales of $58.9 million. Horizon now expects 2014 adjusted EBITDA between $65 million and $75 million. There was no prior guidance on EBITDA, while Thomson Reuters consensus was at $41 million for 2014.
Actimmune is a bioengineered form of interferon gamma-1b, a protein that acts as a biologic response modifier. Actimmune is approved by the FDA for use in children and adults with chronic granulomatous disease (CGD) and severe, malignant osteopetrosis (SMO). "Actimmune is indicated for reducing the frequency and severity of serious infections associated with CGD and for delaying time to disease progression in patients with SMO." Vidara acquired the rights for Actimmune from Intermune (NASDAQ:ITMN) in May 2012. Actimmune revenue in 2011 was $20 million, and was certainly well marketed by Vidara given the strong growth in just 18 months to $58.9 million. 2014 guidance may prove to be quite conservative, since it implies now growth of Actimmune sales. A combined sales force should produce significant synergies going forward, further boosting the growth prospects of the newly formed company.
Q4 highlights
Horizon Pharma reported a mixed Q4 report. EPS was -$0.04, which was $0.04 ahead of analyst estimates, while revenue was $30.1 million, and missed the consensus by $2.1 million. However, it is important to note here that the revenue miss was due to an accounting revision. The company determined that certain service fees should be recorded as a reduction in revenue rather than as an increase in costs of goods sold, as was the case prior to the Q4 report. "The revision to the classification of these fees has the effect of reducing net revenue and cost of goods sold by the same dollar amount, with gross profit dollars unchanged, resulting in higher gross profit margin on the reduced net sales amounts." The revision has no impact on the company's reported gross profit, net income and EPS or cash flows.
If those changes were not in place, the company would have reported in line with its previous Q4 revenue guidance, which the analysts were using in their projections.
The company also reaffirmed the 2014 revenue guidance for net revenue between $190 million and $205 million. But, due to the reclassification of wholesaler service fees as a reduction in revenue, the guidance was effectively raised by 11%, as the net revenue going forward will be lower because of the before mentioned reclassification. The company expects to achieve profitability in 2014 on a non-GAAP basis, and expects the current cash balance to be sufficient to fund the company's operations until it becomes cash flow positive. After the recent Vidara acquisition, management raised FY 2014 guidance to $250 million to $265 million, but this probably only presents the expected sales of Actimmune.
On the product front, Duexis continues to perform well, with a 473% increase in net revenue to $59 million in 2013. The increase was a result of a 128% increase in prescriptions to 214,690 and the rest of the increase is attributed to price increases.
Rayos had net revenue of $5.8 million in 2013, with 8,987 prescriptions in its first year of launch. Q4 trends for Rayos were strong, with an 18% sequential increase in prescriptions to 2,973.
As for Vimovo, new prescriptions increased 10% in January 2014 and 18% in February 2014. Management indicated on the conference call that new and total Vimovo prescriptions increased 28% and 10% respectively in the four-week period ending February 28 versus the prior four weeks.
Duexis advantages and growth potential
Ibuprofen is one of the most widely prescribed NSAIDs. According to Source Healthcare Analytics, there were over 37 million prescriptions written for ibuprofen in 2013. Famotidine is the most potent marketed drug in the class of histamine-2 receptor antagonists, a class of drugs used to block the action of histamine on the cells in the stomach that secrete gastric acid. It is the ideal GI protectant to be combined with ibuprofen that provides distinctive advantages: rapid onset of action, significant reduction in gastric acid levels in the GI tract for the treatment of dyspepsia, GERD and NSAID-induced upper GI ulcers, well tolerated with a low incidence of adverse drug reactions and lower incidence of long-term adverse events. Duexis, which is a combination of the ibuprofen and famotidine, was approved by the FDA in April 2011. Numerous studies have demonstrated that fixed-dose combination therapy provides significant advantages over taking multiple pills. The fixed-dose combination can reduce the number of pills and ensure the correct dosage of each component is taken at the correct time. Patients taking separate drugs for preventing bleeding and ulcers may take more than 10 pills a day, while Duexis is dosed three times a day.
While the advantages of taking Duexis are clear, physicians could prescribe both an NSAID and a GI protectant to be taken together in separate pills. Horizon intends to compete with separate use of NSAIDs and ulcer medications through Duexis' (and Vimovo's) advantages in dosing convenience and patient compliance and by educating physicians about the advantages. The company has also provided funding for the American Gastroenterology Association to help physicians and patients better understand and manage NSAID risks. The company expects that Duexis will be the only product containing histamine-2 receptor antagonist with an indication to reduce the risk of NSAID-induced upper GI ulcers.
The graph below shows the market potential for Duexis. There are about 500k weekly prescriptions for ibuprofen, while the total number of Duexis prescriptions for the whole year 2013 was around 214k. Horizon still has low penetration of the market, and great potential to capture a greater share of the market in the following years.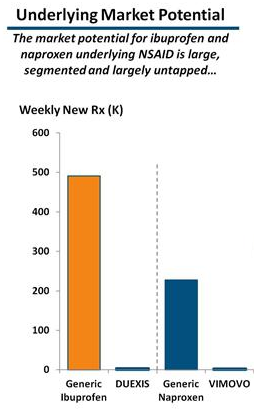 Source: Horizon Pharma ROTH conference presentation
The results of the before mentioned advantages can be seen in strong sales growth of Duexis in 2013. The revenue growth of 473% was driven by a 128% increase in prescriptions, while the rest of the growth in sales was on increased pricing. Price increases show the company's confidence in its advantages it has over the competition. Management indicated at the 26th annual ROTH conference that the trends in January were encouraging, especially when considering that January is seasonally slow for Duexis. The expanded sales force should also help drive the growth of Duexis further.
Value of the Vimovo acquisition
Vimovo is "a proprietary fixed-dose multi-layer delayed-release tablet combining an enteric-coated naproxen, an NSAID, core and an immediate-release esomeprazole, a PPI, layer surrounding the core. Naproxen has proven anti-inflammatory and analgesic properties and esomeprazole reduces the stomach acid secretions that can cause upper GI ulcers." Vimovo is designed to produce a sequential delivery of gastroprotective esomeprazole before systemic or local exposure to naproxen. Horizon expects Vimovo to be the only product containing a PPI with an indication to reduce the risk of NSAID-induced ulcers. Horizon management indicated on the Q4 conference call that new Vimovo prescriptions in January increased 10% versus December 2013 and increased 18% in February 2014 versus January 2014. New and total prescriptions increased 28% and 10% respectively in the four-week period ending February 28 versus the prior four weeks. So, we are seeing some strong prescription trends which are expected to continue as the company's sales force ramps up. In fact, the sales force has been in full promotion mode just at the start of February 2014, so the January results alone are quite encouraging.
IMS data indicated that there were approximately 600,000 total prescriptions at peak for Vimovo. However, half of those were lost by the time Horizon acquired Vimovo last year, due to under-promotion of the product. Horizon intends to aggressively promote Vimovo to prior prescribers, and management sees a strong response from them. We should expect a significant impact of Vimovo sales on the company's revenue growth going forward.
There is some cause of concern here, since because of the overlap between Duexis and Vimovo. Although Duexis is primarily promoted to ibuprofen prescribers and Vimovo to naproxen prescribers, there was about 30% overlap of prescribers for both products. The key for the company will be to focus on selling Duexis versus ibuprofen, which has about 500k prescriptions each week, and Vimovo will target naproxen, which has about 250k prescriptions each week, presenting a massive growth opportunity for both products, and the overlap should be managed based on the focus on the distinction between the targets for Duexis and Vimovo.
Rayos' growth opportunities
Rayos (known as Lodotra outside the United States) is "a proprietary delayed-release formulation of low-dose prednisone for the treatment of moderate to severe, active RA in adults particularly when accompanied by morning stiffness." The proprietary formulation of Rayos enables a delayed release of prednisone approximately four hours after administration. Rayos synchronizes the prednisone delivery time with the patient's elevated cytokine levels and significantly reduces the signs and symptoms of rheumatoid arthritis. Horizon also conducted a Phase 2 clinical trial to evaluate the potential use of Rayos to treat severe asthma compared to immediate-release prednisone, but the company currently does not have plans to pursue commercialization of Rayos for the treatment of severe asthma.
Rayos was launched in January 2013, and the company is focusing primarily on rheumatologists and targeted primary care physicians. Total prescriptions increased 18% sequentially in Q4 to about 3,000 and the company reported $3.2 million net sales in Q4. Lodotra is approved in over 30 countries and had net sales of $2.8 million. Mundipharma is marketing Lodotra in Europe, Central Asia and Latin America.
The opportunity for Rayos/Lodotra is also substantial. According to DataMonitor, there are approximately 4.9 million RA patients in the United States, Japan, France, Italy, Spain, Germany and the UK, of which approximately 3.1 million are diagnosed. Common agents for the treatment of RA include NSAIDs, DMARDs, biologic agents and corticosteroids. However, a study has shown that over 90% of the patients reported suffering from morning stiffness, pain and immobility. Rayos' advantages over other agents used to treat RA and aggressive promotion efforts should increase awareness of the drug and ensure the long-term growth in prescriptions and revenue.
Significant sales force expansion to yield significant returns
In the second half of 2011, Horizon had approximately 80 sales reps, which were hired to promote Duexis after it was approved. In Q3 2012, the sales force was expanded to 150 members in anticipation of the potential FDA approval of Rayos. After the Vimovo acquisition in November, the company further increased the number of its sales reps to 290, of which 250 are primary care representatives and 40 are rheumatology specialists. The significant expansion of the sales force will expand the company's reach, and the current sales force will target approximately 40,000 physicians. Duexis was previously co-promoted with Mallinckrodt, the pharmaceutical business of Covidien, but Horizon decided to terminate the agreement because Mallinckrodt failed to achieve minimum levels of prescriptions in two consecutive quarters. We should see improved results from the current sales force in the coming quarters, as they become more accustomed to the organization and as the new reps build upon the success of its more experienced colleagues. We should also see some synergies after the Vidara acquisition along with the improving performance of Horizon's sales force.
Potential for new acquisitions and a valuable addition to the management team
Horizon may not be done with acquisitions. Management stated in the Q4 conference call that they may take advantage of opportunities to acquire products that may drive incremental revenues and that are accretive to the company's bottom line (and we already saw the acquisition of Vidara). The company's focus will be on products that are deemphasized among pharmaceutical companies (this was the case with Vimovo). A cutback in the primary care sales force across many organizations may have brought valuable products to be under-utilized. Horizon will be looking at products between $20 million and $200 million in revenues. Although it is still early to tell how the Vimovo acquisition will pan out, the early prescription trends are quite encouraging, and we should see accelerated growth once the sales force matures, as it has just started full promotion of Vimovo in early February. Actimmune should perform well in 2014 and beyond, and Vidara and Horizon should do better at promoting the product together. New potential products in Horizon's portfolio will broaden the company's reach and will further diversify its offering and have a profound effect on the company's top and bottom line.
Recent addition to the management team, Robert F. Carey, which was hired in early March as executive vice president and chief business officer will certainly help with these efforts. Carey has significant industry and deal-making experience and has assisted biotech and specialty pharma companies raise more than $10 billion in IPOs, follow-on offerings, debt offerings and private placements. He spent 11 years as the managing director and head of the life sciences investment banking group JMP Securities. He has also served as a financial advisor on mergers and acquisitions. Carey has already played an important role in Horizon in the last six years as an outside investment banking advisor, and was responsible for introducing Horizon to Nitec Pharma where Horizon acquired Rayos/Lodotra. He also had a key role in each of the financing transaction Horizon completed as a public company. Carey is a valuable addition to the management team and will help Horizon with the expansion of its business through acquisitions of products and companies. The hiring of Carey and the Vidara acquisition show that Horizon is serious about becoming a large specialty pharma company.
Valuation
Although Horizon had a tremendous run since September 2013, rising approximately 800% in just six months, it is still undervalued and trading at a significant discount to growth. Horizon currently trades at a 2015 forward P/E of 19. The company is expected to become non-GAAP profitable this year, with an expected EPS of $0.22. Analysts are projecting 2015 EPS at $0.91. This means that Horizon is trading at a significant discount to growth. However, these are the numbers that do not account the Vidara acquisition. I believe that the estimates are going to be raised significantly soon due to higher than expected profitability and on the account of a more favorable tax rate. I expect Horizon to deliver 2014 EPS between $0.40 and $0.60 and 2015 EPS between $1.40 and $1.60. These numbers are currently much higher than the consensus, but I believe that it is more than justified given the latest developments. Management guidance may also be quite conservative, and they might have left room for further guidance increases in the following quarters. Given the growth rates, Horizon could easily be trading at a forward 2015 P/E between 20 and 30, which implies significant upside from the current price. Based on my estimates, this translates into a price target between $28 and $48. The $28 price target represents 60% upside from the current price.
Risks and challenges
There are no investments without risks. I believe that the main risk for Horizon is the execution of its growth strategy. Horizon may also be negatively affected by:
- Increased competition and the lack of awareness among physicians prescribing NSAIDs of the risk of NSAID-induced upper GI ulcers.
- Duexis, Vimovo and Rayos/Lodotra are more expensive than generic forms of their active ingredients which may limit adoption by physicians, patients and healthcare payers.
- The acquisition of Vidara has integration risks, and the two companies might not produce synergistic effects.
Conclusion
Horizon Pharma shares still have room to grow despite their massive rise in the last six months. The company's products have large markets to penetrate, and potential acquisitions might further boost the future expectations and broaden the company's product portfolio. Horizon is still trading at a significant discount to growth, and may still reward its shareholders with significant returns in the following years.
Additional source: Horizon SEC filings, Horizon Pharma transcripts
Disclosure: I am long HZNP. I wrote this article myself, and it expresses my own opinions. I am not receiving compensation for it (other than from Seeking Alpha). I have no business relationship with any company whose stock is mentioned in this article.