First, a fun game: Who said this in a press release?
"[Our company] has announced the availability of a new single-chip high-definition set-top box decoder combining both the demodulation and decoding functions on a single device.

The [chip], which has been designed to meet the requirements of … satellite operators worldwide… will allow OEMs to target the high-volume market for consumers moving to high-definition services."
Montage Technology, in June 2013? Good guess. Very close, but not quite. MONT's new HD decoder chip doesn't actually have the demodulator built in. The right answer? STMicroelectronics (STM.FP, STM), in April 2008. If you find it surprising that MONT's gross margins are roughly twice those of STM's, please read on.
A report by Gravity Research recently demonstrated that Montage Technology's (NASDAQ:MONT) purported largest distributor, LQW, accounting for more than 70% of stated revenue since the beginning of 2012, is intimately connected to MONT and its management, and may not be a legitimate distributor. Today, using information from Montage, customers, competitors, and chip suppliers, we show that revenue from MONT's front-end set-top box chip business appears plausible, while Montage's purported largest source of revenue, an allegedly booming system-on-chip (SoC) set-top box business, is almost certainly overstated by several-fold.
Montage Technology, founded in 2004, spent several years developing a small but respectable business supplying front-end chips (tuners and demodulators) for low-end set-top boxes, and eventually achieved #2 market share in digital satellite tuners, though with thin gross margins and negative net margins. Montage generated about $16 million worth of revenue from front-end products in 2013 (down from nearly $29 million in 2010).1 The company asserts that, beginning in 2010, it developed game-changing system-on-chip back-end products, which rapidly gained acceptance in the marketplace and dramatically ramped revenue and gross margins. In reality, MONT's SoC chips are not significantly different than the many other similar low-cost SoC chips available in the intensely competitive set-top box market. We show that Chinese integrated circuit (IC) supplier data demonstrate that MONT's SoC chips have a dramatically smaller market presence than one would expect if Montage's revenue is real. Four of MONT's six SoC models have few or no suppliers, and as of today, nine of MONT's ten most popular products among suppliers are front-end chips.
Montage claims to get the majority of its set-top box revenue from standard-definition satellite SoC chips, and similarly claims that its market share is close to that of Taiwanese-listed ALi Corp. Yet, we find that ALi dwarfs MONT many times over in the standard-definition satellite SoC market, both in terms of end-products available from set-top box makers, as well as presence among Chinese integrated circuit suppliers. MONT's CFO, Mark Voll has recently been traveling across the United States absurdly touting MONT's alleged market share gains at the expense of ALi, while ALi doesn't even list Montage as a competitor in its corporate filings!
Selling into emerging markets as they adopt digital television gives Montage a large addressable market, but the large addressable market is intensely competitive and challenging to enter significantly or profitably, as it is standardized, commoditized, well-developed, and already being addressed by several players larger and more established than MONT. If we came into your office and told you we had a booming business, Andhra Pradesh Goodshoe Ltd., selling unbranded shoes in India for $7 a pair, and that our margins were massive because "we have added new models like shoes that lace, and wing tips," and we asked you to pay three times revenue for a share of our business, would you swear right away or would you wait for the door to close after you kicked us out? What is it about certain tech companies that enables them to defeat our common sense so easily?
Montage claims it has the second-leading market share (mid-teens) in its principal end-market, and is on pace to achieve 20% market share by 2016. In reality, we show that in Montage's actual SoC end-market, inexpensive decoders/SoCs for inexpensive set-top boxes, Montage is a dramatically smaller player than not only ALi, but also Sunplus, HiSilicon, and STMicroelectronics, among others. Just like ALi, none of the other public companies in the set-top box SoC space even bother to mention Montage as a competitor! Montage's investor presentation is a well-crafted story, but the story is a fantastic fiction.
A sales manager at one of the very largest Chinese set-top box makers wrote to us:
"Montage, I don't think it is so large as you mentioned, and it may not be able to do many CA [conditional access] STBs. Our company JIUZHOU is the top 3 STB manufacturer in China (around 10 million/year), but we have not used this chipset yet. For my estimation, Broadcom/ST has much share both in China and emerging market, then Mstar, and Ali. Of course, Hisilicon is also very popular in China these years and good at affording high-end solution for STB now…"
Where is most of Montage's purported SoC revenue coming from? SoC chips that only a few Chinese suppliers bother to try selling? That are sold to set-top-box makers who don't sell products online? Is that the magic formula for Montage's 63% gross margins in 2013, while five competitors with much greater market share in SoC averaged 39% (with none above 45%)?
In an investor presentation, Montage told investors that 9% of its 2012 revenue was from Sichuan Jinwangtong. That is $7 million in sales. KingVon, as Sichuan Jinwangtong calls itself, sold 3.1 million set-top boxes in 2012.2 To put that in perspective, China's fifth-largest box-maker, Yinhe, who is publicly listed in mainland China and therefore reports the amount of its payments to its top five vendors in annual filings, made 4.1 million set-top boxes in 2012. Yinhe paid only $5.9 million to its largest vendor. KingVon "paid" Montage 18% more than Yinhe paid its largest vendor, even though Yinhe sold 32% more set-top boxes than KingVon.
Montage must be one hell of a big supplier for KingVon, right? As it turns out, KingVon lists 40 different models of set-top boxes on their website, and they use a Montage SoC chip in ONE of them! KingVon sells eight set-top box models with a HuayaMicro chipset, seven with STMicro, seven with ALi, four with MStar, four with HiSilicon, three with Sunplus, and three with Fujitsu.
Montage's huge, high-margin SoC chip revenue is, in the light of day, an obvious lie.
Company insiders, including co-founder/CEO Howard Yang's parents and co-founder/president Stephen Tai's parents already cashed out $20.2 million worth of stock at the expense of the American public in late January. The company's IPO share lock-up expires Monday, and because the company is a foreign filer, executives will not be required to file Forms 4 with the SEC, as they sell their shares on the open market. We believe the Securities and Exchange Commission should suspend trading in MONT shares, and we have forwarded our findings to them.
LQW is Intimately Connected to MONT
First, we review the essentials discovered prior to our new research. As was initially alleged by Gravity Research on February 6, 2014, and further detailed on February 13, 2014, LQW is intimately connected to MONT. LQW was incorporated by Yat Hing Anthony Ho, a former employee of MONT CEO, Howard Yang, on October 20, 2011, at the same time it began doing business with MONT. Four months later, ownership of LQW was transferred from Anthony Ho to Shanghai Lanqi Micro-Electronics Technology Company Limited (which can also be translated as Shanghai Montage Micro-Electronics Technology Co. Ltd.). Concurrent with the transfer, Ho resigned as the only director of LQW, and was appointed as its secretary, and Yueci Chen and Dexiu Zhu were appointed as the two new directors. The address listed in the LQW filings for Zhu Dexiu does not belong to Zhu Dexiu (a villager who lives five hours away from Shanghai), but rather to MONT's Vice President for Finance and Administration, Phoebe Su.
LQW's new owner, SLMT (or SMMT, the translation doesn't change the facts), was formed in 2008 as a joint venture between MONT and senior MONT employee (now engineering director) Larry Wu. MONT's VP for Finance and Administration, Phoebe Su, was appointed as the initial auditor of SLMT.
On July 3, 2009, MONT transferred its own equity interest in SLMT to Yang Chongyi, whose name shares the same surname and generational character as MONT CEO Howard Yang, meaning the two are very likely siblings or cousins. MONT executive Larry Wu retained his ownership.
On June 30, 2012, after LQW had already become MONT's largest "distributor," and while MONT was readying a U.S. initial public offering, SLMT's ownership again transferred, this time to Zhu Yan and Chen Yueci. New majority-owner Yan is the legal representative for both SLMT and another company, Yunduan Technology (Shanghai), which is controlled by the parents of MONT president, Stephen Tai. In 2013, when SLMT filed its 2012 tax return, the contact e-mail address was that of a MONT employee, yangyang.gao@montage-tech.com.
MONT failed to disclose any of the connections between itself and LQW in the "Related Party Transactions" sections of both its September 2013 IPO prospectus and its January 2014 secondary offering prospectus.
LQW is Not a Credible Distributor
Montage claims that LQW now distributes $75 million a year of MONT product. LQW has no website and just one small physical location, a 1,000 to 1,500 square foot warehouse space in Hong Kong. Gravity reported, "A security guard working at the building during the day said that LQW had moved into its room a few months ago, but he had never seen anyone from LQW entering or exiting the premises." LQW distributes no products for any company other than MONT. A visitor to LQW's space noted that, in addition to a room with some boxes, it had one desk with space for one person to sit. LQW has one principal (and likely only one) employee, Anthony Ho.
MONT's response to the allegations thus far can be briefly summarized as follows: (1) We have the cash we are supposed to, and here are Chinese bank statements to prove it. (2) The IPO underwriters did due diligence, including an interview of Anthony Ho, who is a seasoned industry veteran. (3) LQW is not an affiliate of MONT; SLMT's equity interest was transferred. (4) We have hired Jones Day to conduct an independent review. (5) LQW's legitimate purpose is financing our customers at terms no other distributor is willing to. MONT has "firstly mostly a major financing role to finance our product inventory, and also [serves] as a first layer of distributor, which deals with our other existing distributors."
Many investors do not find this response satisfactory. On March 3, at the JMP Securities Technology Conference, an attendee asked MONT CFO, Mark Voll to further explain LQW.
Investor: "So with regard to the Gravity report, one of the angles there that I don't think has been disputed by Montage is that your largest distributor LQW accounts for 70% of your revenue, give or take, but that it essentially has one-full time employee no web site and no other significant suppliers beside Montage. Not surprisingly, many of us find that not just unusual but a little hard to rationalize. Can you maybe yet again give us the rationale for why that relationship exists and why we should not be concerned about it?"

Voll: "So the relationship that we began with LQW started in 2011. We gave them the exclusive right to our SoC chip which is fairly new--it was just released by the company at that time. Both the selling to our end customers and the activities of the distributor that product did very very well and we ramped revenue very quickly. Um, we have we renewed the contact with LQW. Um, we probably will take a look at that in the future and perhaps see if we can see a way in which we can diversify our revenue amongst several of our distributors but right now it works. The fact that they have a handful of employees-one full time employee and perhaps a handful of other part-time employees that do the warehousing and the accounting work-the reason why we're confident in the firm is that he has a tremendous balance sheet which allows him to, um, purchase product from us, keep that product available at his location, and ship to customers on an as needed basis. One of the benefits of this-the market that we're in is a very fragmented market; it requires a lot of support and as a result perhaps large competitors don't want to get into that market. So one of the issues with our end-customer is that these are smaller undercapitalized firms, or I shouldn't say undercapitalized, but are capitalized in a way that they have limited cash flow. The ability for LQW is they are able to float and give these firms credit where perhaps other distributors would not and they have the cash flow that allows them to do that. So while I say that we'd like to diversify our revenue the task for us is to find the kind of distributors who can have that kind of cash flow and balance sheet to support our end-customer."

Investor: "If I can follow onto that Mark, I think anyone who has done work on the situation is right now asking given that Anthony Ho is the full-time employee of LQW, given that he is not the owner, how does this entity come to have such a good balance sheet and why does it matter given that you yourself are sitting on $130 million in cash after this quarter?"

Voll: "It's going to be who is going to support the end-customer. So I mean they have the balance sheet they have investors with this particular business model that has allowed them to extend credit to some of our customers where perhaps some other distributors would not be comfortable or will not extend the kind of credit to our end customers that they need to support their business. So again as we move forward and we are trying to diversify our revenue through other distributors the task is going to be finding the distributor that has the resources to support our end-customer."

Investor: "If they have so much resources and cash, why don't they have a website?"

Voll: "I don't think that any of our distributors or few of our distributors have websites. Or if you look at our end customers very few of our end customers have websites."

Investor: "He's not an end-customer, he's a distributor which then serves the end-customers who might want to look at a website to find out about things."

Voll: "But again our other distributors don't have websites either. That's the distribution channel. That's the Hong Kong/China distribution channel. These are small businesses that are selling to other small businesses."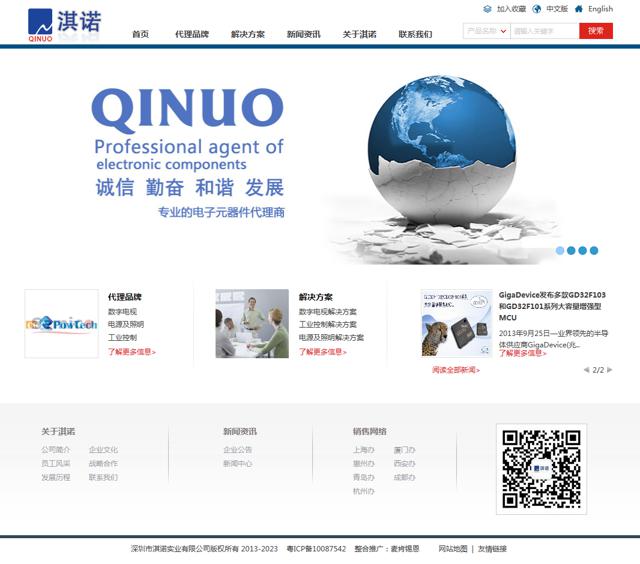 Of course, this is not true. The only distributors mentioned in MONT's prospectus, other than LQW, do have websites. Qinuo International Co., Ltd. accounted for 18% of MONT's stated revenue in 2012, and China Electronic Appliance Shenzhen Co., Ltd. accounted for 9% of stated revenue. Their websites are http://www.qinuo.com.cn and http://www.ceacsz.com.cn respectively. Both have exactly the sort of well-developed website one would expect from a distributor of electronic components in the Chinese market.
Sales of MONT products are falling at these distributors. Qinuo and CEAC totaled 27% of MONT's stated revenue ($21.6 million) in 2012. In the first nine months of 2013, sales from these two distributors fell to 15% of revenue (about $15.1 million annualized).
MONT itself has a website, which lists some of their products (including all of their SoC chips, although interestingly, only some of their widely-supplied front-end chips) and sports this very appropriate graphic atop their Investor Relations page.

("Pour in the money. Watch it evaporate.")
The beauty of a distributor created from whole cloth is that it is, at first, very challenging to disprove a fiction. We wonder why, for example, if LQW had such unconstrained working capital, they accounted for 89% of MONT's accounts receivable at the end of 2012. But LQW may well indeed have great working capital these days, after the Wu-Tai-Yang clan's big score at the end of January.
Had the true nature of LQW been revealed prior to the Montage IPO, there wouldn't have even been a Montage IPO. At least six law firms have filed securities fraud litigation against MONT and individual members of management, because proving that they broke securities laws by withholding material information about their relationship with LQW is a phenomenally easy case to make.
According to Montage, High-Margin SoC Business is Booming
Investors love a good story, and Montage had one. Montage had figured out a way to make high margins (as it happens, higher margins than Broadcom, STMicro, ALi, and essentially everyone in the industry) by targeting a market niche (emerging markets) and offering a technological innovation to that niche - instead of just manufacturing cheap front-end components like tuners and demodulators, Montage had developed value-added chips that included both a decoder (the "back-end"), along with one or both of the front-end components. The "system-on-chip" (or "SoC") chips made life much easier for set-top box manufacturers than two or three individual chips, and sold at a premium price.
Montage had released the first of these new SoC chips with much fanfare by April of 2010. A press release at the time noted,
"The most eye-catching product of Montage is its 3-in-1 DVB-S SOC M88CS2000. The M88CS2000 integrates a DVB-S tuner, demodulator and MPEG-2 decoder into a single chip. It provides a low-cost, low-power, easy-to-maintain and turnkey-based solution for STB manufacturers. Currently the M88CS2000 is the only 3-in-1 digital STB product available in the market, besides the one launched by Broadcom. The live show of the M88CS2000-based platform draws the attention of customers and industry peers." A later press release, dated September 24, 2010, states the M88CS2000 "has been rolled out in market," and later states "it has been in mass production and widely accepted by market."
Montage told investors the SoC story in their S-1, dated September 11, 2013, as follows:
"Initially, we focused on the home entertainment market by designing solutions for set-top boxes used in emerging markets. We believed this end market allowed us to best leverage our technology platform and take advantage of our presence in China, where almost all of our engineering development takes place and we have extensive field application engineers to help serve our target end customers. We began addressing this market by developing stand-alone tuners, demodulators and decoders and introduced our first set-top box solution in 2005. In 2010, we began selling integrated set-top box solutions, which combine a demodulator, decoder and sometimes tuner into a single semiconductor solution and have higher average selling prices and gross margins than our stand-alone tuner, demodulator and decoder solutions."
Since MONT went public, the story has indeed "played out" as Montage said it would. As the company said on its third-quarter 2013 conference call,
"Third quarter 2013 total revenue consisted of $27.3 million from our set-top box products, or 90.7% of revenue, and $2.8 million from our memory interface products, or 9.3% of revenue… Our SoCs made up approximately 80% of set-top box revenue in the quarter. Going forward, we expect the percentage to remain relatively consistent, between 75 - 80%, due to the continued strong demand for our front end solutions, and we plan to release additional new products towards the end of the year."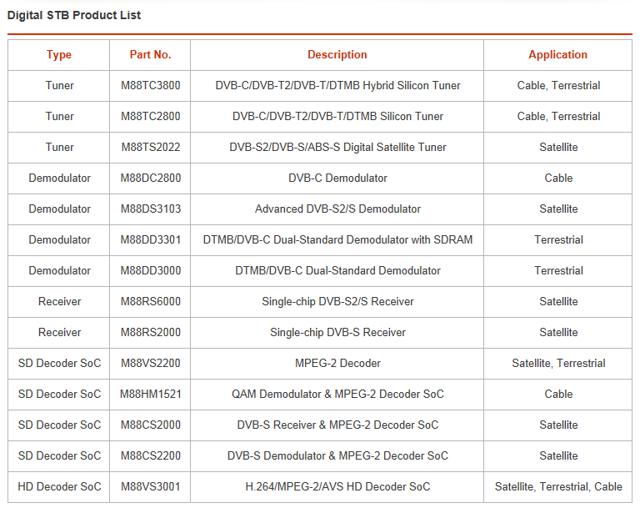 The story remained the same in the company's last (ever?) conference call on February 20. MONT President Stephen Tai said, "We usually divide our products between our front-end solutions and also total solutions, which is the full SoC. For front-end solutions, which could be a tuner for cable or satellite, or demodulators for cable or satellite or terrestrial, so that part of business is about 16%-17% of our total set-top box revenue." Total set-top box revenue was stated as $30.2 million, so that would leave $5.1 million of front-end revenue and $25.1 million of SoC revenue.
According to Montage, High-Margin SoC Business was Booming Even Before the Company Widely Distributed Its First SoC
On the one hand, as Joseph Goebbels said, "If you tell a lie big enough and keep repeating it, people will eventually come to believe it." On the other hand, if you construct a big enough fiction, sometimes it is hard to keep your story straight.
Savvy readers may already recollect something MONT CFO, Mark Voll said on March 3,
"So the relationship that we began with LQW started in 2011. We gave them the exclusive right to our SoC chip which was fairly new--it was just released by the company at that time. Both the selling to our end customers and the activities of the distributor that product did very, very well and we ramped revenue very quickly."

LQW was incorporated on October 20, 2011. Montage told analysts (see graph above, from the Wells Fargo initiation note on October 21, 2013) that SoC chipsets accounted for 67%, or roughly $33 million, of MONT's revenue for 2011.
Montage had one SoC chip on the market in 2011, the M88CS2000. They also had one decoder (the M88VS2000), which doesn't include an integrated tuner or demodulator, but the company seems to consider this an SoC chip, in the sense that it is not a front-end chip. In other words, one, or at most two, chips supposedly generated revenue of $33 million.
This is implausible on its face, but utterly absurd when one notes that the company booked no revenue from LQW in 2011. Per the S-1,
"LQW has been a distributor for the Company's products since October 2011 and no revenue was recognized through sales by LQW for the year ended December 31, 2011. As discussed in note 1n, the Company is entitled to bill only a portion of the total sale price at the time of shipment (deferred revenue), with the remainder billed upon sale by LQW to the end customer."
To reiterate: in their prospectus, Montage said they began selling SoC chips in 2010. Around the time of their IPO or shortly thereafter, in spite of having only one integrated SoC chip and one decoder on the market in 2011, the company told analysts that SoC chipsets had accounted for $33 million of revenue that year. Two weeks ago, CFO Mark Voll said that the first SoC chip "was just released" at the time "the relationship that we began with LQW started in 2011," and "we ramped revenue very quickly." LQW didn't exist until late October 2011, and Montage booked zero revenue from LQW customers in 2011.
A Google search for M88CS2000, restricted by time, shows virtually nothing pertinent to the chip actually being installed in devices prior to 2012. In late 2011, there are some press releases, an award, and some initial offers of sale by distributors, but little else. We believe Mark Voll when he implies that the M88CS2000 had virtually no revenue in 2011. So, either the M88VS2000 decoder sold nearly $33 million by itself in 2011, or else Montage lied to investors. Which is more plausible?
"Our other distributors don't have websites either," was just a small lie in service of the bigger lie of LQW, in service of the biggest lie of all, MONT's SoC revenue.
Montage's SoC Business Isn't Booming At All
We don't trust Montage CFO, Mark Voll. Either he's part of the conspiracy to massively overstate revenue, or else he's in denial as badly as Dottie Sandusky. So, even though he did a great job accidentally confirming the fact that things are as make-believe as they seem at Montage, we offer you another source of evidence.
Montage has, historically, been reasonably well-positioned in low-margin front-end chips. Their DVB-S Tuner, M88TS2000, entered mass production in 2007, and was awarded a "HOT IC" recommendation from EET-China (the China division of Electronic Engineering Times). MONT's terrestrial demodulator M88DD2000 won a 2008 EDN China Innovation Award and a 2010 EET-China Hot Product award. Their DVB0C demodulator M88DC2800 was awarded the China Chip award in 2009. DVB-S/S2 demodulator M88DS3002 received a 2009 China Innovation Award and a 2010 Hot Product award.
This graphic (below) is from the 2011Q3 RDA results presentation, and is from data collected by iSuppli, also in 2011Q3. It shows that Montage had a respectable 21% market share of the DVB-S tuner business.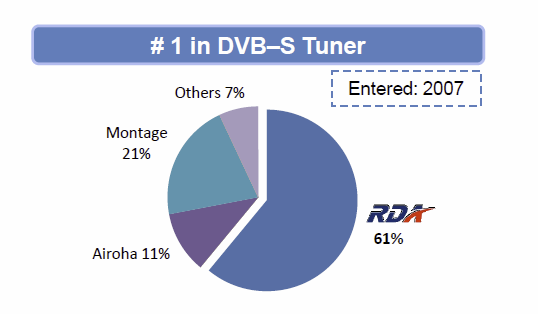 Contrary to Mr. Voll's assertion that high-tech companies in China and Hong Kong do not use the Internet for business purposes, Asia is a bustling hotbed of business-to-business e-commerce. One particularly useful site is DZSC.com, which describes itself as "an industry-leading platform of electronic components worldwide," with users from over 100 countries.
If you type in the model number of an electronic component - for example, Montage digital tuner M88TS2000 - you get a list of suppliers willing to sell you the product, along with what quantity they can supply, what year it was made, and what sort of package it is in.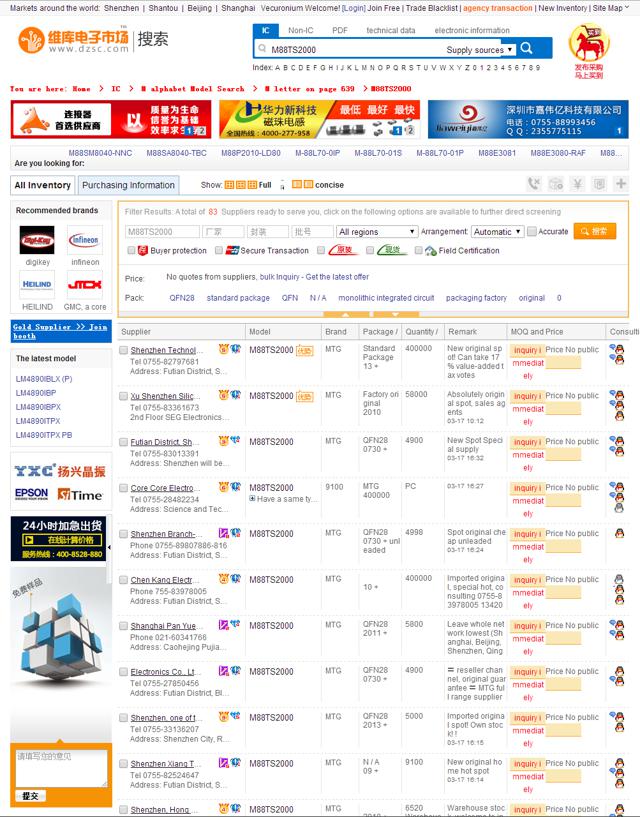 Another, similar marketplace is 114IC Network, at 114ic.com, founded in 2002. The site offers Chinese "and foreign companies and manufacturers of electronic components to provide real-time buy and sell electronic parts trading information." The site boasts more than 65 million unique electronic components and 2.5 million daily hits.
Montage has shared with analysts that their average selling price of a standard-definition SoC chip is about $3-$4, whereas front-end chips carry ASPs of less than $1.00. As a rough estimate, if we assume a $3.50 ASP for the SoC chips and a 75-cent ASP for front-end chips, if about 83% of the company's revenue came from the SoC chips, as they say, the company would have to sell roughly equal numbers of front-end chips and back-end chips.
If Montage's 2010 financial statements are accurate, the company had revenue of about $29.1 million that year, nearly all of which would have been from front-end chips. In order for Montage's 2011 financial statements to be accurate, two chips -- Montage's first SoC chipset, M88CS2000, and decoder M88VS2000 -- would have had to generate roughly as much revenue as every other Montage product combined.
In order for Montage's 2013 financial results to be accurate, Montage's still rather limited collection of SoC chips (six total, including the two decoders without integrated tuners or demodulators) would need to be selling about the same unit volume as all of the company's popular front-end offerings combined.
As one would expect for reasonably successful products, searches for Montage front-end products on DZSC.com reveal a good number of suppliers. The five most popular Montage front-end products have at least 69 suppliers. The Montage DVB-S tuners are well-distributed, with 70 suppliers for one and 83 for another.
Montage told analysts that about 33% of its set-top box revenue in 2011 was for front-end chips. That means that all of those reasonably successful front-end products with all of that distribution generated about $16.2 million in revenue for 2011.
Unfortunately for Montage, MONT's SoC chips are much less successful than MONT's front-end chips. For starters, Montage press releases show that only one MONT SoC chip, the M88CS2000, ever received a significant media award ("Top 10 Hot IC products" in the 2011 China IC Design House Awards).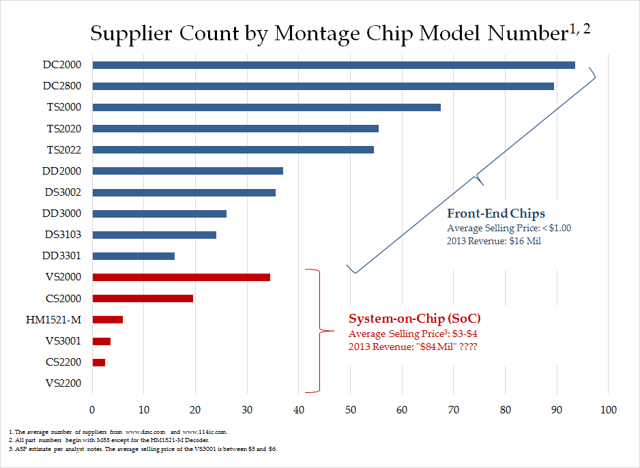 When we look at the supplier data, we see that the M88CS2000 has had some mild success, but not nearly as much as MONT's front-end products. With only 26 distributors, it isn't even one of MONT's ten most-supplied products. Montage's most popular back-end chip, the M88VS2000 MPEG-2 decoder, ties for 7th most popular product with 46 distributors. But looking at the big picture, nine of Montage's top ten most-distributed products on DZSC.com are front-end chips. 114IC.com tells the same story. Only two MONT front-end chips have significant distribution.
Four of Montage's six SoC products have few or no suppliers listed online. In August of 2011, Montage purchased from Motorola a non-exclusive license to use Motorola's HM1521 chip, and also acquired Motorola's integrated circuit design team in Hangzhou. The first result of this acquisition, the HM1521-M, entered "mass production" in December of 2012, yet the product has only seven suppliers!
Four of Montage's Six SoC Products Have Very Little Distribution (Source: DZSC.com)

Type

Model

# of suppliers

SD DVB-C Decoder SoC

HM1521-M

7

SD DVB-S Decoder SoC

M88CS2200

3

HD H.264 Decoder SoC

M88VS3001

3

SD DVB-S Decoder SoC

M88VS2200

0
According to Montage, these six back-end chips are supposed to generate $84 million in revenue this year!!! We'd say that lie qualifies as "big enough."
If Montage Is What It Claims to Be, It Should Look a Lot Like ALi
ALi Corporation (3041.TT), listed as a competitor in Montage's S-1 filing, is a publicly traded company headquartered in Taiwan. The company describes itself this way:
"ALi Corporation is a leading innovator and developer in the set-top box (STB) system-on-chip (SoC) market. By fully leveraging its core expertise in the set-top box industry, ALi solutions are recognized for their high levels of integration, superior performance reliability, premier customer oriented service and compelling cost structure."
According to ALi's 2012 Annual Report, integrated circuits for set-top boxes accounted for more than 90% of revenue. Although ALi does derive some of its revenue from developed markets, 45-50% of its 2012 set-top box revenue came from emerging markets, with an additional 10-15% of set-top box revenue from China.
ALi certainly makes some chips which are higher-end than the products Montage makes, but fortunately for us, ALi also says how much of its revenue is due to HD products. Montage, in 2012, had little or no revenue from HD products (from the S-1, "Currently, we primarily market our decoder solutions for SDTV. We also launched an HDTV decoder solution in early 2013."), so ALi, excluding HD, is a close comparison.
In 2012, ALi posted revenue of NT$5,123 million, or $173.7 million USD, assuming an exchange ratio of $1 = $NT29.50. "Retail HD, retail SD satellite, retail SD terrestrial, retail IP STB (OTT), and Pay-TV operators accounted for 55~60%, 20~25%, 10~15%, 1~5% and 5~10% of STB revenue, respectively." If we assume that set-top box revenue was 92% of total revenue, then ALi generated total set-top box revenue, excluding the high-definition retail segment, of $92 million. A small portion of that $92 million may represent HD equipment sales to Pay TV operators, but $92 million is close to the right number.
We also know that retail standard-definition satellite STB revenue was about $36 million. If we assume that 40% of Pay TV revenue was also SD satellite-related, then ALi's total 2012 SD satellite revenue was about $41 million.
ALi's 2013 revenue actually fell year-over-year to NT$4,156 million, which the company attributed to fewer large-scale analog-to-digital national conversions in 2013 when compared to 2012. We estimate total ALi 2013 set-top box revenue, excluding HD retail, as roughly $81 million. The STB-revenue, ex-HD, is still a good comparison for Montage, as MONT "started selling HD solutions [in] June… But as a percentage of the total revenue it's still relatively small."
ALi did not report retail SD satellite revenue as a distinct line item this year, but we estimate that ALi's 2013 standard-definition satellite STB revenue was about $33-$39 million.
Total SD SoC Revenue ($ mil)

2012

2013

ALi Corp.

92

81

Montage

52

84

SD Satellite SoC Revenue ($mil)

2012

2013

ALi Corp.

41

36

Montage

31

50

Estimates based on company filings and statements
Roughly 94% and 91%, respectively, of MONT's 2012 and 2013 revenue are purportedly due to set-top box sales. If we figure 70.4% of STB sales as back-end in 2012 and 83% in 2013, then total non-HD, SoC STB solution revenue was $51.7 million for 2012 and $83.8 million for 2013. If roughly 60% of MONT's SoC revenue is for the SD-satellite market,3 then MONT generated satellite SoC revenue of $31 million in 2012 and $50 million in 2013.
If MONT's SoC revenue really existed, then MONT was getting close to ALi in terms of market share in 2012 and blew past them in 2013. MONT concurs. This slide (below) keeps turning up in their investor presentations.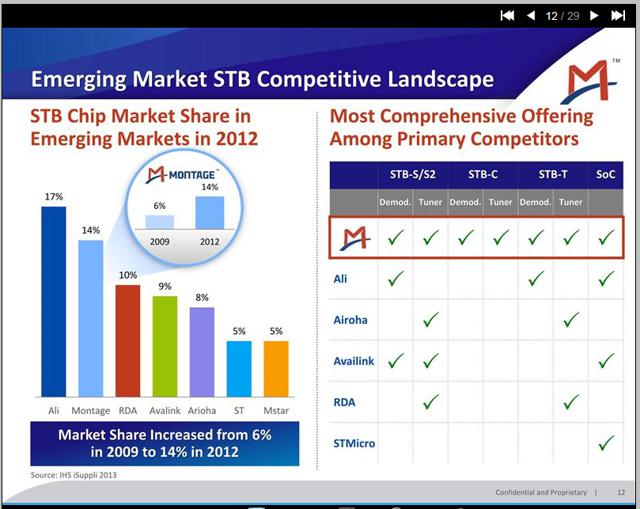 You'll note the source of this graphic is iSuppli, a division of market research firm IHS. Montage's S-1 filings are dotted with handy information from an iSuppli report entitled "China Digital STB Market Forecast and Detail Analysis of Chipset Market Share," which Montage paid iSuppli to prepare prior to its IPO filing. We reached out to the iSuppli sales department by electronic form (twice), and by phone (to the IHS semiconductor contact, to a different IHS sales number, and to IHS client support), but they, unfortunately, did not reciprocate. We even reached out to the number listed for IHS on Montage's S-1 filing, (310) 524-4007, a phone number that is no longer in service. We believe that the market share data in the IHS report reflects directly what Montage's market share would have been, were its claimed revenue and unit sales compared to those of ALi, rather than any sort of independent primary confirmation.
The right side of this slide deserves attention as well. MONT has used this graphic as an explanation for why customers naturally gravitate towards them; they have "a complete solution." The reality is that three of these "competitors" aren't real competitors for MONT's purported largest business segment, SoC chips, at all. RDA, Airoha, and Availink are only competitors for MONT's $16 million a year, low-margin, front-end chips. MONT's actual competitors in the SoC space are ALi, STMicroelectronics, Sunplus, NXP, and HiSilicon, and as MONT tries to enter the HD space this year, MStar. The "STMicro" row on the bottom of this table is a complete farce, as STMicro has products in every front-end category, in addition to its SoC chips. Although neither STMicro nor any other public SoC chip maker considers Montage to be a competitor in any corporate filing!
MONT doesn't compete on the basis of having a broad offering. Its stable of SoC chips is extremely small relative to the competition. MONT offers just six SoC chips, while ALi, for example, offers more than 20. As industry sources told us, MONT competes on price. Interestingly, an institutional investor told us that CFO Mark Voll (who doesn't return our phone calls), told him exactly the opposite, that MONT was achieving its higher margins by selling at a 10-20% premium to the competition.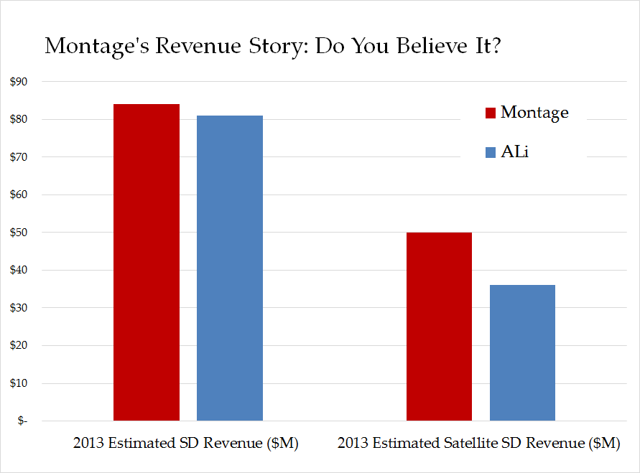 While MONT claims to have market share close to that of ALi, reality is starkly different. Using product information for each company, we searched two leading electronic distribution channels, dzsc.com and 114ic.com, to compare the availability of various back-end chip models. We looked at each company's most popular standard-definition chips in the categories of DVB-C SoC (e.g. Montage HM1521-M vs. ALi M3202), DVB-S SoC (e.g. Montage M88CS2000/M88CS2200 vs. ALi M3328 and M3329 series), and DVB-T SoC (e.g. M88VS2000/M88VS2200 vs. the ALi M3101; the Montage product is a terrestrial/satellite demodulator, which Montage considers be an SoC).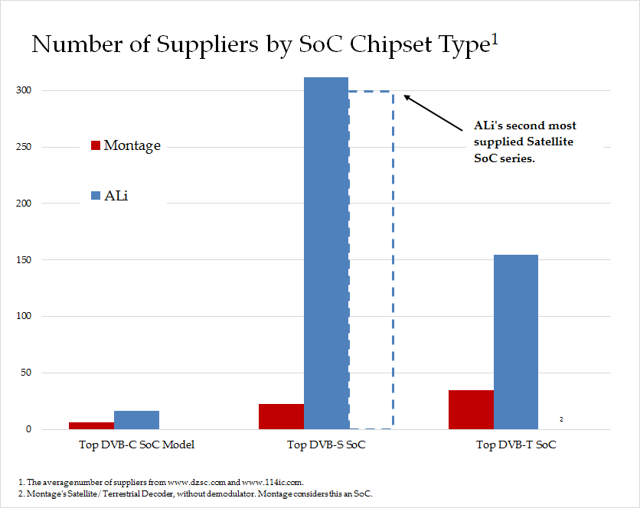 Compared to ALi, Montage is but a small blip. In the important category of standard-definition satellite SOCs, suppliers for ALi's #1 product line outnumber suppliers of the MONT chip by a factor of roughly 10 to 1. What's more, ALi's second-most popular DVB-S SoC product line also outnumbers MONT's only product by a factor of 10-to-1.
Montage's SoC satellite revenue, the most important chapter in the very enjoyable but fictional story of MONT, must in reality be just a rounding error compared to ALi's!
These market data confirm what a particularly helpful sales manager at one of China's largest set-top box manufacturers told us.
"Montage, I don't think it is so large as you mentioned, and it may not be able to do many CA [conditional access] STBs. Our company JIUZHOU is the top 3 STB manufacturer in China (around 10 million/year), but we have not used this chipset yet. For my estimation, Broadcom/ST has much share both in China and emerging market, then Mstar, and Ali. Of course, Hisilicon is also very popular in China these years and good at affording high-end solution for STB now…"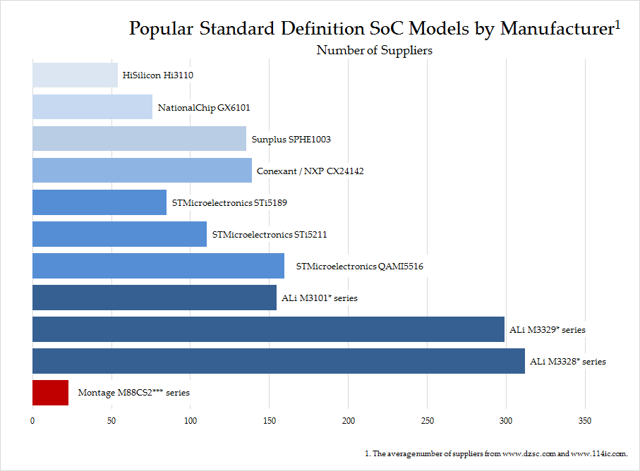 Sure enough, it isn't just ALi's SoC chips that makes Montage's SoC market share appear infinitesimally small. ST, HiSilicon, NationalChip, Sunplus, and Conexant/NXP also dominate MONT's meager back-end market share.
As Goes SoC Market Share, So Goes Revenue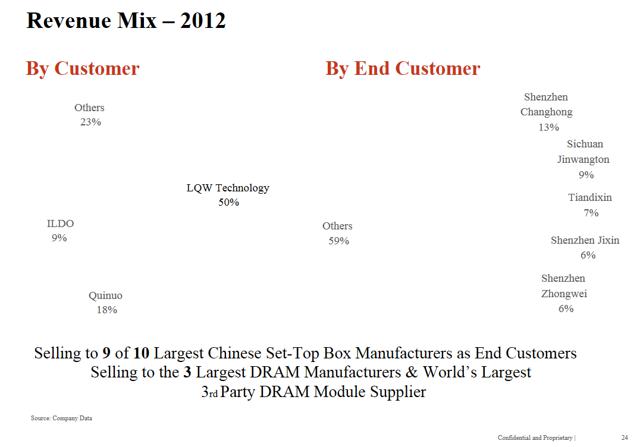 Montage used to have a slide it its investor presentation that they recently took out, with good reason (fortunately, Google had an html-only cached version). There are at least three good reasons for the company to remove this slide: (1) they don't want to remind investors about LQW, (2) the company's S-1 said that China Electronic Appliance Shenzhen Co., Ltd. (OTCPK:CEAC), not ILDO, was the distributor that accounted for 9% of the company's revenue, and (3) the more investors know about the company's purported end-customers, the easier it is for them to try to independently verify their sales figures.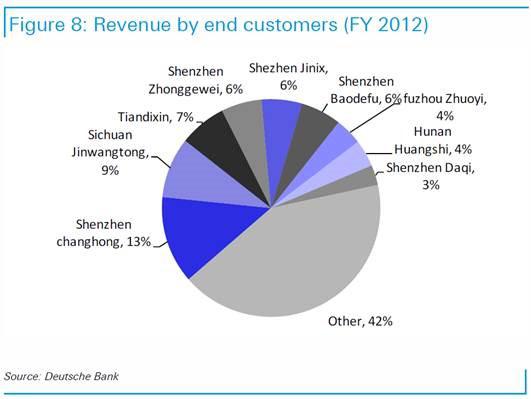 Deutsche Bank used a similar, but more complete "revenue by end-customer" graphic in their initiation note on Montage. We used this graphic to attempt to find Montage's nine largest customers listed on the graphic.
We located set-top box manufacturers corresponding to seven of the nine companies, along with their websites, but could not locate set-top box companies with names containing "Shenzhen JinXin" ("Jinix" is not a Chinese word; this was very likely meant to say JinXin), or "Shenzhen Zhongwei," in spite of trying many variants of each. Each company accounted for 6% of stated revenue.
These companies purportedly each did nearly $5 million of revenue with Montage in 2012, yet they seem to have no web presence. Of course, there are myriad companies in Shenzhen that make set-top boxes, but a company big enough to be buying $5 million worth of semiconductors from one company should not be hard to find.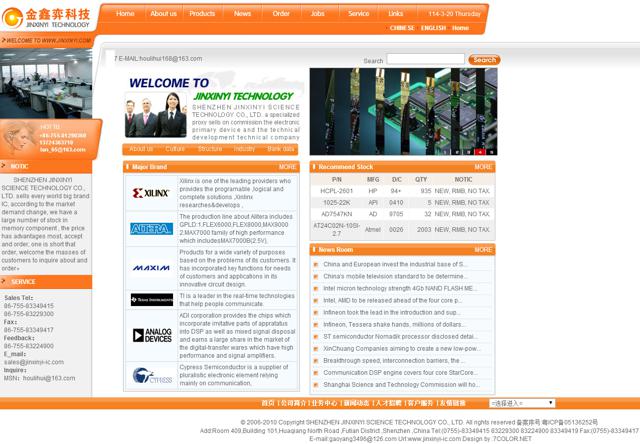 Shenzhen JinXin is especially intriguing in that Shenzhen JinXin Yi Science Technology Co. Ltd. is a commission-based semiconductor sales agent (i.e. a distributor). Shenzhen JinXin Yi is not just any distributor either. It is one of the fewer than 50 distributors who actually sell Montage's "most popular" back-end product, the M88VS2000 decoder. Did MONT list a distributor as one of its top five end-customers?

We don't know for certain, but it sure seems that way. We do know Montage's numbers don't add up.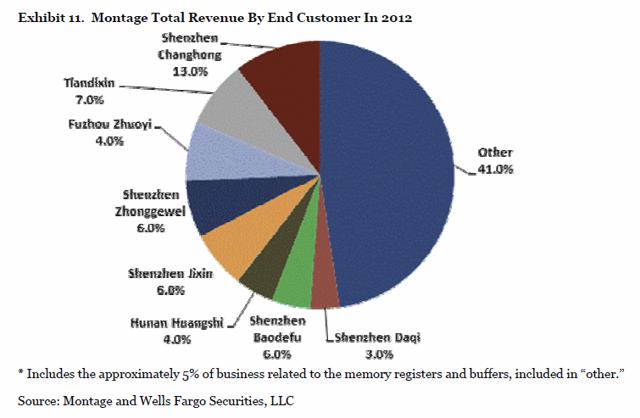 The Wells Fargo initiation note version of the end-customers looked similar, but with Sichuan Jinwangtong missing entirely.
Of the seven set-top box companies we did find, five had websites that did not list the kind of chips they use in their set-top boxes. Two companies, DaQi Tech (3% of sales; daqi-tech.com) and Sichuan Jinwangtong (9% of sales), have websites that give detailed product information. Jinwangtong goes by the name KingVon, and has both a site aimed at domestic China (scjwt.com) and export customers (KingVon.com).

(Graphic from the DaQi Tech website)
Da-Qi Tech does not list any Montage products on its website. We contacted a sales representative there who was unwilling to discuss which vendors they use. It is possible that they use some Montage content but do not include it on their website.
Montage told investors that 9% of its 2012 revenue was from Sichuan Jinwangtong. That is $7 million in sales. KingVon states on its website that it sold 3.1 million set-top boxes in 2012. To put that revenue number in perspective, China's fifth-largest box maker, Yinhe, who is publicly listed in mainland China and therefore reports the amount of its payments to its top five vendors in annual filings (by the way, MONT wasn't one of them), made 4.1 million set-top boxes in 2012. Yinhe paid only $5.9 million to its largest vendor. KingVon "paid" Montage 18% more than Yinhe paid its largest vendor, even though Yinhe sold 32% more set-top boxes than KingVon.

(Top Five Vendor Payments from 2012 Yinhe Annual Report)
To have the stated amount of revenue from KingVon, Montage SoC chips would need to be in roughly half the boxes that KingVon sells. We learned that KingVon sells at least 40 different models of set-top boxes on their websites, but uses a Montage SoC chip in only one model of the 40. KingVon sells eight set-top box models with a HuayaMicro chipset, seven with STMicro, seven with ALi, four with MStar, four with HiSilicon three with Sunplus, and three with Fujitsu. Among low-end units that would compete directly with Montage, KingVon offers products with chips from four different manufacturers, including at least three different ALi chips.
We contacted KingVon to try to get an exact figure with respect to their Montage sales, and received this reply:
"We exported big QTY to India market of Montage chip-set at lowest price, but for other market, no exporting.

ST, Broadcom, Ali is more popular."
Let's assume India likes cheap Montage chips the way Germans in Düsseldorf liked American subprime CDOs, or the way American mutual funds liked MONT stock before today. If half of Kingvon's 3.1 million set-top box units are exported, and half of those go to India (clearly it's an important market for the company, as their website says they have an office in Delhi; but the company exports to "more than 30 countries"), and even if half of the chips going to the Indian market are Montage SoCs at $3.75/chip, that would have given Montage $1.45 million in revenue from Kingvon in 2012, a number which is not remotely close to $7 million.
The Suspension of Disbelief
Montage told investors a great story about an expansion into a high-margin, niche business. In reality, investors were buying a company that was losing money in one commodity market (front-end chips), while making its way into an even more competitive, but larger, commodity market. And worse yet, instead of targeting the high-end of that market, Montage targeted the least expensive, most commoditized portion of the market. They failed.
Montage SoC chips probably aren't terrible. They just don't seem to offer anything that other, more established vendors don't already offer. Unless your target demographic is extremely cost-sensitive, feature-insensitive buyers, there's no strong incentive to adopt Montage's back-end solutions.
Common sense would say that Montage should have gross margins towards the bottom of the industry. In the year before LQW was invented, they did.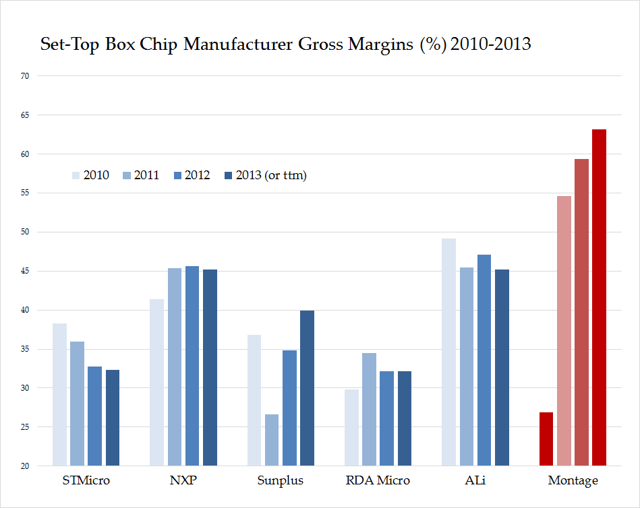 Common sense would say that a distributor that works out of one room in Hong Kong, with no web site, one desk and one guy who is seldom seen, is not a real distributor.
Common sense would say that one or two new chips that bring no real innovation don't suddenly outsell an entire product portfolio that has been built up over more than half a decade.
Common sense would say that when no company in an industry regards another company as a competitor, that company is probably not doing as much business as it claims.
Common sense would say that when it's hard to find many customers using a product, it's likely that product doesn't have many customers.
Fortunately, investors need no longer rely solely on common sense, because now they also have real market data and evidence of the multiple, massive, inexplicable inconsistencies in Montage's financial results.
What is Montage Worth Today?
The supplier data, both Montage vs. itself (front-end vs. back-end) and Montage vs. its "competitors" and ALi in particular, demonstrate convincingly that MONT's back-end market share is vastly less than the company claims. As a rough guide to how much back-end sales Montage is actually doing, it's probably reasonable to assume that sales are roughly proportional to the number of distributors, in which case unit volumes on the back-end would be about 10-12% of front-end unit volumes. Adjusting for average selling prices, MONT's back-end revenue would be very roughly 50% of their front-end sales, or in the neighborhood of $8 million. Adding back $16 million of front-end sales gives a total set-top box chip business of something like $24 million.
Interestingly, that revenue estimate is reasonably close to the company's set-top box revenue, sans LQW, of $20 million.
In other words, Montage's set-top box chip revenue for 2013 is probably well less than the company claimed for 2010. Nearly all of 2010's $29 million in revenue was likely front-end chips, so although management has done a good job of keeping investors' attention focused elsewhere, the front-end business has fallen hard.
We can't imagine anyone willing to pay more than 1x sales for a money-losing commodity semiconductor business; the set-top box chip business may be worth $25 million.
The memory buffer business is definitely a more interesting opportunity. With revenues of $5.2 million in the fourth quarter alone, it's not inconceivable that a buyer would pay as much as $80-$100 million for the business under different management.
The company has some cash as well from the IPO and from selling a million shares in the recent secondary, although obviously a lot less cash than the unaudited 2013 financial statements or Chinese bank statements would suggest! We're not sure how the residual cash should really be valued for a Cayman Islands company with plenty of shareholder litigation to settle.
With an expected share count of 29.3 million for the first quarter, in the hands of new management, we suppose the stock is probably worth about $5-$6 per share even in the midst of the storm it currently faces.
We certainly do not expect any sort of acquisition of the company to be consummated remotely close to yesterday's closing price of $20.94 and note that the offer from Shanghai Pudong Science is non-binding, and even if a transaction had been committed to at this point, fraud is a universally valid reason to terminate an acquisition. We are 100% confident that Montage's stated financials would not stand up to a thorough due diligence process.
1 Based on Q4 earnings call figure of 16-17% of set-top box business. The company did not specifically break down its 2010 revenue, but had little or no back-end chip products at that time.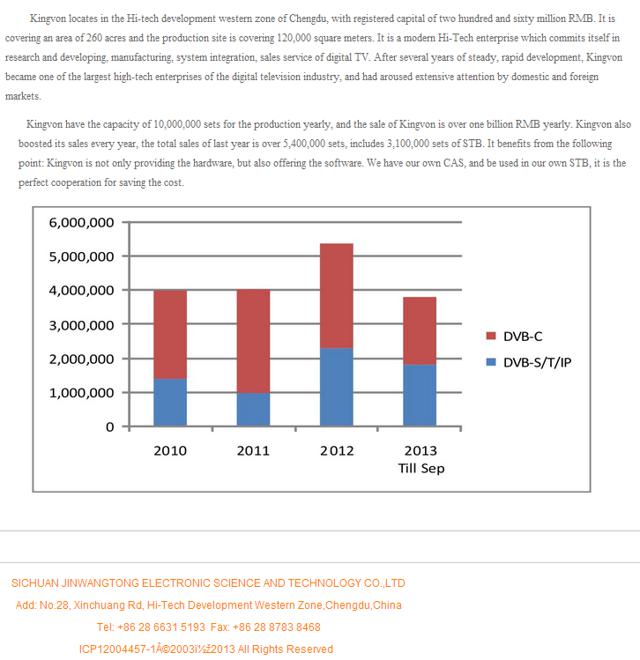 The company has two sites, one oriented for export (KingVon.com), and one for domestic China (www.scjwt.com/)
3 According to published research, during recent investor meetings, MONT CFO, Mark Voll stated that approximately 60% of MONT's STB revenue is attributable to satellite. Given that SoC revenue allegedly comprises the vast majority of STB revenue, we use an estimate of 60% here. We believe our findings are robust across a wide range of values.
Disclosure: I am short MONT. I wrote this article myself, and it expresses my own opinions. I am not receiving compensation for it. I have no business relationship with any company whose stock is mentioned in this article.
Additional disclosure: Aristides Capital is the General Partner of two private investment funds which hold bearish positions in Montage.