The comments from the Federal Reserve yesterday triggered a big sell-off, and today, we are feeling the hangover effects of that. Worse, for those in the 3D printing names, there is a lot of pressure on the sector, as we saw disappointing financial results last night and received word that a new large competitor was set to enter the market in what appears to be the near term.
The momentum trade in these names has calmed down a good bit, and although there is still a large contingent of individual investors sniffing around, it sure feels to us that the institutional and smart money has abandoned the trade. There will be a time when we are interested again in a speculative trade, but right now, we are still on the sidelines. The analysts are far more bullish on the equity prices than we are, and it shows in their comments, which we have included in today's article.
Chart of the Day:
Whether Ms. Yellen misspoke yesterday or the market misunderstood her comments we do not know, but the move lower on those comments was swift and powerful, as the chart below shows.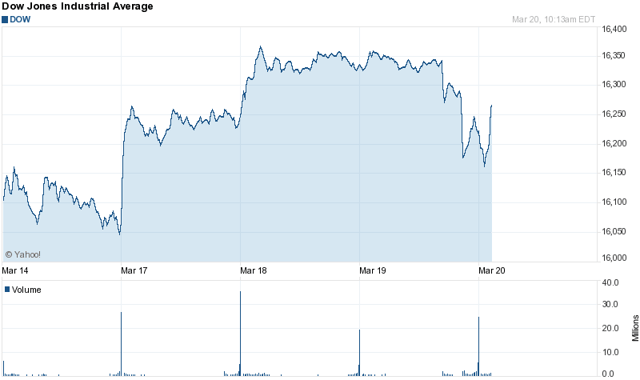 Source: Yahoo Finance
We have economic news today, and it is as follows:
Initial Claims (8:30 a.m. EST): Est: 330k Act: 320k
Continuing Claims (8:30 a.m. EST): Est: 2883k Act: 2889k
Existing Home Sales (10:00 a.m. EST): Est: 4.6 M Act: 4.6 M
Philadelphia Fed (10:00 a.m. EST): Est: 2.0 Act: 9.0
Leading Indicators (10:00 a.m. EST): Est: 0.3% Act: 0.5%
Natural Gas Inventories (10:30 a.m. EST): Est: N/A
Asian markets finished down today:
All Ordinaries -- down 1.15%
Shanghai Composite -- down 1.40%
Nikkei 225 -- down 1.65%
NZSE 50 -- up 0.11%
Seoul Composite -- down 0.94%
In Europe, markets are trading lower this morning:
CAC 40 -- down 0.78%
DAX -- down 0.86%
FTSE 100 -- down 1.02%
OSE -- down 1.03%
HP Making Waves Today
Overshadowing the earnings news in the 3D printing industry is the news from Hewlett-Packard (NYSE:HPQ) CEO, Meg Whitman, that her company would have details in June on its plans to enter the 3D commercial printing market. It is a move that has been widely speculated would occur sooner rather than later, speculation which was fueled by analysts and company executives alike. Details are still light, but Ms. Whitman hinted that Hewlett-Packard believes it has solved some of the issues that plague the industry's products and might be able to offer a superior product. We will know more in June, but this news has added to the onslaught in selling, hitting the 3D printing names, especially 3D Systems (NYSE:DDD).
When $80/share did not hold, our attention turned to possibly testing $60/share, and here we are. We are intently focused on whether 3D Systems' shares can remain above the $60/share level, because a move below it could lead to further losses.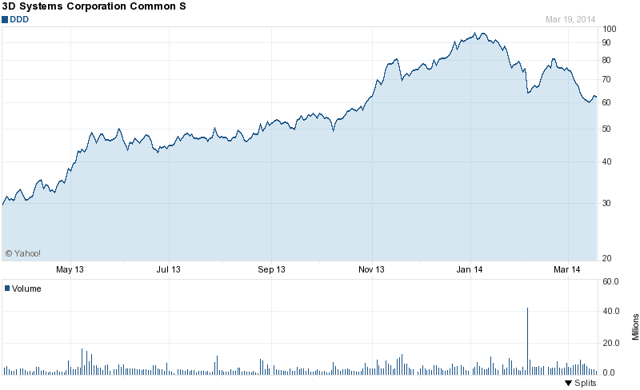 Source: Yahoo Finance
ExOne X'd Out?
Our initial take is that ExOne (NASDAQ:XONE) is not out of the game yet, but many are assuming that in the articles we have seen since last night. Although the company did have a huge $0.23/share miss on the EPS figure, the issue with both the bottom and top line misses was caused by delays in delivering/shipping products. The initial reaction is to sell on this news, but if the sales show up in next quarter's results, then we know we are dealing with a timing issue and not something more serious. Full-year guidance is now a penny below the analyst consensus estimate, so the bad news may not be as bad as some are assuming it will be moving forward.
Analysts Still Showing Support
After the ExOne miss, BB&T maintained their 'Hold' rating on the shares, as they believe the company continues to take steps to grow its business. Over at Brean Capital, their advice is to buy names such as 3D Systems, Stratasys (NASDAQ:SSYS), and ExOne on any weakness. We would recommend watching Voxeljet (NYSE:VJET), which has had some issues of its own recently in regard to revenue and customer orders.
Disclosure: I have no positions in any stocks mentioned, and no plans to initiate any positions within the next 72 hours. I wrote this article myself, and it expresses my own opinions. I am not receiving compensation for it (other than from Seeking Alpha). I have no business relationship with any company whose stock is mentioned in this article.