HollyFrontier (NYSE:HFC) is one of the largest independent petroleum refiners in the United States, operating throughout the mid-continent, southwestern and Rocky Mountain regions. Their subsidiaries produce and market gasoline, diesel, jet fuel, asphalt, heavy products and specialty lubricant products.
Headquartered in Dallas, the company operates five complex refineries with 443,000 barrels per day of crude oil processing capacity. HollyFrontier owns a 39% interest in HollyEnergy Partners (NYSE:HEP), which includes their 2% general partner interest. HEP is a master limited partnership that owns and operates petroleum logistics assets including pipelines, terminals and tankage throughout the mid-continent. Through subsidiaries, HEP owns or leases approximately 2,900 miles of petroleum product and crude oil gathering pipelines in Texas, New Mexico, Oklahoma, Nevada and Utah.
Earnings Overview
On Feb. 25, 2014, HollyFrontier reported Q4FY13 net income of $62.9 million or $0.31 per share compared to $391.6 million or $1.92 per share for the corresponding quarter in 2012. This reflected lower Q4 refining margins, which were $10.96 per produced barrel, a 54% decrease from the $24 per barrel in Q4FY12.
Once again, the company paid a regular dividend of $0.30 and a special dividend of $0.50. Therefore, over the past 12 months, the indicative yield on the company is an impressive 6.5%. HollyFrontier has increased the regular dividend five times post the July 2011 merger and has also declared 12 special dividend payments.
Commenting on the results, CEO and President Mike Jennings noted:
Inland refined product margins remained tight during the quarter relative to prior year highs, driving a disappointing year-over-year decrease in fourth quarter earnings. However, crack spreads have rebounded from recent lows and margins in 2014 to date reflect a more balanced market than we experienced during the fourth quarter. Looking forward, we anticipate more stable refining operations in 2014 as we concluded a year of unusually high turnaround and maintenance activity in 2013. Additionally, we believe that the structural crude advantages experienced by our inland refineries will continue to provide us with a product margin advantage as we go forward.
Despite the decline in income, the reported earnings were far higher than the street had expected. The consensus estimate was an EPS of $0.21. Therefore, the 50% upside surprise provided a boost to the share price.
The outlook for Q1FY14 is for an adjusted EPS figure of $0.78 (see Fig.1). Although that's lower than the $0.82 estimate on March 7, it nevertheless reflects a positive 1.9% change over the past four weeks.
Fig. 1 - Company Share Price and Consensus EPS for Q1FY14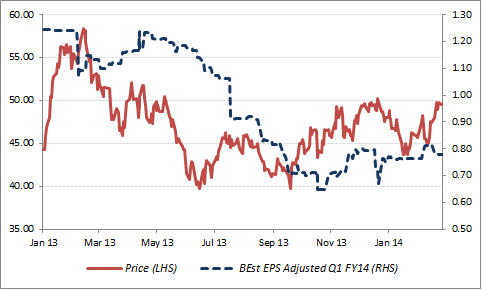 Source: Bloomberg.
For full-year 2014, analysts expect an EPS of $4.35, reflecting an FY14 forward P/E of 11.4x. In 2005, EPS is expected to climb to $4.75, putting the company on an FY15 forward P/E of 10.4.
Fundamental Analysis
From a fundamental perspective, I break it down into two studies: Value and Quality.
Value
To determine value, I use the conventional approach of analyzing price multiples. I rank these into deciles with 1 being the cheapest 10% and 10 indicating the most expensive 10% of companies based on that specific multiple. Then, I backtest the performance of each of these deciles going back over the past 14 years (the end of February 2000 to the end of February 2014) to determine whether the company is attractively positioned based on the historical returns. I conducted my tests across the Russell 3000 Index and rebalanced annually.
Fig. 2 - HollyFrontier Value Analysis (Lower Rank = More Attractive Valuation)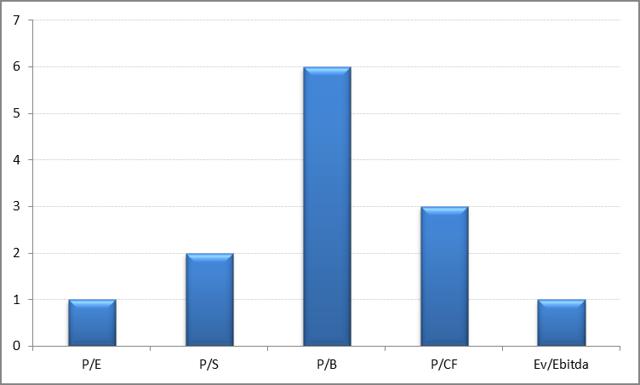 Click to enlarge Source: Bloomberg.
Price/Earnings
HollyFrontier has a P/E of 12.6, giving it a rank of 2 and placing it among the cheapest 20% of companies in the Russell 3000. Over the past 14 years, companies in this category have produced a CAGR of 11.2%, the second best-performing decile.
Price/Sales
The company also looks cheap when sales are taken into account. A P/S ratio of 0.45 results in a rank of 1. Companies in this category have been the best performing since February 2000, producing a CAGR of 18.2%.
Price/Book
The attractive valuation is further confirmed with a P/B ratio of 1.5. The resulting rank of 3 puts the company among the cheapest 30% across the Russell 3000. Companies in this category produced a CAGR of 10.8%, the third best-performing
Price/Cash Flow
With the company attractively priced based on P/E and P/S multiples, astute investors would expect to see the same across the P/CF multiple. Any discrepancies here would raise some red flags. However, there are no such worries for HollyFrontier, which trades on a P/CF multiple of 7.2 -- ranking it in the third decile. This decile has produced a CAGR of 10.6% over the past 14 years, the third best-performing.
EV/EBITDA
The confirming evidence that HollyFrontier is indeed an attractive proposition for value investors is comes with the EV/EBITDA of 5.6. That gives it a rank of 1, which has been the best performing decile, producing a CAGR of 16.3%.
Quality
For quality purposes, I analyze profitability through return on equity. Investors typically look to invest in companies with a healthy and consistent ROE as evidence of competitive advantages and an economic moat. However, based on my backtests, there is little evidence that the companies with the highest ROEs materially outperform those with average ROEs. The reason being the multiple components of ROE.
Therefore, I break down the ROE calculation to get a better understanding of the ROE drivers and their relevance based on historical returns across the Russell 3000 over the past 14 years (February 2000-14). I rebalance annually and rank the components into deciles from 1-10.
Fig. 3 - HollyFrontier Quality Analysis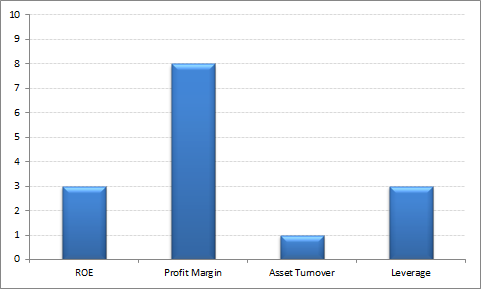 Source: Bloomberg.
Return on Equity
HollyFrontier has a healthy ROE of of 17.8%, which gives it a rank of 3. However, this decile is only the fifth best-performing, producing a CAGR of 7.6%. In saying that, it still comfortably outperforms the market.
Profit Margin
The business cycle tends to be quite volatile because business profits tend to be mean reverting. Therefore, while high profit margins are held up by many investors as a sign of strength, the reality is that higher margins attract a greater level of competition, which typically reduces those margins. HollyFrontier's profit margins is only 1.8%, which on the surface is cause for concern as it is ranked in the eighth decile. However, here is the intriguing thing. This decile has actually been the best performing over the past 14 years, producing a CAGR of 12.5%.
Asset Turnover
For those who have followed my work, you will be aware that based on my tests, the Asset Turnover figure is the most important component of ROE. HollyFrontier has an Asset Turnover of 2.0, ranking it among the top 10% across the Russell 3000. This is the best-performing decile, producing a CAGR of 11.9%.
Leverage
Leverage is another of those measures typically misunderstood by investors. Since 2008 in particular, there has been a scramble to invest in companies with low levels of leverage. However, the evidence suggests that it is actually these companies that produce the worst returns. The sweet spot instead is somewhere in the middle. HollyFrontier has a leverage reading of only 1.7. Again, on the surface this is attractive as it points toward a healthy balance sheet. However, the rank of 3 puts it in only the eight best-performing decile, producing a CAGR of 6.5%.
Technical Analysis
The purpose of my technical analysis is all to do with trends. I examine the direction of the trend by simply analyzing price, the momentum of the trend through moving average convergence divergence (MACD) and the condition of the trend through the 14-day Relative Strength Index (RSI).
Trend Direction
HollyFrontier's share price bottomed in November 2008 and since has been in a strong uptrend. That's not to say there has not been volatility along the way. From Aug. 5, 2011, to Dec. 9, 2011, the company share price corrected 45%. Then again, from March 8, 2013, to July 5, 2013, the share price endured a 34% correction. However, what was notable on each occasion was that the support of the 100-week moving average held. Indeed, looking back over a 10-year weekly chart of HollyFrontier, the 100-week moving average has proved an important area of support and resistance. Therefore, with the current share price of $49.49 above the 100-week moving average of $43.82, the uptrend remains in place and is well-supported.
Fig. 4 - Weekly Price Trend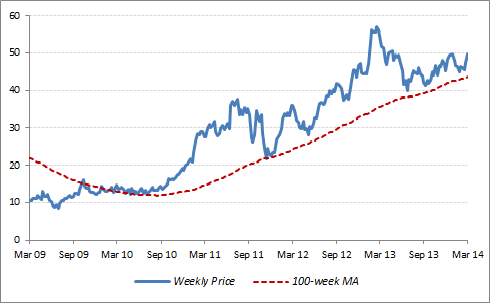 Source: Bloomberg.
Trend Momentum
The 34% decline in the share price in 2013 also resulted in momentum to plunge into negative territory. After recovering to positive territory later in the year, there was another brief correction in January. However, the recent evidence is that momentum is picking up once more, which could send the share price higher to challenge the 52-week highs of $59.20.
Fig. 5 - HollyFrontier Weekly Price Momentum Using MACD (12, 26)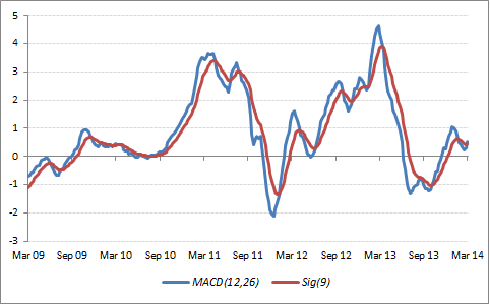 Source: Bloomberg.
Trend Condition
The key levels to look out for on the RSI chart are 70 and above, which equates to an overbought condition. Meanwhile, a reading of 30 or below reflects an oversold condition. The RSI on the weekly chart for HollyFrontier is 58.5. Therefore, it is neutral territory with little suggestion a rally cannot ensue from current levels.
Fig. 6 - HollyFrontier Weekly Price Condition Using RSI (14)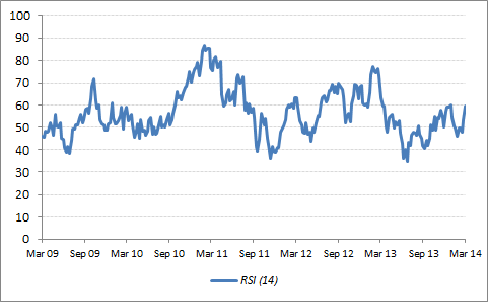 Source: Bloomberg.
Looking at the three factors (direction, momentum, condition) on the weekly chart, there are no obvious negative signals. Quite the opposite in the sense that the share price is well-supported by the 100-week MA and with momentum picking up, the 52-week highs of $59.20 are certainly within reach. That is barring any material in the overall market.
Conclusion
HollyFrontier appeals from a fundamental perspective. Across multiples such as P/E, P/S, P/CF and EV/EBITDA, the company is among the cheapest in the Russell 3000. Meanwhile, from a quality standpoint, margins are low but the company is in the top 10% in terms of asset turnover. As I have already acknowledged, companies in this decile have produced a CAGR of 11.9% over the past 14 years.
My admiration is further fueled by the technical setup. Provided the share price holds the 100-week MA support at $43.82, investors should be looking to invest. With momentum turning up once more, I think it is quite possible the 52-week highs of $59.20 could be revisited before too long.
Finally, in this low-yield environment, the company's dividend policy stands out. In addition to a regular $0.30 dividend payment every quarter (which alone yield 2.42%), HollyFrontier continues to pay out a special dividend of $0.50 every quarter. That brings the total dividend over the past year to $3.20, representing a yield of 6.5%.
HollyFrontier ticks the right boxes for the value, income and momentum-based investor. Now is the time to buy.
Disclosure: I am long HFC. I wrote this article myself, and it expresses my own opinions. I am not receiving compensation for it (other than from Seeking Alpha). I have no business relationship with any company whose stock is mentioned in this article.