It was not that long ago that I had nearly called a bottom in the share price of Annaly Capital (NYSE:NLY) and took a risk allocated position in the stock. The reasons were simple to define for me, and with all of the opinions one way or another about the mREIT market, I considered my opinion to have merit.
The talk of tapering prior to the event actually occurring led to a selloff of all mREIT stocks, not just NLY, but NLY has several significant differences that I took into consideration:
The company used less leverage, mitigating some risk in lieu of temporary gains. I appreciate the conservative nature of this approach.
The company purchased CreXus, which gave it a unique blend of residential and commercial business within the mREIT sector.
I still consider these as advantages for Annaly over its competition in the business sector and believe it will serve them, and shareholders, well, as we move ahead in 2014 and a new interest rate environment.
Interest Rates Have Not Skyrocketed
One of the major headwinds to this sector is if longer term interest rates move up too quickly for an mREIT to adjust its "inventory." As you can see, the rates have moved up, but rather slowly and in fits and starts, not a parabolic move whatsoever.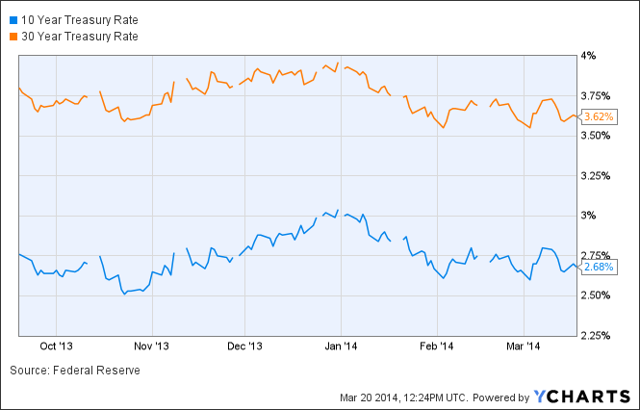 Annaly will be able to navigate this environment as long as the rates' upward march is slow and measured, and that is precisely what we see occurring, no matter what the Fed decides to do for now.
Another important factor in my determining that NLY is a solid dividend risk investment is that the Zero Interest Rate Policy of the Fed [ZIRP] is still intact and will be for the foreseeable future, according to Janet Yellen.
As long as ZIRP stays in place, the spread will be effectively navigated by NLY, especially between the 2 and 10 year rates where most of the activity takes place.
The Yield Curve Spread Has Widened, Not Narrowed
A wider yield curve spread allows mREITs to profit more sustainably than a narrow spread. In the case of NLY, since they have taken a more conservative approach with leverage, it should work more towards their favor.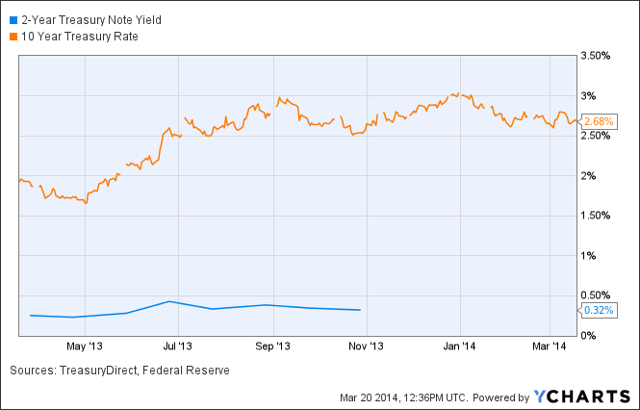 As you can see, there is currently a 236 basis point spread now as compared to about 118 basis points back in May 2013. This bodes well in my opinion. I also believe that the sustained profitability will mean higher dividends down the road this year.
A Buying Opportunity Could Present Itself Once Again
Since this sector moves whenever the Fed speaks, the words of Yellen (as noted above) caused the share price of Annaly to dip, and could actually cause it to dip further. Since NLY is already selling at a discount to book value, I am using any dip to add to my position, right up to the time the company announces its next dividend.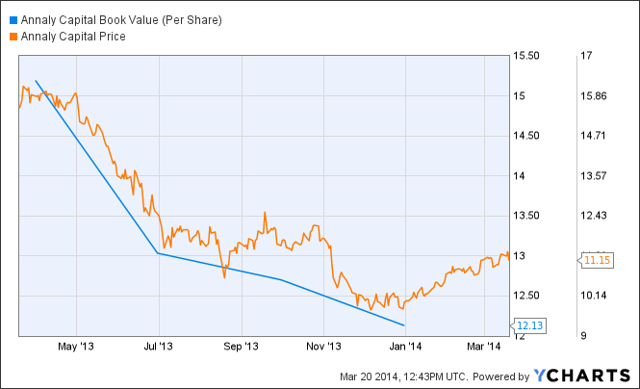 As of now, there is an 8% discount to book value, and as the discount moves above 10%, based on my thesis outlined above, adding shares to an existing position or taking an initial risk allocated position in NLY should be profitable in the near and intermediate terms.
My Bottom Line
My position has always been that NLY is a dividend opportunity stock. It is not a dividend champion, but the company has show the ability to navigate throughout various interest rate environments.
Not only does this mean a more stable and increasing share price, but could also mean an eventual increase in dividends paid to shareholders. I am a buyer of NLY right now.
Disclaimer: The opinions of the author are not recommendations to either buy or sell any security. The author is NOT an expert in the mREIT market and his opinions are is own. Please remember to do your own research prior to making any investment decision.
Disclosure: I am long NLY. I wrote this article myself, and it expresses my own opinions. I am not receiving compensation for it (other than from Seeking Alpha). I have no business relationship with any company whose stock is mentioned in this article.