By Adam Sharp
Sometimes I mention palladium to investor friends.
I usually get puzzled looks and questions like, "Isn't that stuff radioactive?"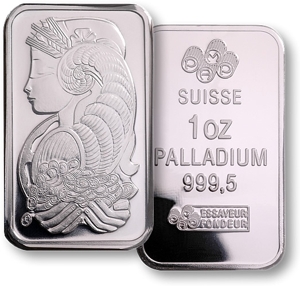 Nope, it's not radioactive. Palladium is a rare precious metal with lots of industrial uses, primarily in catalytic converters — the devices in every car that clean up exhaust fumes.
Interest from investors is growing as well. They're buying bullion bars, like the 1oz Credit Suisse bar seen here to the right.
The popularity of the new physical palladium ETF (NYSE: PALL) is also adding to the demand squeeze.
The combined demand from investors and industry is pushing palladium prices higher... And we think there's plenty of upside left.
Check out this chart showing projected palladium supply and demand: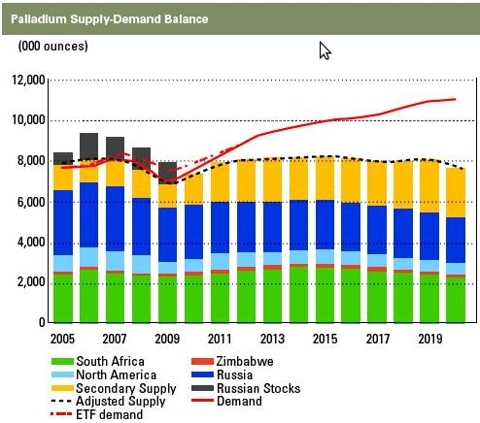 See that red line? That's projected demand, and it makes a pretty picture for palladium investors. The black part of the bar chart represents Russian stocks of palladium. From 2005 to 2009 they were dumping their stocks on the market, supressing prices. Now that they appear to have exhausted their stocks, prices should continue to move up.
The palladium demand picture
Palladium is closely related to platinum. It's important to note that platinum is the only precious metal that has consistently maintained a higher price per ounce than gold — and that's primarily due to platinum's use in catalytic converters.
But palladium is rapidly becoming the metal of choice for the auto industry. It's easy to see why, as it costs less than one-third as much as platinum does.
Auto demand currently accounts for about 50% of palladium demand. Spiking auto growth and new emissions standards in emerging nations like India and China will ensure strong demand for the foreseeable future.
Its use in electronics, jewelry, and dental work account for about 30%. Investors currently account for around 20% of demand, but I expect that number to rise in the coming years.
An underdog play
As the least well-known of the "big 4" precious metals, palladium doesn't get the respect that gold, silver, and platinum do.
But in my opinion, it has the most upside of the bunch. We've been recommending it since it traded at $320/ounce in November 2009 (current price: $451/ounce).
As palladium demand from all sides continues to rise, the price will too.
It's emerging as a way for investors to store wealth, hedge against inflation, and speculate on industrial demand.