The much troubled Hewlett-Packard (NYSE:HPQ) has just announced a 10% increase to its quarterly dividend, as Seeking Alpha has covered here. Does this make Hewlett-Packard a reliable dividend growth stock in the technology space ? Let us get into the details.
New Dividend: The latest dividend increase gives Hewlett-Packard investors an annual dividend of 64 cents per share. That puts the yield at an even 2%. While this is much lower than other dividend paying stocks like Intel Corporation (NASDAQ:INTC) and Microsoft Corporation (NASDAQ:MSFT), the two sections below should be encouraging for Hewlett-Packard investors.
Dividend Coverage: Let us look at dividend coverage using three metrics: payout ratio, free cash flow, and cash on hand.
Payout Ratio: Based on trailing twelve months earnings per share, Hewlett-Packard has a payout ratio of 23%. As a comparison, Intel and Cisco Systems (NASDAQ:CSCO) have a payout ratio of 50% while Microsoft's stands at 40%.
Free Cash Flow: Hewlett-Packard's average quarterly free cash flow over the last 5 years stands at $2.12 billion. The minimum was $310 million and the maximum was $4.12 billion. Total outstanding shares as of this writing is 1.9 billion. Multiplying the shares count by the new quarterly dividend of 16 cents, we get $300 million that is committed by the company to shareholders. In short, dividends seem safe.

(Source: YCharts.Com)
Cash Strength: Technology companies are no strangers to large cash cushions. Hewlett-Packard is no different as the $61 billion giant has $16 billion in cash.
Dividend Growth: With this recent increase, Hewlett-Packard has now increased dividends 4 consecutive times in a reliable pattern (same quarter). The table below shows the dividend growth rates for these 4 years and the average is an impressive 20%. However, it is safe to assume that the average going forward is expected to be around 10% or below.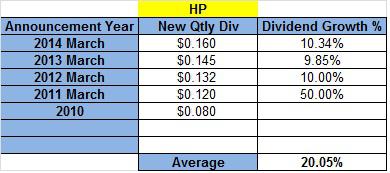 (Source: Data from Yahoo Finance)
Extrapolation: Caution. Not too many technology stocks have a long history of reliable dividend growth. That is why companies like International Business Machines Corporation (NYSE:IBM) are loved by income investors.
The table below shows the potential yield on cost if Hewlett-Packard increases its dividend by 7%/yr for the first 5 years and 5%/yr for the next 5 years. For the bulls, the assumed dividend growth rate might be too low but it is better to error on the side of caution.
Another way to guesstimate the future dividends is to look at the current payout ratio and expected earnings. For example, most tech companies seem comfortable with a payout ratio of 50%. If Hewlett-Packard's earnings per share reaches $3.16 in 3 years (an expected earnings growth of 5% /yr) and the company feels comfortable increasing payout to even 40%, we are looking at an annual dividend of $1.26/share. Of course, earnings could fall as well and that is where the company's buyback program (like IBM's) could help its shareholders.

(Source: Current dividend and share price data from Yahoo Finance)
Forward Estimates and Conclusion: With Intel disappointing investors when it comes to dividend growth, Hewlett-Packard has delivered a strong message with yet another dividend increase. But earnings are expected to grow at just 5% per year over the next 5 years. This is not surprising given the onslaught Hewlett-Packard and other traditional companies have faced from younger/energetic companies.
As the numbers above have shown, even with a flat earnings or even slightly declining earnings Hewlett-Packard still has a lot of room for dividend growth. That said, the market euphoria and the dividend increase announcement have pushed the stock to 52 week highs. As we have seen with a lot of "old" technology stocks, the trading range seems to hold true for Hewlett-Packard as well. Keep watching and pull the trigger at the mid to low end of the range if you are looking at a technology stock that has sufficient scope for dividend increases.
Disclosure: I have no positions in any stocks mentioned, and no plans to initiate any positions within the next 72 hours. I wrote this article myself, and it expresses my own opinions. I am not receiving compensation for it (other than from Seeking Alpha). I have no business relationship with any company whose stock is mentioned in this article.