The subprime mortgage crisis in 2008 left Citigroup Inc. (NYSE:C) in a trust lacking situation that made the company lose hundreds in share value. Non-inclusion of macro factors such as the national housing downturn or the prospect that millions of mortgage holders would default on their mortgages in risk models possibly explained the collapse of CDO's. However, since then Citigroup continued to improve and today the share price has risen by more than 165% in 5 years.
The company just ended its 2013 fiscal year with hopes of a better future despite the fact that Citigroup is still seen in a negative light. In this article, we will go through the company's performance throughout the year and have a look at some events that have occurred that are aiding the company's recovery.
The Quarter
Most of Citigroup's Profit Came from Bottom-line Efficiency

Click to enlarge
Source: Presentation
Adjusted revenue fell 2% to $18.4 billion owing to a billion dollar aggregate decline in consumer as well as securities banking. Lower mortgage financing and a decline in fixed income markets remained dominant harming revenue figures on a year-over-year basis. However, investment banking showed improvements together with transaction services and Citiholdings that saw revenue improvements of $55 million and $256 million respectively owing to volume and fee growth as well as the absence of rep and warranty reserve builds.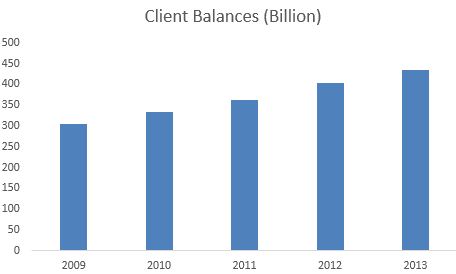 Source: Trefis
The transaction service business remained strong with the company receiving higher client balances after the 2008 crisis. This was a sign of growing customer confidence (see graph above).
Core operating expenses of $10.9 billion declined by roughly $340 million year-over-year in constant dollars, driven by efficiency in savings and a decline in the Citi Holdings asset base that was partially offset by volume-related expenses. These efficiencies are an important part of how Citigroup is to stay afloat amidst the impending challenges. Repositioning costs and legal costs also remained on the downside.
Higher cost reduction led to a 19% increase in diluted EPS that grew to $0.82. All in all, Citigroup was affected by a stagnant market with regards to its major revenue generating segments but managed to post good profits through cost savings. Citigroup is tightening its cost controlling to ensure a more profitable future.
Citigroup's Internal Improvements
Citigroup is involved in an efficient resource allocation program that includes orderly expense management. During 2013 the company completed the repositioning actions announced in the fourth quarter of 2012 which resulted in the exit of markets that did not fit Citigroup's strategy. This contributed to the reduction in operating expenses last quarter on a year-over-year basis. Moving away from bad markets will result in positive long-term alignment that helps take away credit losses and generates sustained revenue generation.
Citicorp's expenses last quarter were impacted as a result of a fraud issue discovered in Banamex, a subsidiary in Mexico. The fraud increased the quarterly operating expenses in transaction services "TS" by an estimated $400 million! Imagine the magnitude of the cost drop if the charge wasn't there. Transaction services is already a growing business as we saw by the amount of client balances in the graph above.
Secondly, Citi reduced the Citi Holdings assets by $39 billion last year which amounted to a 25% drop. These assets have been generating losses and by cutting annual losses by half compared to 2012 Citi is making good progress towards reaching the breakeven level (see graph below).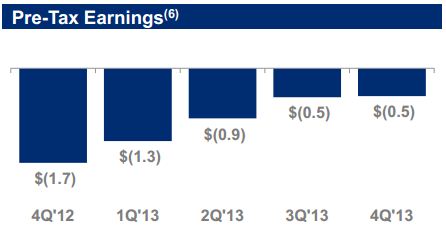 Source: Citi Holdings Earnings (Presentation)
These plans helped Citigroup improve key metrics such as ROTCE and ROA as it made progress towards the targets announced. For example, ROA stood at 0.7% last year compared to the industry's 0.5%. The company also began to tap into its deferred tax asset by utilizing $600 million during the fourth quarter bringing the total amount utilized to $2.4 billion over the year.
Provision for credit losses as well as for benefits and claims are also declining. It reached $8.5 billion last year reflecting a 25% drop. Net credit losses of $10.5 billion also fell 26% from 2012. Consumer net credit losses declined 27% to $10.3 billion. These declines reflect well-organized management reflecting enhancements in the North American branded cards and retail service portfolios.
These improvements are good considering the low interest rate environment that is expected to continue during 2014. Branded cards are beginning to show visible improvement and will simultaneously benefit from upcoming positive Best Buy revenues. Cost efficiencies will ensure that profit figures in the future are better than the present.
Bottom Line
All of the above is reflected in the current share value trend. The company experienced three year average income growth of 9% that is higher than the industry average and has a debt to equity ratio of 1.1 that is below than the industry average. Citigroup looks prepared for what is ahead to come. Therefore, I give the stock a buy rating.
Disclosure: I have no positions in any stocks mentioned, and no plans to initiate any positions within the next 72 hours. I wrote this article myself, and it expresses my own opinions. I am not receiving compensation for it (other than from Seeking Alpha). I have no business relationship with any company whose stock is mentioned in this article.