Valuation of shares of stock by both the public and institutions are dreadfully inefficient. This of course creates great opportunities, but also creates potential short term misfortune as share prices go to further extremes of what you may have already considered either expensive or inexpensive.

Take for example Amazon, (NASDAQ:AMZN) who first saw its shares trading on the stock exchange with its IPO (Initial Public Offering) in May of 1997.

Here is a chart of Amazon from January 9th, 1998. (Click to enlarge)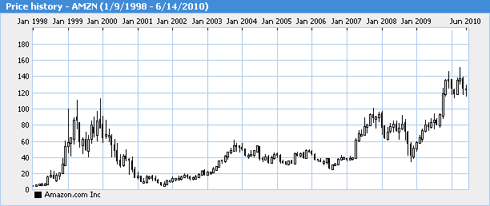 Note: Sources for data from 10-k's filed under SEC filings and or Value Line Investment Survey

By 1998, an average of 148,172,000 shares were outstanding (318,534,000 by the end of 1998). On January 9th, 1998, Amazon share price hit a low for that year at $4.26 per share making the market cap of $631.2 million based on 148.172 million shares outstanding. In 1998, Amazon had a net shareholders equity of $138.5 million and lost $124.5 million. Amazon was still very young and did not yet have enough economies of scale to make a profit.

Amazon January 1998 at $4.26 per share = 4.6x shareholders equity and had no earnings for a P/E.

In December of 1999, nearly 2 years later, Amazon reached $113 per share. This was near the height of the dotcom bubble. As of December 31, 1999, Amazon now had approx. $2.4 billion in assets and approx. $2.1 billion in liabilities for a shareholders equity of $266 million. More shares were issued that year bringing the total number of shares outstanding to 355,155,000. At $113 per share, that made the market cap of Amazon approx. $40.13 billion.

Amazon December 1999 at $113 per share = 150x shareholders equity and Amazon lost $719 million in fiscal year 1999.

An investor paid the equivilant of $40.13 billion for a company with only $266 million in equity, only $2.4 billion in total assets and lost $719 million that year.

Over the next 22 months, Amazon share price crashes nearly 96% to 5.50 by October of 2001.

Amazon's losses continued. They lost $417.5 million in 2000. By 2001, there were 373,220,000 shares outstanding. At $5.50 per share, the market cap was now $2.05 billion.

By the end of fiscal 2001, Amazon now has only $1.71 billion in total assets and $3.07 billion in total liabilities making their shareholders equity negative $1.44 billion. Amazon lost $161.7 million on $3.1 billion in revenue that year.

Amazon October 2001 at $5.50 per share = no equity, no earnings and .66x sales.

Investors went from "nothing but blue skies ahead for Amazon" in December of 1999 to "are these guys ever going to make any money? FIRE MANAGEMENT!"

Fast forward nine years: In April 2010, Amazon traded at $151.1 per share. With 454 million shares outstanding, that made the market cap $68.6 billion. Book Value of Amazon as of December 31st, 2009 is $5.72 billion. Net profit for the most recent 4 quarters is $1.02 billion.

Amazon April 2010 at $151.5 per share = 9.77x book value and 54x trailing 12 months earnings.

In the life of Amazon, now a public company for over 13 years, it has total retained earnings (Amazon never paid a dividend to its shareholders) of $172 million. It has made back the losses incurred during start up but has only just begun to make back the original contributions.

Through all the issuance of stock sales, its capital surplus totals $5.7 billion, which is about what the shareholders equity is.

Amazon is only now beginning to make a profit for the original owners of the company and is still years away from making back the total contributions of capital.

Looking back now, you can wonder with amazement, 10 years ago, investors were paying $20 billion, $30 billion, even as high as $40 billion for a company that over the following 10 years would only earn $172 million after recouping losses from start up phase.

I personally believe the boom in internet sales growth is over because of market saturation of households with internet, meager savings rate that must rise, State austerity measures on the way that will all hurt online retail discretionary sales.

The current share price is $125 at the time of writing or $56.7 billion today. In my judgment, paying that for Amazon, a company only now beginning to make back the $5.7 billion contributed to making Amazon what it is today, seems way too dear a premium.

I am short Amazon for myself and 2 clients. I believe Amazon can return to $50 a share quite reasonably in the next down leg of this multi-year bear market we're in.
American Oriental BioEngineering

American Oriental BioEngineering (AOB) is another stock whose share price has done something similar to Amazon since its early years. That is, it has had huge run ups followed by large crashes. However, in my judgment, American Oriental is at the other end of the valuation spectrum today; its share price is in the bargain bin.

Here is a chart of American Oriental from July 16, 2003. (Click to enlarge)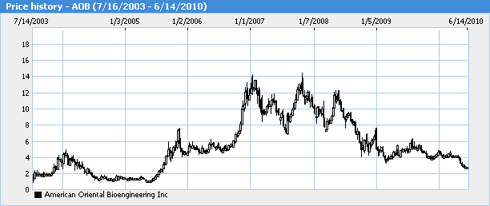 Starting from July 16th, 2003, American Oriental traded at $1.75 per share. There were 32.73 million shares outstanding, making the market cap $57.3 million. American Oriental had sales of $20.9 million and earned a net profit of $4.6 million for fiscal 2003. Its book value per share was .57 per Value Line Investment Survey.

American Oriental July 2003 at $1.75 per share = 12.4x earnings, 3.1x book value.

Only 5 months later, American Oriental reached $4.98 per share in January of 2004. In 2004, American Oriental had earnings of $7.8 million and a book value of .83 per share. At $4.98 with 39.75 million shares outstanding, the market cap was $197.95 million.

American Oriental January 2004 at $4.98 per share = 25.3x earnings and 6x book value.

From there, American Oriental went from $4.98 to $1.02 in May of 2005, in 16 months time. American Oriental dropped nearly 80%.

In 2005, American Oriental had 57.11 million shares outstanding. A share price of $1.02 made the market cap $58.25 million. In 2005, American Oriental had earnings of $13.4 million and a book value of $1.59 per share.

American Oriental May 2005 at $1.02 per share = 4.3x earnings and .64x book value.

From 2004 to 2005, American Oriental increased earnings from $7.8 million to $13.4 million and book value from .83 to 1.59 per share, yet the share price dropped nearly 80%. P/E contracted from 25x to only 4.3X and book value contracted from 6x to .64x.

Inefficiency at its best. The following 2.5 years, American Oriental share price goes from $1.02 to $14.48, a gain of over 1300%; craziness.

In October of 2007, at $14.48 per share and now with 77.99 million shares outstanding, the market cap was $1.13 billion. American Oriental had earnings of $43.3 million and a book value per share of $4.01.

American Oriental October 2007 at $14.48 per share = 26x earnings and 3.6x book value.

Since October of 2007, American Oriental share price has fallen to $2.80 recently. There are now 78.38 million shares outstanding making the current market cap $219 million.

American Oriental is estimated to earn .38 per share this year or $30 million. It's book value is now $5.09, however that includes goodwill and intangible assets. Take those out and the net tangible book value is around $200 million. Add in unrealized gains from its $15 million share investment in Aoxing Pharmaceutical, (NYSEMKT:AXN) that was purchased for $18 million in April 2008 and is now worth $45 million (for an unrealized gain of $27 million). So approx. $2.87 per share give or take a few subjectable pennies.

American Oriental has had contributions of approx. $200 million and has retained earnings of $194 million. The original owners have now nearly earned their money back from an accounting standpoint, and they now have a company that will earn $30 million this year or 15% yield from original investment capital; not bad.

American Oriental was very cheap at $1.02 in early 2005 when it was selling at .64x book value and 4.3x earnings. Investors who bought near those lows have been rewarded even if they had not sold close to the highs of $14.48 set in October of 2007. $1.02 to $2.80 in 5 years is still a terrific investment, to say the least.

American Oriental is again very cheap in my judgment. Current price to book is the lowest it's ever been now at .55x vs. .64x when it was $1.02 a share in 2005. Price to earnings is 7.6x, also very low historically.

The inefficiencies, in my judgment, are shown by the incredibly wild swings in share prices as witnessed by Amazon going from $4.26 to $113 in nearly 2 years, only to fall 96% 22 months later, then rise 2600% to $151 in 9 years. American Oriental went from $1.75 to $4.98 in only a few months only to drop nearly 80% a year and a half later- to be then followed by a 1300% gain. American Oriental had fallen as low as $2.68 recently so that drop from $14.48 to $2.68 is an 81.5% drop in almost 3 years.

Frankly, typical in the world of stocks these days.

This is where we come to today with respect to these inefficiencies. I believe Amazon, at today's price of $125, will prove to be a mediocre to disastrous investment over the next 5-10 years while at the same time, I believe an investment in American Oriental could be good to great investment over the next 5-10 years.

As a value investor "trying" to make money from these inefficiencies, I am long American Oriental and short Amazon at this current time. American Oriental is a rather widely held investment for my clients with a long term investment horizon as well and I consider American Oriental to be one of the best investment ideas out there today.


Disclosure: Long American Oriental, Short Amazon