After the major selloff of 2011-12, the solar industry has skyrocketed over the past year with many companies among the best performing stocks of 2013. Canadian Solar (NASDAQ:CSIQ) led the way with a nearly four-digit return during the year. That's right, the company was a 10-bagger (or up by 1,000%) prior to its fourth quarter earnings release, earlier this month. After a "seemingly" disappointing quarter, shares have dropped by over 21%. The question that arises: is the drop an opportunity to buy or an indication to sell?
A strong pipeline
The recent earnings release may have failed to impress the investors, but the company has a promising pipeline. It caters to a geographically diverse customer base, which has been rapidly expanding of late. Apart from Europe, where the company has strategically reduced its exposure, it has done exceedingly well in all key regions around the world.
In Canada, the company closed the sale of a utility-scale solar project plant to TransCanada for over C$61.0 million during Q4 2013. Its late-stage solar project and EPC pipeline in the country, including those in construction, now stood at 477 MW. According to CEO Shawn Qu, for 2014 and 2015:
This represents an estimated revenue opportunity of over $1.7 billion.
In the United States, the company's project pipeline totaled to 164 MW at the quarter-end, while it completed construction of three solar power plants totaling approximately 24 MW during the fourth quarter of 2013.
Across the Pacific, in Japan, the company has made significant inroads as well, expanding its pipeline of late-stage solar projects to 329 MW. Moreover, it expects to start construction of its first solar power plant in Japan in the next few months. In China, it built and grid-connected two solar power plants totaling to 40 MW. Exiting 2013, the company has a late-stage project pipeline in China totaling to 290 MW.
At the end of January 2014, Canadian Solar's late-stage utility-scale solar projects pipeline including owned and joint venture projects, as well as engineering, procurement and construction (EPC) services stood at approximately 1.3 GW, mostly in low-risk countries. In addition, the company's has early-stage projects pipeline of over 3.2 GW. Adding them up, the company has a very strong pipeline of 4.5 GW that will probably translate into impressive revenues in upcoming quarters.
Soaring revenues and margins
After revenues and margins slid quarter-after-quarter for nearly two years, until late-2012, both figures have improved appreciably over the last year and returned to the pre-selloff levels. As a matter of fact, the revenue and gross margin exceeded the company's guidance in the fourth quarter of 2013. The company reported solar module shipments of 612 MW, comfortably beating the shipment guidance of 480-500 MW and the quarter-ago shipments of 478 MW. As a result, revenue increased to $519.47 million, up by a whopping 76.1% from Q4 '12 and 5.82% from Q3 '13. The revenue piped the consensus analysts' estimate of $512.95 for the quarter. The company achieved gross margin of 19.5% in the quarter, compared to 5.04% in the same quarter last year.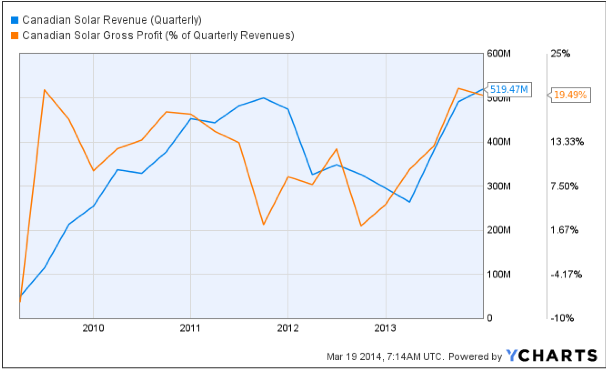 For full-year 2013, the company's shipments rose to 1,894 MW, compared to 1,543 MW in 2012, thus maintaining its position as the world's third-largest manufacturer of solar modules. Net revenue rose by 27.77% to $1,654.4 million for the year, helped by a 28.6% increase in revenue from the total solutions business.
Return to profitability
Among the tier-1 Chinese PV manufacturers, many operate at a loss, and Canadian Solar was no different about two quarters ago. The company reported negative earnings for over two years before bouncing back to profitability in the third quarter last year and reinforcing the notion in the fourth quarter. Diluted earnings per share fell from $0.56 in Q3 to $0.39 in Q4, missing analysts' estimate of $0.43 for the quarter. However, when you look at the full year result, the gains become stunning. The company reported per-share earnings of $0.63 for the year, compared to a per-share loss of $4.52 in 2012. Sure enough, these may not be exciting numbers considering the recent hype around the stock, but the fact that the expectations were already high amid strong performances of late, did more damage to share prices than the earnings-miss. Moreover, failing to meet estimates for one quarter shouldn't diminish the company's achievements for the year.
Cost-cutting leverage and improving cash flows
The company has a distinct cost advantage over its peers. To lead the product race, it focuses on R&D and evaluates new technologies at its cell efficiency research center in Suzhou, China. The low-cost manufacturing offers leverage, which was partly the reason for its 155% earnings-beat in the third quarter of 2013. In addition, it is increasing its internal solar cell capacity to cut back its reliance on third party cells for manufacture.
With multiple solar projects already in its kitty along with the successful sale of solar plants, it is heartening to see Canadian Solar strive to maintain a strong balance sheet. The company has shown improvement in cash on balance sheet over the past year. Its operating cash flow jumped to $229.5 million last year from ($147.8) million in 2012.
Outlook for 2014
While the Q4's earnings-miss hurt its share price, the effect was compounded by the soft guidance for the first quarter of 2014. Apparently rigid winter conditions in North America have delayed construction and revenue recognition of approximately $100 million from projects to future quarters. As a result, the management has set moderate guidance figures for Q1.
The company expects solar module shipments in the range from 470 MW to 490 MW, while gross margins are likely to drop between 14% and 16%. Net revenue is forecasted in the range between $415 million and $430 million. Although unexpected and extreme weather conditions this winter have affected all construction and manufacturing businesses across the board, but with normal weathers ahead things are likely to pick up soon. The management asserts that the losses will be made up for in later quarters. In fact, the full-year 2014 outlook is still very impressive. The company expects revenue in the range from $2.7 billion to $2.9 billion, a considerable improvement over the $1.65 billion last year.
Final thoughts
It is not easy to place bets on a recent 10-bagger, especially when the stock has realized all those gain in a year. It only becomes harder in the face of an underwhelming Q1 performance. But it all comes down to fundamentals, and in that regard Canadian Solar had all bases covered except for the unpredictable weather. Plus, there is no reason to expect a slowdown in the solar industry. So to think of it, the stock has been mainly hammered for an uncontrollable weather rarity.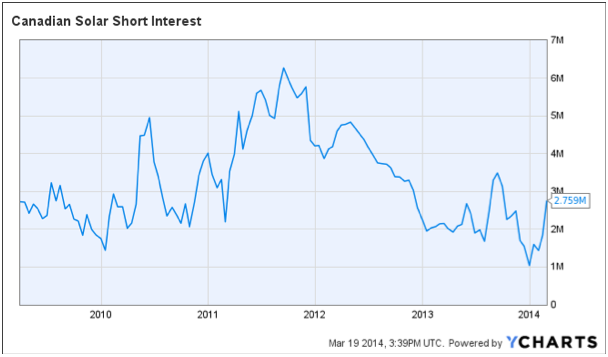 The company's return to profitability in recent quarters, albeit missing analysts' estimates, indicates its past moves have started to payoff and, therefore, it is on the right track. Evidently, the investors are panicking and selling out their shares. Warren Buffett wrote a famous op-ed piece in the New York Times in October 2008 in which he said:
A simple rule dictates my buying: Be fearful when others are greedy, and be greedy when others are fearful.
This may be the time to be greedy. Lastly, the recent spike in short interest totaling over 2.7 million shares is close to the 2013 peak of 3.5 million shares level. A contrarian would see this as an extreme and try to make use of the opportunity, particularly when day-to-cover short ratio is only 0.6.
Disclosure: I have no positions in any stocks mentioned, and no plans to initiate any positions within the next 72 hours. I wrote this article myself, and it expresses my own opinions. I am not receiving compensation for it (other than from Seeking Alpha). I have no business relationship with any company whose stock is mentioned in this article.