Following a solid Q4 beat and encouraging guidance from management, estimates have been rising significantly for Federal Signal Corporation (NYSE:FSS). It is a Zacks Rank #1 (Strong Buy) stock.
While shares have soared since the Q4 report, there is plenty of room to run higher with shares trading at reasonable multiples to earnings and cash flow.
Federal Signal Corporation designs and manufactures products and solutions for municipal, governmental, industrial, and commercial customers. It operates in three segments: Environmental Solutions (56% of net sales), Safety & Security Systems (28%), and Fire Rescue (16%).
Its portfolio of products includes sewer cleaners, vacuum trucks, street sweepers, waterblasters, safety and security systems, and vehicle-mounted aerial platforms. It was founded in 1901 and has a market cap of approximately $950 million.
Fourth Quarter Results
Federal Signal reported solid fourth quarter results on March 5. Adjusted earnings per share came in at 34 cents, beating the Zacks Consensus Estimate by 10 cents. It was also well above the 9 cents earned in the same quarter in 2012.
Net sales increased 1% to $219.6 million. Growth was driven by the 'Environmental Solutions' segment, which advanced 14% year-over-year on improved sales of sewer cleaners, waterblasters and street sweepers.
Meanwhile, operating income surged 65% as the operating margin improved from 6.0% to 9.8%. This, too, was largely driven by the 'Environmental Solutions' segment, which saw its own operating profit margin more than double to 14.6%.
Estimates Rising
Management provided encouraging guidance for 2014 in the Q4 press release. CEO Dennis Martin stated:
[B]uilding on this momentum, we aim to grow our 2014 earnings per share to at least $0.79, with upside if markets maintain or strengthen.
This prompted analysts to revise their estimates higher for both 2014 and 2015, sending it to a Zacks Rank #1 (Strong Buy) stock.
The 2014 Zacks Consensus Estimate is now $0.83, up from $0.78 before the report. The 2015 Zacks Consensus Estimate is currently $0.96, up from $0.80 over the same period.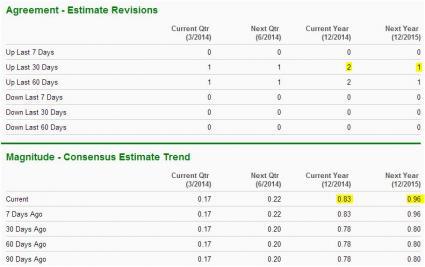 Valuation
Shares of Federal Signal are up more than 15% since the Q4 report. But the valuation picture still looks reasonable, with shares trading at 17x 12-month forward earnings and 16.5x free cash flow.
The Bottom Line
With rising estimates, solid growth potential and reasonable valuation, Federal Signal offers investors attractive upside potential.
Todd Bunton, CFA is the Growth & Income Stock Strategist for Zacks Investment Research and Editor of the Income Plus Investor service.
FED SIGNAL CP (FSS): Free Stock Analysis Report (email registration required)