I like to invest in companies that are best of breed within a specific industry and I look for long-term growth visibility. One of my top long-term growth forecasts is for increasing air traffic volumes and global airplane orders. This major trend presents several remarkable, and profitable, investment opportunities. I believe Boeing (NYSE:BA), the world's leading aerospace company and the largest manufacturer of commercial airplanes, remains the best way to profit from this long-term global trend.
The focus of this article is on Boeing's Commercial Airplanes segment, but I also believe growth within the Defense, Space & Security segments, and the Boeing Capital segment will remain strong.
Growth Forecast For Global Commercial Aircraft
Boeing provides products and support services to customers in 150 countries. The company estimates that by 2032, global demand will require 35,280 new airplanes, valued at $4.8 trillion. 14,350 of these new airplanes will replace older, less efficient airplanes, and the remaining 20,930 airplanes will be for fleet growth, primarily for expansion in emerging markets.
Nearly half of the world's air traffic growth by 2032 will be driven by the Asia Pacific region. Just the Asia Pacific airlines alone will need 12,820 new airplanes, valued at $1.9 trillion. The number of airplanes in the Asia Pacific fleet will nearly triple, from 5,090 airplanes in 2012 to 14,750 airplanes in 2032.
Let's not also forget that the airline carriers are now profitable and looking to expand. Airline financial performance plays an important role in the demand for new capacity for future airplanes. Growing profits from major carriers such as Delta (NYSE:DAL), American (NASDAQ:AAL), and United (NYSE:UAL) are a strong sign for future airplane demand. The International Air Transport Association estimates that global airlines earned $7.4 billion net profit in 2012, and $12.9 billion in 2013. The growth in airline company profits are estimated to reach $19.7 billion in 2014.
Boeing's Strong Core Operating Performance
In 2013 Core EPS increased 20 percent to a record $7.07 billion on record revenue of $86.6 billion. This strong performance, and Boeing's confidence to produce strong future cash flow, led management to recently double the dividend and announce a new $10 billion repurchase authorization - the largest in Boeing's history!

Looking at the most recent quarter, Boeing continued strong performance and Core EPS growth is clear.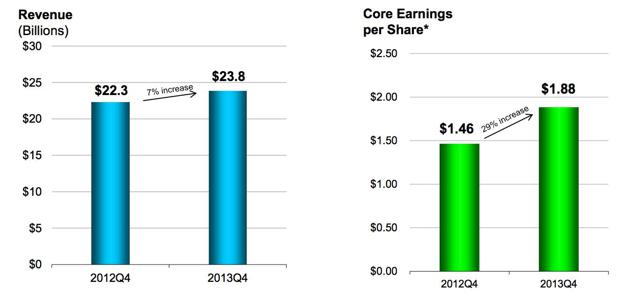 Recent Negative Press Is Overblown
This week, the Federal Aviation Administration announced that Boeing's design and manufacture of its cutting-edge 787 jetliner is safe despite the many problems encountered since the plane's rollout. The FAA's yearlong review concluded:
...the aircraft was soundly designed, met its intended safety level, and that the manufacturer and the FAA had effective processes in place to identify and correct issues that emerged before and after certification.
Even with the 787 technical glitches Boeing estimates that 110 787s will be delivered in 2014. 787 production is on track at 10 per month, and is expected to reach 12 per month by 2016 and 14 per month by the end of the decade.
I believe the current stock price pullback is a new buying opportunity. The stock will rebound based on the fundamentals and I see technical support at the daily 200-day moving average ($119.55) if the overall market drifts lower.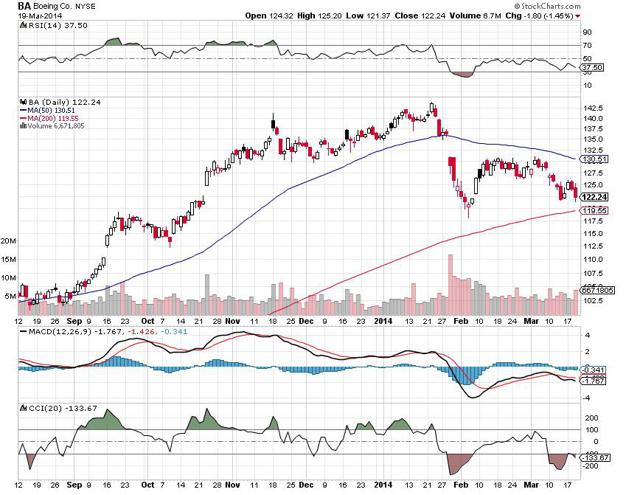 My Boeing Price Target
First, during the last big aerospace growth period (2004-2007) Boeing traded between 15X and 24X EPS and averaged a multiple of 18.5X. As I've outlined above, EPS will significantly increase as commercial aircraft demand remains strong, 787 production ramps up, and more shareholder value is increased through stock repurchases.
Also, of the 15 analysts covering Boeing, the average 2014 EPS estimate is $7.40. This is above the company's projections for 2014 shown below.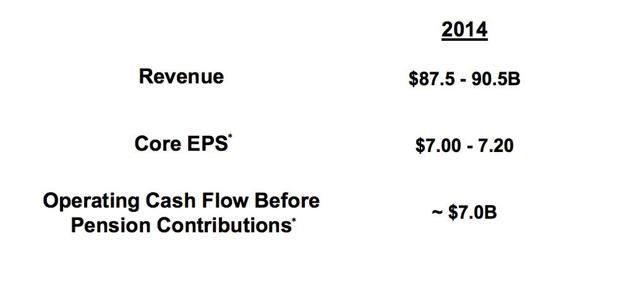 I believe Boeing's operating margins will also continue to rise in 2014 and in 2015 along with strong sales growth over that time period. I acknowledge that Federal budget issues could slow defense spending but I feel that the international growth for commercial airplanes will moderate this issue.
Boeing will earn between $7.20-$7.30 in 2014 and EPS will rise to $8.35 in 2015 (my conservative estimate). Given a historically accurate multiple near 20X, I conclude that Boeing should trade near $167 in the next 12 months.
Another Honorable Mention In The Airplane Sector
I promise to also write a future article about Precision Castparts (NYSE:PCP), the market leader in manufacturing large, complex structural castings and forged components used in Boeing airplane and jet aircraft engines. While I'm also a fan of Precision Castparts, I'm waiting for a pullback similar to the current pullback in Boeing, as a great buying opportunity.
Final Thought
It's time to fly higher with Boeing! Enjoy your flight!
Sources: Boeing's financial filings and investor materials.
Disclosure: I am long BA. I wrote this article myself, and it expresses my own opinions. I am not receiving compensation for it (other than from Seeking Alpha). I have no business relationship with any company whose stock is mentioned in this article.
Disclaimer: This article is intended to provide information to interested individuals. As I have no knowledge of individual investor circumstances, goals, and/or portfolio concentration or diversification, readers are expected to complete their own due diligence before purchasing any stocks mentioned or recommended.