The long-anticipated IPO by the Chicago Board Options Exchange (NASDAQ:CBOE), the US's largest options exchange by volume, is set to debut this week, one of six deals on the IPO calendar. After being owned by its member firms since 1973, CBOE transitioned to a for-profit model in 2006 and now looks to transfer to public ownership. The company plans to sell 11.7 million shares (18% coming from existing shareholders) at a price between $27 and $29; the proceeds of the offering will be used to repurchase existing shares in a tender offer. Goldman Sachs is the bookrunner on the deal, which is expected to price Monday evening and list on the NASDAQ under the symbol "CBOE."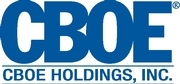 What it does
CBOE offers options on 10 indexes, over 2,400 equities and over 250 ETFs. Most of its revenue comes from transaction fees generated by volume in these products. Its most heavily traded products are options on the S&P and DJIA indexes as well as the VIX, the volatility index measured by the CBOE itself. CBOE has exclusive licenses for these products, which allows it to charge a premium. In addition to its recurring stream of transaction fees, the company will also introduce new access fees following the IPO that should significantly boost revenue. The estimated annual impact of the new access fees is near $70 million, which would provide a welcome boost to CBOE's trailing 12-month revenue of $429 million.
Market leader
CBOE is the oldest options exchange in the US and has had leading market share since inception. Although its market share began to decline with the rise of competing electronic exchanges in the late 1990s, CBOE's shift to a hybrid open outcry/electronic model allowed it to stabilize its market share near 30%, ahead of nearest competitor ISE at 22%. The company expects its market share to be helped by the launch of its second exchange, the all-electronic C2, which is expected in late 2010.
Strong margins and free cash flow
CBOE's scalable business model and significant barriers to entry give it high margins and strong free cash flow. Its 48% EBITDA margin, while impressive, is well behind those of its larger competitors which are mostly in the 60-70% range. Because of the high proportion of fixed costs in its model, CBOE should be able to lift its margins up toward these levels as revenue grows.
What's ahead
The US options market has grown 25% annually over the last five years as institutional investors have increased their usage of these products, and although growth slowed significantly in 2009, recent market jitters have provided a significant boost to volume in the last few months. With CBOE also expected to benefit from its new access fees and the launch of its second exchange, there are numerous growth drivers in place following the IPO.
Fair exchange?
Market jitters and valuation concerns have caused recent IPOs to struggle; many have been forced to either price below expectations or postpone as investors have been cautious. That said, a high-quality company like CBOE has the potential to buck the trend, a fact evidenced by Visa's record-breaking and strongly performing IPO in early 2008. Investors will also be aware of the impressive performance by other exchange IPOs over the last decade, some of which have gained several hundred percent since their offerings, and also consider the possibility that CBOE could be an acquisition candidate given recent consolidation in the space. While the stock may still face some valuation pushback given recent trends, the signs are in place for a well-received IPO.