Chinese online game stocks have significantly underperformed the overall market year-to-date in 2010: The CWD China Online Game Stock Index has plunged 24.8% YTD, while the NASDAQ Composite has only dropped 1.1% YTD (Chart 1).
Chart 1: Year-to-Date Performances of NASDAQ, China Online Games, and Giant Interactive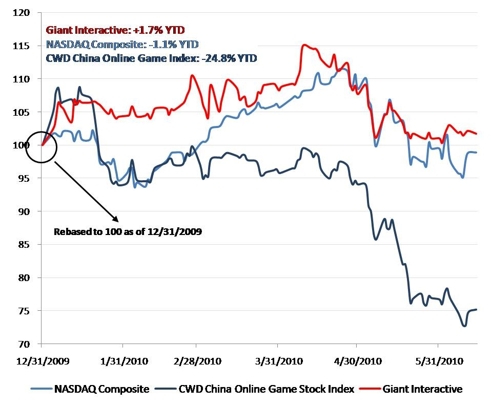 Despite the broad-based declines in China online game stocks due to slower earnings growth, shares of Giant Interactive Group (NYSE:GA) have risen 1.7% YTD, outperforming both the overall market and the industry (Table 1).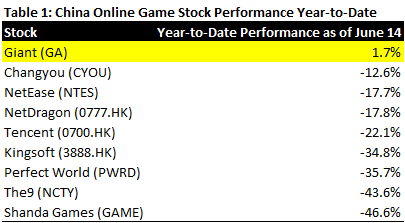 I believe Giant Interactive has emerged the winner so far this year for three reasons:
First, Giant took timely measures to reduce Average Revenue Per User (ARPU). Giant's management was among the first industry executives to foresee slower growth in the item-based business model. On July 16, 2008, during the ChinaJoy industry conference, Giant's founder Yuzhu Shi said that item-based games would soon pass its fast-growing period, and the industry had to look for the next major growth driver.
Guided by this insightful prediction, starting from 3Q08, Giant significantly reduced in-game promotional activities to achieve a better balance between monetization and game usage. As a result, Giant's ARPU has dropped 23% from RMB286 in 2Q08 to an all-time low RMB220 in 1Q10. As Giant's games became cheaper and cheaper, its Average Concurrent Users (NYSEMKT:ACU) reached 588K in 1Q10, its second-highest quarter since Giant was founded.
In contrast to Giant's fast moves, two other industry leaders Shanda (NASDAQ:GAME) and Perfect World (NASDAQ:PWRD) have only recently begun to reduce the ARPU of their flagship games (Mir 2, Zhu Xian, Perfect World II). This partly explains why Giant is better positioned than its peers in 2010.
Second, Giant has maintained industry-leading profitability through effective cost controls. Based on my checks, Giant has been very prudent in spending on sales and marketing since 3Q08. As a result, throughout the past six quarters, Giant's net profit margin has remained above 60%, the highest among all Chinese companies listed in U.S. exchanges. The high profit margin has laid a solid foundation for strong cash flow generations: According to my research, Giant generated over $20 million free cash flows per quarter in the past five quarters, building a solid base for its attractive dividend policy.
Third, in response to slower growth, Giant has effectively retained shareholders through dividends and share repurchases. Paying dividends and buying back shares are two common ways of sharing profits with shareholders when a publicly listed company experiences slower earnings growth but still generates strong cash flows.
To retain shareholders, Giant has adopted both of these policies: It paid impressive annual cash dividends of $0.18 per share on April 10, 2009 and May 10, 2010, implying 2.4% dividend yield and 27% payout ratio for 2008, and 2.5% dividend yield and 33% payout ratio for 2009. Giant's board of directors approved a $150 million share repurchase program in August 2008, and approved another $150 million share repurchase program in August 2009. The consistency of these policies in the previous two years is positive for Giant's stock performance because it has created positive expectations among shareholders and has enhanced the trust between management and shareholders.
Disclosure: No positions