After a flurry of new product launches in January and February, Advanced Micro Devices (NYSE:AMD) has had little news to offer investors in recent weeks. This week, however, a number of announcements have given us a clearer picture of the future of technologies that are key to AMD's survival. The firm announced new development partnerships that help to solidify a future for its Mantle API, and confirmed that its plan to improve its near-term liquidity has been successfully implemented.
The DirectX Threat
The announcement by Microsoft (NASDAQ:MSFT) that it would be adding similar functionality to its DirectX 12 graphics API - Application Programming Interface - as that of AMD's Mantle had the compliant, and frankly biased, tech press proclaiming Mantle now "dead on arrival," among other things. The problem with that point of view is that it is myopic, thinking solely in terms of the gaming market from a Windows 8.1 perspective.
AMD, this week, aside from presenting at the 2014 Gaming Developers Conference, announced both the expansion of its Gaming Evolved list of developers and also officially welcomed Crytek into the group of developers incorporating Mantle into their upcoming games. While it is no secret that DirectX games dominates the current landscape, the big question is whether Microsoft with DirectX 12 - essentially a port of Mantle, according to Charlie Demerjian at SemiAccurate.com - will be able to keep developers from cutting their DirectX budget given the anemic performance of the Xbox One versus Sony's (NYSE:SNE) PlayStation 4.
DirectX 12 may be more about the Xbox One than it is about PC gaming and, if Mr. Demerjian is correct, then Mantle truly has little to fear. Mantle-supported games are being played now. DirectX 12-supported games will not appear, according to Microsoft's presentation at GDC, until "holidays 2015." The Crytek adoption should allay those fears. Moreover, we have no idea if DirectX 12 will be hardware-neutral, since AMD's chips power the Xbox One. Moreover, Crytek's latest version of its Cryengine will be offered to independent developers as a service for $9.90 per month.
I can only see this as a net positive for AMD in its quest to set the standards for which games are developed. As it continues to add major developers to Mantle's stable, it will gain resources by proxy and further leverage its GCN architecture into new markets by bringing better performance at lower price points.
Not Just About Tech
Earlier, I wrote about AMD's refinancing efforts to improve the company's short-term liquidity, while not increasing its overall debt load. This week, it announced that it was, indeed, successful in converting the majority of its near-term debt with longer-dated debt at favorable financing rates. The firm was able to retire more than 90% of its outstanding convertible debt due to mature in 2015, leaving it, as of this writing, with just over $42 million in notes remaining. Looking through both press releases (here and here), it looks like AMD was able to raise $510 million of the targeted $600 million to be used to restructure its debt.
Now the majority of the outstanding debt is no longer dilutive to the share price, as more than $432 million of convertible notes have been retired for non-convertible ones. This gives the firm the breathing room it will need to effect the major product launches it has on tap for the second half of 2014, including the introduction of its first ARM server chip, code-named Seattle, server and mobile versions of its Kaveri APUs, and the launch of new FirePro professional graphics cards, which it will be holding a presentation next week to introduce. With Carrizo on tap for 2015 and the introduction of 20nm GCN GPUs also on the schedule, the ability to finance these operations out of free cash flow is paramount to the company's survival long term.
AMD, as its detractors continually note, has little margin for error over the next two to three years. I do not disagree with this assessment. But what many of them fail to point out is that the company's chips are well-positioned from a price/performance perspective to not only remain competitive, but capable of taking market share due to the mix of its fab-less business model, high performance per transistor, and a market shifting away from its competitors, namely, Intel (NASDAQ:INTC) and Nvidia (NASDAQ:NVDA), faster than they are able to adjust.
The Current State
These announcements may have finally given the market the push it needed to push the stock convincingly through the $4.00 level. After a short-covering/gap-filling foray above $4.00 a couple of weeks ago, the stock actually gave back nearly all of those gains to re-test the breakout level near $3.75, which also happens to be long-term fair value around which the stock has oscillated for more than a year.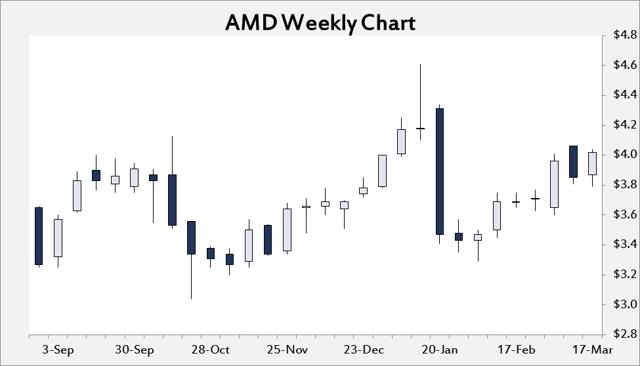 For all of its flirting with $4.00, the stock has yet to close above it on a daily basis since the days prior to the Q4 earnings release back in January. But it's clear from the chart that the current weekly uptrend is still in place, regardless of how strong resistance $4.00 has proven to be.
Thursday's close above $4.00 is a significant technical event, which bodes well, coming into a triple-witching options expiration day. With the general equity market shaking off the hawkish stance of the new FOMC and the burblings of credit destruction coming out of China, there is a strong probability of follow-through action next week.
This is still a highly speculative stock, and investors need to be willing to ride the volatility of shares and give themselves lots of time in the options market. Until there is a monthly close above the double top at $4.65, this stock is still a trading vehicle looking for a new long-term directional change.
Disclosure: I am long AMD. I wrote this article myself, and it expresses my own opinions. I am not receiving compensation for it (other than from Seeking Alpha). I have no business relationship with any company whose stock is mentioned in this article.