It seems that every day the financial press comes up with something new to rally the bears into offensive positions, but little does the average bear realize that the bulls are starting to push through the bears' lines where they are least expecting.
Yes, everyone is fixated on the 1105 level on the S&P 500, as if it were the only stock index in the world that mattered. However, there are a number of markets that are starting to break out of their short term consolidation ranges; take a look at the European markets (as per the Bloomberg Euro500) and Australia (ASX 200), and Hong Kong (Hang Seng). One of our favourite indices is the ASIA APEX Index (in essence Asia ex Japan and Australia). It too has broken higher as per the graph below:
MSCI ASIA APEX 50 Index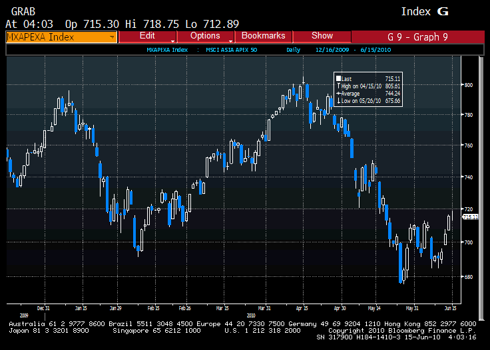 However, we are not out of the woods yet. We have to see confirmation of a breakout in Asian equity markets by Asian currency markets.
JP Morgan Asia Dollar Index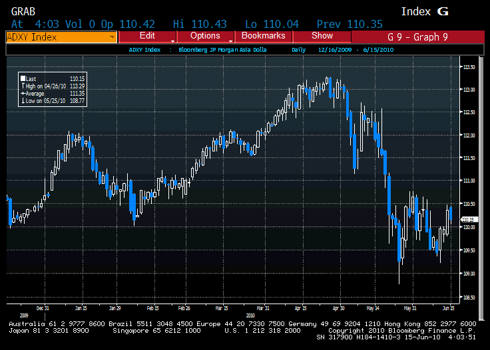 The JP Morgan Asian Dollar Index (ADXY) remains locked in a trading range, and until we see this breakout we will remain nervous bulls.....
Disclosure: Author holds a long position in FXI