Growlife (OTCPK:PHOT) recently experienced a sharp rise to $0.78 from about $0.35 at the beginning of March. However, the stock has retreated for the past few trading days after this sharp 55% rise. I think that there will be more consolidation even after this week's decline. I'm not writing the company off entirely, but I do think that the stock rose too far, too fast and has more downside before turning around.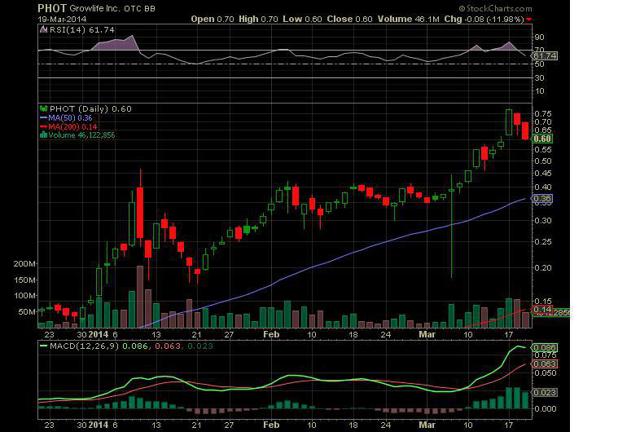 Since this is a speculative penny stock, I think that Growlife investors should only use money that they would otherwise take to the casino and expect to lose. With that in mind, I think that money can be made on both sides (long or short) due to the high volatility of the stock price.
The Growlife companies supply equipment for indoor and outdoor urban gardening, most famously for growing marijuana. The company actually promotes the development of medical marijuana via the website cannabis.org. Growlife Hydroponics owns and operates seven specialty hydroponics stores in California, Colorado, Massachusetts, New Hampshire, and Maine. The stores are designed to provide gardeners with all of the tools that they need for their craft. Although, I think that there is potential for the company in the long term, I think that the stock price will come down a bit more in the near term.
The stock is trading at 135 times sales. Even a momentum stock like Amazon (NASDAQ:AMZN) has a reasonable price to sales ratio of 2.34. Other momentum stocks such as Netflix (NASDAQ:NFLX) and Tesla (NASDAQ:TSLA) have price to sales ratios of 5.8 and 14.7, respectively. This is nowhere near Growlife's triple-digit ratio. This shows that Growlife is significantly overvalued, even as a penny stock.
Growlife is highly speculative at this point because it has a negative cash flow and a sub-par balance sheet. The company had a negative operating cash flow $1.2 million for the past twelve months. Growlife also has a balance sheet full of debt. The company has less current assets than current liabilities as evident in its current ratio of 0.81. There is only $256,000 in total cash on the balance sheet with $1.72 million in debt. Total assets of $1.3 million are also lower than total liabilities of $1.6 million. About 61% of Growlife's total assets are goodwill and intangible assets. Therefore, the company has some work to do to shore up its balance sheet and turn its cash flow to the positive side.
Overall, I think that Growlife has the potential to improve fundamentally and it could be a solid investment in the future. However, the current price is too high and I think that it will fall further. The rise to $0.78 was sharp and the stock is in the process of selling off from an overbought level. I think that the stock could drop another 40% to $0.35, which was where it was trading at the beginning of March. Investors, or should I say traders, might be willing to buy the stock again at that level.
Disclosure: I have no positions in any stocks mentioned, and no plans to initiate any positions within the next 72 hours. I wrote this article myself, and it expresses my own opinions. I am not receiving compensation for it (other than from Seeking Alpha). I have no business relationship with any company whose stock is mentioned in this article.
Editor's Note: This article covers one or more stocks trading at less than $1 per share and/or with less than a $100 million market cap. Please be aware of the risks associated with these stocks.