As the old saying goes, "A bird in the hand is worth 2 in the bush," but what if you can have two birds in the hand? That sounds like a deal, doesn't it? I think you just might get that with an investment in Simon Property Group (NYSE:SPG). The question is, "Is it worth the price?"
Simon Property Group is the largest regional mall owner in the US. It owns and operates over 320 malls and strip centers globally with over 240 million square feet of space. For 2013, Simon had funds from operations of over $3 billion which translated into $8.85 per share, an 11% increase from the prior year.
Despite the concerns for regional mall owners due to the growth in online sales, SPG has remained relatively well positioned to take advantage of positive consumer spending trends and the shift in mall strategy from one of product sales to one of services and entertainment.
Consumer Spending
Consumer spending makes up about two-thirds of GDP in the U.S. While it has tended to fluctuate in good times and bad times, one of the key drivers of consumer spending, besides disposable income, is confidence. A confident consumer is one whose job is secure, who has the opportunity to make more money, and who has the ability to find a better paying job. If a consumer is confident, therefore, a consumer tends to be happy. And a happy consumer goes shopping.
While GDP is a backward looking metric, consumer confidence is one of the few directly linked leading indicators of future performance. Consumer confidence isn't required for spending to occur, but psychologically, and historically, a confident consumer spends.
The chart below shows the University of Michigan Consumer Sentiment index. The chart shows a downward trend since 2000, which included some ups and downs between 2001 and 2008. But the drop from 2008 to late 2009 hadn't been seen in the history of the index. The good news is that since hitting bottom in 2009, consumer sentiment is on the rise and consumer spending has followed suit.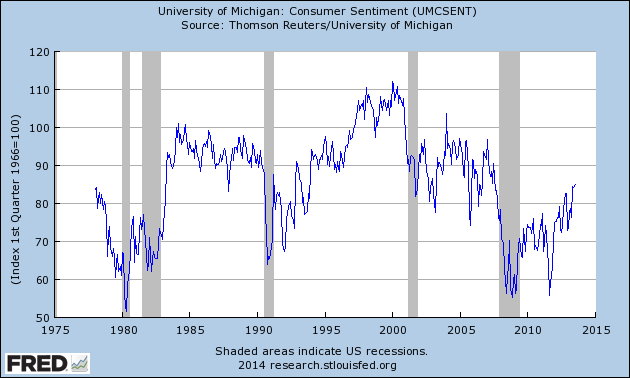 Spending as measured by Real Personal Consumption Expenditures has recovered and past its previous high set in early 2008. It is interesting to note that consumer confidence began to rise just before consumer spending started to increase again.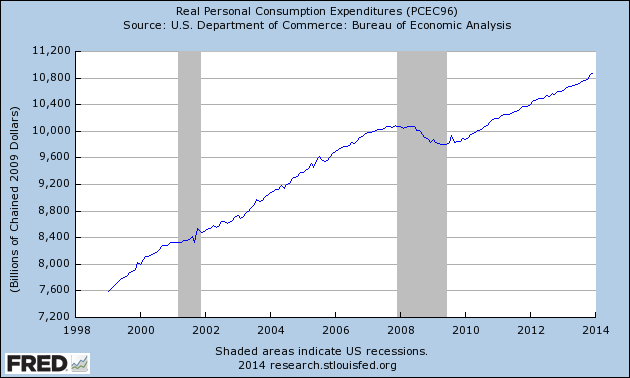 The other metric that may indicate possible future consumer spending trends is the level of unemployment. You could argue that the unemployment rate is not a good indicator of the health of the labor market or that U-6 is a more appropriate measure. With productivity changes and the retiring of baby boomers, that argument may continue for years to come. But it is hard to argue with the downward trend of both of these metrics from its high during the financial crisis. Whether the headline unemployment rate or U-6 is used, the downward trend in both should bode well for the largest mall owner in the US.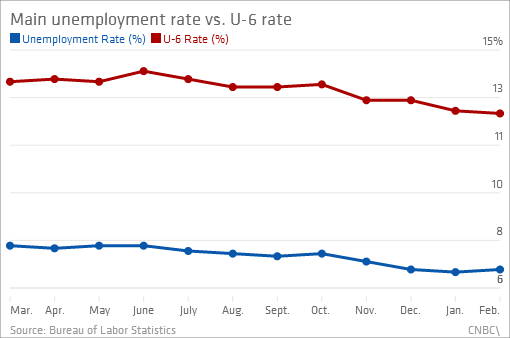 Competitive Advantages
Due to its size, SPG is able to take advantage of economies of scale, which have enabled it to enjoy the highest operating margins in the industry. Simon enjoyed gross margins of 82% and operating margins of 47% over the previous 12 month period. These margins compare favorably versus General Growth Properties (NYSE:GGP), with 83% gross margins but only 33% operating margins over the same period. (The table below shows median operating margin over the last 12 months and will be slightly different.)

Downside protection
In past recessions or slow growth environments, Simon has been able to maintain a high level of operating performance which has translated into continued growth in FFO and dividends paid per share. While there was a temporary decline in both FFO and Dividends in 2009 after the financial crisis, both FFO and dividends have increased considerably over the last 4 years.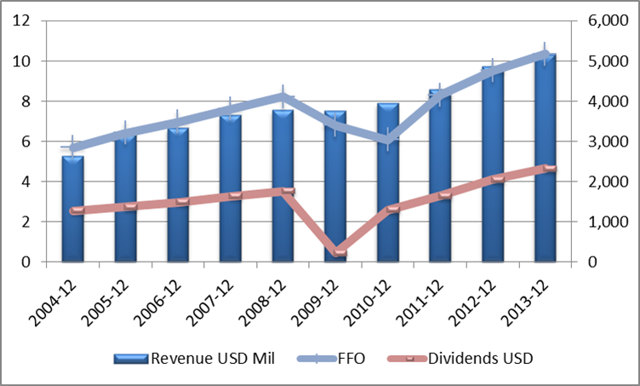 It currently holds over $1.7 billion in cash on the balance sheet which is approximately 5% of assets. To put that in perspective, General Growth Properties has $723 million in cash, which is slightly below 3% of total assets.
Risks
There certainly are risks to investing in Simon. Besides the rapid growth of online sales that experts say will be the demise of malls and strip centers, Simon has concentrated exposure to 4 anchor tenants that make up - make up 80% of anchors. Even though the percent of total base minimum rent from these anchor tenants is only 1.3% of the total for US properties, the risk is that the anchor tenants may close stores and impact foot traffic in some of the Simon properties.
Macy's (NYSE:M) is the largest anchor tenant by square footage and also has the most stores of any other anchor. Macy's makes up over 12% of the total square footage of US properties and, despite reporting disappointing 4th quarter sales, has had 5 straight years of double-digit earnings per share growth.
Two of the next three anchor tenants, however, have recently announced store closings. J.C. Penney (NYSE:JCP), which leases 108 stores in Simon malls, recently announced 33 store closings and is also replacing its CFO. But analysts hopeful of a turnaround recently upgraded the stock on the back of reported same store sales growth of 2%. This was the first time J.C. Penney has had positive sales growth in a while. If the trend continues, Simon may benefit from a leaner, stronger Penney, but the risk is there that Penney continues to disappoint.
Sears (NASDAQ:SHLD) leases 116 stores in Simon malls and it too has gone through its fair share of challenges. Revenues for 2013 decreased by $1.7 billion due partly to having fewer Kmart and Sears stores in operation. Which way Sears goes from here is up to Eddie Lampert.
An article on Morningstar.com actually asks the question, "Which is Worse, J.C. Penney or Sears?"
The fourth anchor tenant that makes up the top 80% of anchor footage is Dillard's (NYSE:DDS), with 65 stores in Simon malls. But Dillard's seems to be fine, with recently announced record earnings per share.
Challenges
One of the biggest challenges facing Simon is also one of its biggest advantages. Simon has vast geographic reach and is larger than most of its peers, enabling it to take advantage of economies of scale and access to capital. This size makes it very difficult for Simon to generate any meaningful growth in revenues. For Simon to generate any meaningful growth in revenues and FFO, it must make sizable investments in acquisitions and/or redevelopment. One the one hand, large acquisitions aren't so easy to come by and redevelopment has both execution risk and performance risk.
One option that Simon has is to leverage its international partnership with Klepierre and relationships with global brands to grow internationally. This could be a viable option but also comes with its own set of risks. For example, Simon only owns 20 properties internationally that are outside the Klepierre partnership so advantages enjoyed stateside may not be available on a global scale. While shopping is shopping no matter where it is done, consumers in different regions or countries, or of different cultures may have habits that require a different approach than in the US, and it would require adapting to those unique behaviors and tastes to replicate success globally.
Two Birds for the Price of One?
In December 2013, Simon announced that it would be spinning off the strip center and closed mall properties into a separate REIT structure. The new structure (SpinCo), will own 54 strip centers and 44 of the smaller malls totaling approximately 53 million square feet. The spin-off allows Simon to continue to compete in the premier mall and outlet space, where it generates more than $600 per square foot and increases the average sales per square foot for Simon (post Spin) from $579 to $616.

The SpinCo's 98 properties had a trailing 12 month price per square foot of $303 and occupancy levels in the low 90s.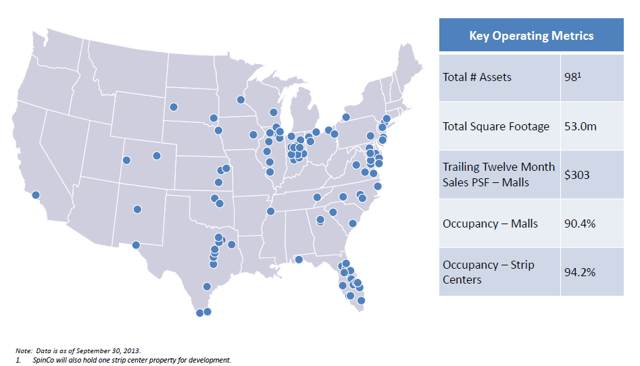 And the estimated FFO for SpinCo will be approximately $300 million ($0.80 per share) and the dividend is expected to be $0.50 per share.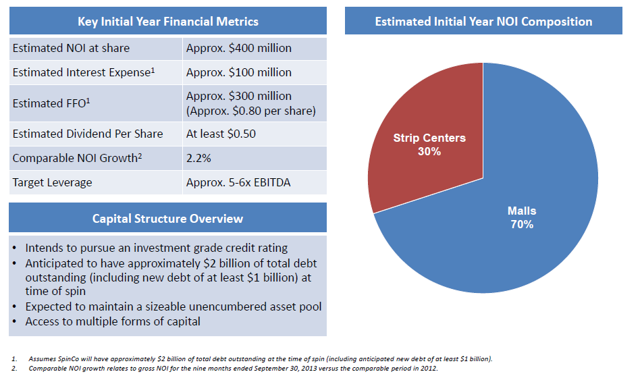 Meanwhile, Simon will continue to pay a dividend of $4.80 per share with expectations that it will grow with FFO and taxable income. As an investor owning SPG, you will then own the same amount of shares of SPG in addition to owning shares of SpinCo. (The number of shares has still not been announced).
With an SPG dividend of $4.80 and a SpinCo dividend of $0.50, you will be receiving two dividends in lieu of the one dividend you were previously receiving. Two birds in the hand.
Valuation
So is this a good deal?
For those of you who are smart shoppers and are always looking for a good sale, the answer may not be so obvious. At first glance, you're receiving an additional $0.50 dividend for the same amount of Simon shares owned before the transaction is completed in 2Q 2014. A $0.50 increase on $4.80 ($1.20 per quarter) is a 10.4% increase. Sounds like a good deal so far.
If we assume FFO continues to grow at 10% for Simon, which is possible but challenging, we would expect FFO to be $11.36 in 2014 and dividends to be around $5.00 per share.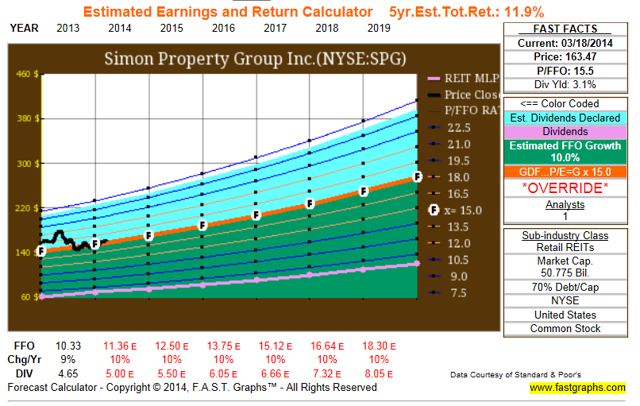 Applying an average price/FFO multiple of 11 to $11.36 results in a price of $125. Not such a good deal. But wait, let's add in the SpinCo piece to determine what the combine price of both should be after the transaction. Assuming a price/multiple of 11 on FFO of $0.80 results in a price for SpinCo of $8.80 per share. Since SpinCo will look more like a KIMCO Realty (NYSE:KIM), we can use Kimco's long-term average price/FFO of 13 and apply it to the $0.80 per share of FFO. That still only gives us a price of $10.40 per share plus the $125 for Simon for a total of $135.40. Still not looking like a good deal.
On a purely valuation basis, it doesn't seem to me that Simon is attractively priced. There is one caveat, however. If Simon is able to maintain an elevated price/FFO multiple and generate the 10% FFO growth previously estimated, we could see the share price hit $170 by the end of 2014. Combine the price appreciation with a 3% dividend yield and the boost from SpinCo and you may see double digit returns.
My suggestion is to be cautious and if Simon seems to be a candidate as a core holding in your portfolio, easing into your position wouldn't be a bad idea. But the valuation looks a bit rich at these levels so be on the lookout for a nice pullback where you can really pick it up on sale.
Sources: University of Michigan, US Department of Commerce, Bureau of Labor Statistics, Morningstar, Simon Property website.
Disclosure: I have no positions in any stocks mentioned, and no plans to initiate any positions within the next 72 hours. I wrote this article myself, and it expresses my own opinions. I am not receiving compensation for it (other than from Seeking Alpha). I have no business relationship with any company whose stock is mentioned in this article.