On Friday 14th March, Joko Widodo, popularly known as "Jokowi" officially announced his candidacy for the Indonesian Presidential election due to be held this July. This ends months of speculation as to whether Jokowi, the popular mayor of Indonesia's capital city, Jakarta, would run at all, despite being the most popular potential candidate in most polls. His candidacy is boosted by official support from Megawati Soekarnoputri, the leader of his "Indonesian Democratic Party for Struggle" (PDI-P).
This is significant because Jokowi, with a track record of challenging corruption and bureaucratic waste, presents Indonesia with an opportunity to break its history of corruption and nepotism that has inhibited foreign investment, and perpetuated structural economic inefficiencies.
In the current market environment, emerging markets have performed poorly in comparison to the developed market indices, due to concerns about the vulnerability of highly leveraged currencies to reducing liquidity. Most recently, Chinese economic data has disappointed, which adds further concerns.
Indonesia (NYSEARCA:IDX) has fared even worse, as a result of its high exposure to China as a trading partner, and comparatively high debt levels. The following chart shows this underperformance vs S&P 500(NYSEARCA:SPY) and the broader emerging markets (NYSEARCA:EEM).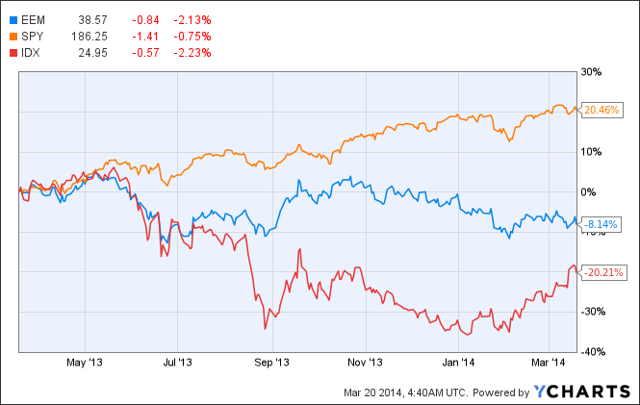 Despite this, a more open, accountable and efficient Indonesia offers a huge upside for the long-term investor. Jokowi's candidacy is a significant positive for Indonesia, especially compared to the political challenges facing other regional markets such as Thailand.
My conclusion is that investors with an emerging market allocation should see this as an entry signal. Much of the downside risk is priced in, and a more responsible economic stewardship would further reduce the risk factors.
Some seem to have acted on the news, with the Jakarta Stock Exchange up 3.23%, and market vectors Indonesian ETF up 5.9% on Friday 14th - against the trend for global and Asian markets.
In this article I will explore the potential of Indonesia as an investment market, consider the available investment vehicles, and consider further political milestones to watch for.
Why Indonesia?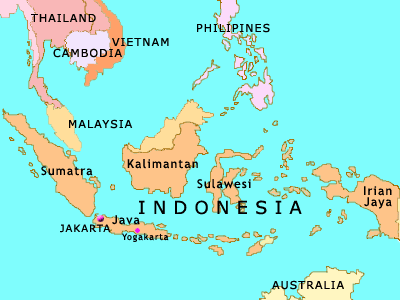 As I detailed in a previous article, Indonesia is home to 250m people, and has a perfect demographic footprint for economic growth. The population is young, with a median age of 28 and growing, with a population growth rate of 1% annually. 44% of the population already live in cities, a proportion which is expected to grow by 1.7% annually.
Indonesia is already a G20 economy, currently ranking at 16th by GDP, and is projected to move into the top 10 by the end of this decade, as the economy continues to reduce its dependency on external trade and cater more for the huge domestic consumption base represented by its fast growing population. Despite a strong mining sector, the mix of GDP by industrial segment is already developing towards the industrial and service sectors, as the data below indicates.
GDP 2012

Services

9%

Finance

8%

Transport

3%

Communications

1%

Hotels/Restaurant

16%

Construction

6%

Utilities

1%

Manufacturing

24%

Oil & gas

4%

Mining

12%

Agriculture

16%

Source - Bank of Indonesia
GDP growth for 2010 to 2012 exceeded 6% per annum, and while this slowed in 2013 to 5.8%, ongoing estimates from the Indonesian central bank are in the range of 5.5% to 5.9% - slowing as the demand for commodities from China reduces. This is unlikely to have a significant effect on domestic consumption, which has continued to grow at a faster rate than GDP.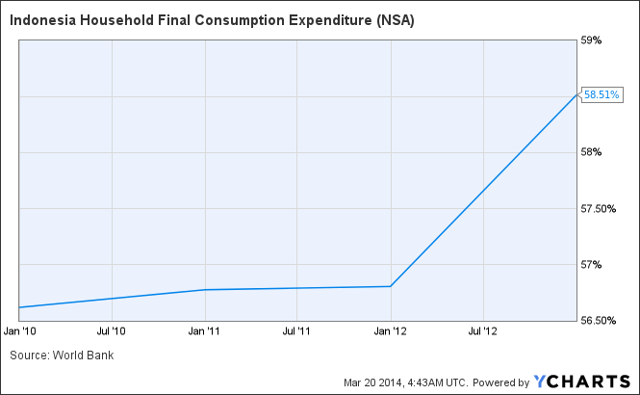 Indonesia Household Final Consumption Expenditure data by YCharts
There are multiple benefits of a reduction in government corruption: better business confidence, easier access to foreign investment, improved economic efficiency and competitiveness, and importantly, a broader income distribution.
As wealth in Indonesia filters through to all regions and social levels, the power of the huge consumer base to drive demand will inevitably benefit Indonesian companies in the manufacturing, distribution and service sectors.
Investment options:
Access to investment in Indonesia is simplest via an ETF, and there are two main options here, Market Vectors' IDX, and iShares EIDO. In the previous article referenced above, I compared the two funds, and found little to differentiate them, with my own preference being marginally for IDX due to the sector composition.
IDX is a market capital weighted index tracker, which is comprised of publicly-traded companies that generate revenues mainly from Indonesia. It currently holds shares in 53 companies - the majority mid-sized (with market cap between $1bn and $5bn). This gives the investor exposure to smaller (and thus more growth oriented) companies than would be included in broader emerging market ETFs such as EEM.
Even with the suppressed prices of emerging market stocks, IDX still trades at a pe multiple of around 15 and 2.5 price to book. Dividends are healthy, the 2013 distribution of 71.8c representing a 2.8% yield on Friday's $25 closing price. IDX management fees are 0.59%.
Aberdeen asset management offers a closed end fund for Indonesia (NYSEMKT:IF) which has a markedly different profile to the more market weighted ETFs. As an actively managed fund, IF has a higher expense ratio, at 1.42%. Stock selection is based on fundamental analysis using Aberdeen's proprietary research managed by a Singapore based team. The fund has been running since 1990. The declared top ten ownings show a similar sectoral bias, but the individual stocks in each sector are different, with a bias towards subsidiaries of international firms.
Performance of IF vs IDX does not show a compelling case for the more expensive and selective IF, as price performance shows IDX outperforming over the last 5 years.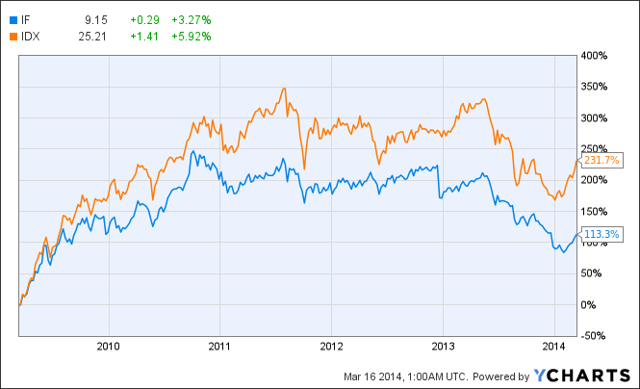 ADRs
A more focused approach is available via ADRs. Nearly 50 Indonesian ADRs can be bought in the OTC market. Individual stock selection can be hazardous, as the information and analysis available is of a lower quality than for US stocks. US-based investors seeking to gain exposure to the market as a whole would be better diversified via an ETF, with ADRs more suitable for those wanting to pursue a specific sector or an individual stock where they feel the information is sufficient.
It is, however, worth considering TLK, the partly privatised state telco provider, which has an NYSE listing. TLK was also up 4.5% on Friday's trading, at its closing price still decent value at a pe multiple of just over 13 and generating a 3% yield. TLK already has 175m customers, and stands to benefit from economic and consumer growth. Researching this article has raised my interest in TLK, and I will undertake some deeper analysis for a future article.
Risk factors.
I see the main risks in Indonesia as the following:
Currency.
Investors in Indonesia during the currency crisis of the late 90s suffered badly in the devaluation of the Rupiah. At that time, the high proportion of debt to GDP made Indonesia highly vulnerable. Debt levels have reduced dramatically since then - in 1997 the debt to GDP ratio was over 60%, whereas today, this has reduced to 24%, one of the lowest levels in South East Asia. While the current account deficit in projected to reach up to 3.5% of GDP, recent changes in policy to government fuel subsidies, and import substitution should reduce import demand in the medium term. The significant reduction in equity prices in recent months is largely influenced by currency concerns, indicating that currency risk is priced in to current levels.
Global economic slowdown.
Indonesia has a high dependence on commodity exports to China, especially coal, and the slowdown in demand here has been one of the major causes for the slowing growth rate. However, as detailed above, the growing domestic consumption should provide a balancing impact.
Political.
If Jokowi's presidential candidacy does herald a shift of power from Suharto era cronies to a broader base, in line with my hypothesis, the possibility of a violent resistance by the incumbents is material. The support of Megawati, and Jokowi's massive popularity should mitigate this risk.
Milestones to watch.
9th April - Indonesian parliamentary elections. These will dictate the candidates running for President, as only parties securing 25% of the seats can nominate a candidate. The performance of the PDI-P will give a good leading indicator as to the popularity of Jokowi's candidacy.
9th July - 1st round presidential elections.
September - 2nd round - only required if no candidate secures a majority in July.
Conclusion.
2014 could represent a major milestone in the political and economic development of Indonesia, with a presidential candidate poised to break the cycle of decades of corruption and economic inefficiencies.
Indonesia's long-term macroeconomic outlook is strong, mainly due to its favourable demographic footprint.
Current equity prices are discounted significantly in the face of concerns over currency risk and the slowdown in China.
While risks are present - the author believes that the positive news of the Jokowi candidacy is a strong bullish signal.
I plan to build my existing position in IDX at appropriate points over the coming months. It should be noted that I hold emerging markets equities as part of a diversified portfolio with a long-term outlook, and thus have a high tolerance to volatility from this sector.
Disclosure: I am long IDX, EEM. I wrote this article myself, and it expresses my own opinions. I am not receiving compensation for it (other than from Seeking Alpha). I have no business relationship with any company whose stock is mentioned in this article.
Additional disclosure: The author is a private investor, not an investment advisor, and is sharing analysis solely for the interest of readers. Such analysis should not be taken as investment advice or a recommendation. Investors should always consult an investment advisor.