The Blackstone Group (NYSE:BX) was founded in 1985 as a mergers and acquisition boutique investment bank by Peter G. Peterson and Stephen A. Schwarzman. The two named the company as a cryptogram derived from their names - Schwarz is German for "black", and Peter (also Petra) means stock or rock.
Over the last 24 years, Blackstone has evolved from a start-up into one of Wall Street's most dominant players. Based on rankings, Blackstone is the world's largest private equity firm (based on committed capital) and the largest alternative investment firm (in the world), with total assets under management (or AUM) of around $258 billion (as of October 2013).
Blackstone went public in June 2007, and the company was the first private equity firm to open up the once secret world of private equity to "mom and pop" retail investors. Listed at $31 per share (on the NYSE), Blackstone became the first private equity firm to list shares in its management company on an exchange. The timing could not have been worse, as Blackstone fell hard to the forces of the Great Recession - shares fell over 90% to a low of $3.00. However, since that time, shares have rocketed 10-fold to a current level of $33.80 per share.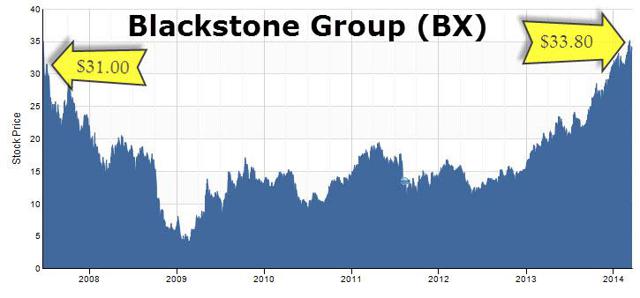 Blackstone shares now trade above the IPO price (of $31.00), and the company's track record of the past few years tops all publicly traded private equity peers. Since January 2009, Blackstone has returned over 948%.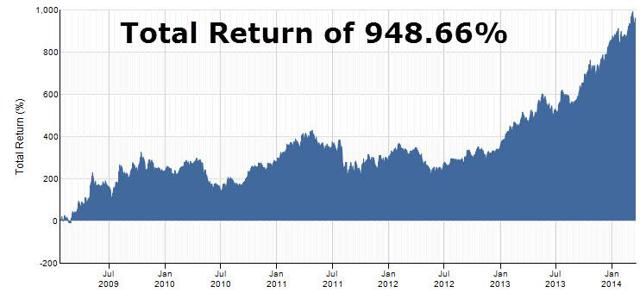 Let's Examine Blackstone
Blackstone's array of investments today are wide-ranging and complex, and unless you're well-versed in the technical aspects of law and finance, this company may seem like Latin. The company operates in 5 segments: Private Equity, Real Estate, Hedge Fund Solutions, Credit, and Financial Advisory.
Private Equity: In 2013, Blackstone took advantage of improving equity markets to harvest strong gains, driving Total Revenues to $1.5 billion and Economic Income to $175 million, with $3.5 billion of realizations during the quarter and $9.6 billion this year. During the fourth quarter of 2013, Blackstone completed the successful IPOs of Merlin and Hilton, creating a combined $5.4 billion of public market capitalization for private equity investors, bringing the total market capitalization across all funds to $17 billion. Total AUM for Private Equity increased to $65.7 billion.

Real Estate: Blackstone began building its real estate investment business in the early 1990s. With a massive real estate portfolio, Blackstone today is one of the largest real estate investors in the world. A global corporation with over 120 professionals in the US, Europe, and Asia, Blackstone's real estate revenues were up 96% to $3.2 billion for 2013, generating a 107% increase in Economic Income to $2.1 billion.
Overall carrying value of the Real Estate Funds appreciated 13.1% for the quarter and 31.3% for the year. The group completed successful IPOs of Hilton (NYSE:HLT), Extended Stay America (NYSE:STAY), and Brixmor (NYSE:BRX) during the fourth quarter. These investments represent $18.7 billion of unrealized equity value in funds and fee-paying co-investments. During 2013, the group closed on a record of $15.8 billion of new capital across the Real Estate segment.

Over the years, Blackstone has built up a massive portfolio of single-family homes, and today, the company is the largest owner of single-family homes in the US, having invested more than $5 billion in more than 31,00 houses in 14 markets. At one point, Blackstone was buying $100 million in houses a week (2,500 a week).
Similar to Brixmor, a shopping center REIT that went public in October (2013), Blackstone Single Family was hoping to spin-off the portfolio into a REIT; however, the creative engineers at Blackstone devised a plan to securitize the portfolio by selling bonds backed by the rentals, where monthly payments from over 3200 properties are used to service $479 million of debt.
Hedge Fund Solutions: Blackstone's strong growth propelled the world's largest discretionary allocator of hedge funds, resulting in record revenues of $649 million - a 46% increase in Economic Income to $377 million. Fee-Earning AUM grew 22% year-over-year to $52.9 million.

Credit: A substantial increase in Performance Fees, up 24%, drove Total Revenues to $880 million and Economic Income to a record $358 million for the year. Total AUM grew 15% year-over-year to $65 billion due to robust net inflows throughout the year.

Financial Advisory: For this segment, full-year revenues were up 15% in 2013, the second-best year for that segment, primarily from increased activity in restructuring. Blackstone Capital Markets had a successful year, as it acted as an underwriter or arranger on 26 deals, including the IPO for Brixmor, Extended Stay and Pinnacle Foods (NYSE:PF), the IPO and secondary offering for SeaWorld (NYSE:SEAS), and the IPO and debt refinancing for Hilton.

Here is a snapshot of Blackstone's Total AUM by Segment: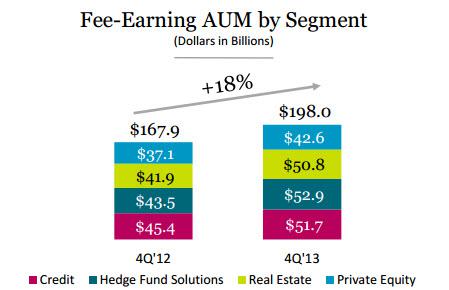 A War Chest of Dry Power
Blackstone's committed undrawn capital ("dry powder") reached its highest level of $46.8 billion at year-end on strong inflows that easily outpaced $15.3 billion of total capital deployed. Around $20.8 billion of Total AUM was not yet earning Base Management Fees at year-end. Here is a snapshot of Blackstone's $47 billion "Dry Power" allocation: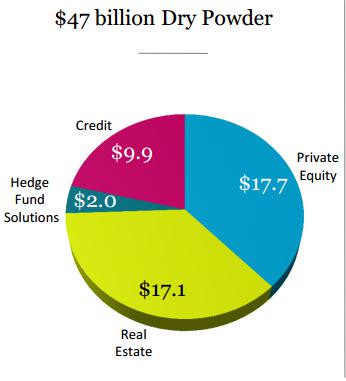 On December 11, 2013, S&P upgraded Blackstone to A+, matching Fitch's rating, making Blackstone the highest-rated alternative asset manager and one of the highest-rated global financial services firms. At year-end (2013), the company has $2.1 billion in total cash, corporate treasury and liquid investments, and $8.3 billion of total net value, or $7.29 per DE unit, up 23% from $5.95 a year ago. There are currently no borrowings outstanding against the $1.1 billion revolving credit facility expiring in 2017.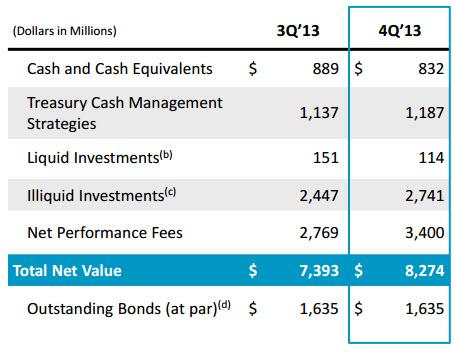 Why Did I Get In The Game
A review of Blackstone's financial statements over the last three years confirms that this private equity firm is a powerhouse bet. In 2010, Blackstone's net income was negative $370 million. In 2011, it was negative $168 million, and in 2012, it was positive $219 million. By the end of 2013, net income (based on GAAP) grew to $1.17 billion - a 436% year-over-year change.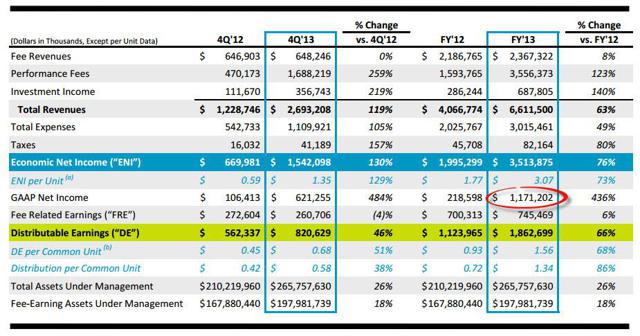 That strong turnaround is primarily due to a combination of improving financial markets and strategically improved AUM expansion. The company's AUM reached a record $265 million in 2013. During the fourth quarter of 2013, Blackstone attracted gross asset inflows totaling $17 billion and $60 billion for the year.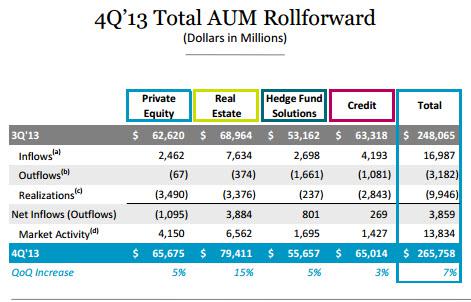 Even after its big run in 2013, Blackstone trades at a P/E ratio of 17.07 and forward P/E of 10. The company is expected to grow EPS by around 21% in 2014. By way of comparison, Blackstone's P/E is in line with KKR's forward P/E of 9.34. I really like Blackstone's dividend yield of 6.86%, and given the firm's growth in Distributable Earnings and Distributions, it seems reasonable that the dividend growth is sustainable.
I opened a position in Blackstone a few weeks ago (at $31.36), and one of the big reasons that I purchased shares is because of the untapped potential, the massive amount of capital, and the propensity to grow management fees and AUM. In short, Blackstone has a tremendous amount of "dry powder" available to employ that will drive growth and earnings.
Keep in mind that Blackstone is a publicly traded partnership, and as a result, investors will receive a K-1 for taxes. Also, Blackstone has a beta of 2.07, making this security twice as volatile as the S&P 500. You may also want to consider Blackstone Commercial Mortgage (NYSE:BXMT). This mortgage REIT also appears to be well-positioned, and I like the fact that the company has a more conservative positioning within the mortgage REIT sector.
The relationship with the "big brother" (Blackstone Real Estate) offers a huge advantage, and I believe BXMT could offer attractive outsized returns without complex hedging risk. I have not purchased shares in this company; however, I am strongly considering it after the recent dividend increase (from $.4500 to $.4800). BXMT shares are trading at $29.09, with a dividend yield of 6.60%.
I plan to continue adding shares to Blackstone Group on weakness. I'm not a buyer today, but I will continue to seek pockets of safety (when shares are under $31.00), as I find the biggest margin of safety when I obtain a 7%+ dividend yield. However, I'm keenly aware of the growth behind this powerful private equity firm, and I consider the more recent track record to be very attractive. You just can't ignore a company that pays nice dividends and they're hitting all cylinders.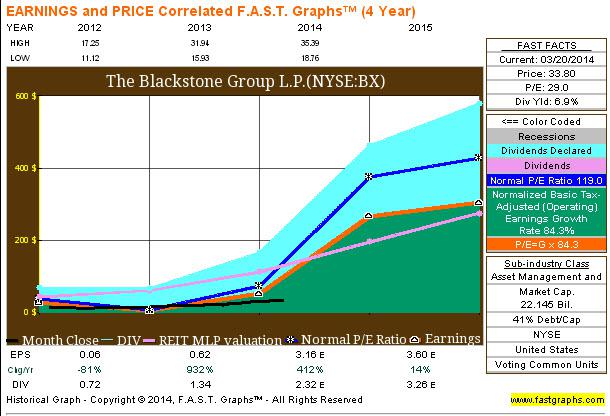 REIT Newsletter: The author is also the Editor of a monthly newsletter called The Intelligent REIT Investor. For more information or to subscribe click HERE.
Sources: SNL Financial, FAST Graphs, and Blackstone Presentation.
Disclaimer: This article is intended to provide information to interested parties. As I have no knowledge of individual investor circumstances, goals, and/or portfolio concentration or diversification, readers are expected to complete their own due diligence before purchasing any stocks mentioned or recommended.
Disclosure: I am long O, DLR, VTR, HTA, STAG, UMH, CSG, GPT, ARCP, ROIC, MPW, HCN, OHI, LXP, KIM, BX. I wrote this article myself, and it expresses my own opinions. I am not receiving compensation for it (other than from Seeking Alpha). I have no business relationship with any company whose stock is mentioned in this article.