The telecom service sector has a soft outlook at present because of the slow pace and uncertain sustainability of the economic recovery. Many analysts, including Moody's, have maintained a negative outlook on this sector over the past year, and it is expected that telecom companies will need a sustainable 1% to 3% annual revenue growth in order to stabilize. Meanwhile, prices in some of the most competitive markets will continue to drop as competitors fight to keep their market share positions.
Telecom companies are driving demand through technological innovation combined with growth in business activity. The top and bottom line growth for each company mainly depends on efficient operations, new inventions and strong marketing activities. Some of the large caps in telecom services are enjoying economies of scale in offering a highly automated service to mass customers, and they have the financial resources to maintain large networks.
Companies operating in telecom services offer wireline and wireless telephone and Internet access, data services, and cable and satellite television distribution services. Major players in this industry are U.S.-based AT&T (NYSE:T), Canadian-based TELUS Corp. (NYSE:TU), Comcast (NASDAQ:CMCSA), Verizon Communications (NYSE:VZ) and the Spanish firm Telefónica (NYSE:TEF). In this article, I will look at the two large caps operating in this industry to see how they are heading in these challenging environments. I will look at their financial performance and future outlook to gauge which company is offering safe and large returns.
Where Does AT&T Stand?
AT&T through its subsidiaries provides wireless and wireline telecommunications services in the United States and globally. AT&T is driving growth with its mobile and IP data, strategic business services and U-verse. With its recently launched Project VIP, it is providing new services and faster speeds to customers. It is also setting footprints for future growth with its 4G LTE network. The company is also making acquisitions to expand its revenue base and customers. Recently, it acquired Leap Wireless for around $1.2 billion, which will bring $2.8 billion in revenues. Further, it wants to improve operational efficiencies of its business, and the company has launched Project Agile to improve operations.
All these initiatives led the company to generate 2% growth in the top line, while the bottom line growth was at 8.5%. Its cash flow remained strong enough to support capital investments and dividends but was down compared with the past year because of tax payments, wireless device financing related to the AT&T Next program and the timing of working capital payments. Its operating cash flows were at $34.8 billion compared with last year's $39.2 billion. Capital expenditure was at $21.1 billion and, consequently, free cash flows were standing at $13.8 billion. Its dividends look completely safe as free cash flows are providing complete cover to dividend payments of $9.6 billion.
Further, the company plans to generate 2% growth in its top line, and bottom line growth will be at mid single digits. Operating cash flow is expected to decrease further, and capital expenditure will remain similar to last year's level of $21 billion. Free cash flows might decrease to $11 billion by the end of 2014.
Where Does Verizon Stand?
Verizon provides communications, information and entertainment products and services. Its two segments are Verizon Wireless and Wireline. Verizon has been turning things around by making smart moves to keep growing its top and bottom line. Its recent agreement with Vodafone is a step toward that direction. With this agreement, Verizon will have 100% ownership of the wireless business, nearly 67% of operating revenues, and about 95% of free cash flows coming from the wireless segment. The company's unwavering focus on wireless, FiOS and strategic enterprise services have been generating consistent growth and led to the delivery of double-digit earnings growth. Its Q4 results show high customer demand for Verizon Wireless, strategic enterprise services and FiOS. Verizon's long-term investments in reliable, high-quality networks are delivering value to customers and for the company. Indeed, its strategic networks are forming a strong distribution platform for future growth and innovation.
All these strategic moves allowed the company to generate strong growth in the top and bottom line. Over the past two years, the company has been generating mid single digit growth in the top line, while the bottom line growth was high at 24% because of cost management and investment in high margin businesses. Solid growth in the top and bottom line enhances its cash generating potential. At the end of last year, its cash flows increased by $7.8 billion to $38.8 billion, capital expenditure was at $17 billion, and free cash flows were at $21.6 billion. The company's free cash flows are covering its dividend payments of only $5.6 billion. Verizon plans to generate similar results in 2014 as it did in the last year.
Which is a Good Stock to Buy?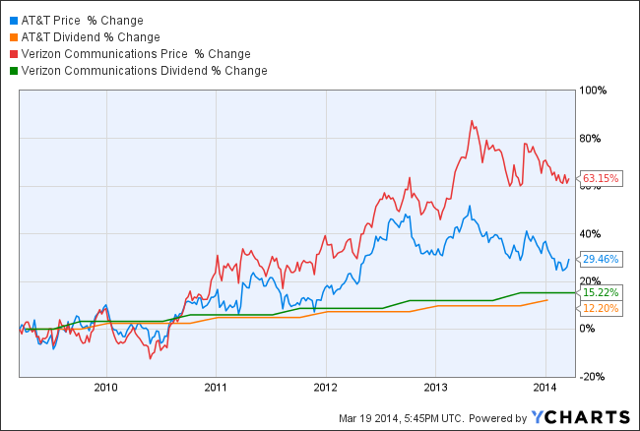 AT&T has been experiencing low growth in generating the top line over the past three years. On average, in the past three years, its revenue growth stood at 1.2%. Its bottom line growth was slow at negative 2.8% in the past three years. The company's ability to generate cash flow has been also impacted. As a result, its dividend growth has been impacted by the slow growth rate. In the past five years, its dividends increased by only 12%. Its payout ratio based on income increased to 141% in 2012 as the company was experiencing difficulties in generating earnings. This restricted the company to make big increases in dividends. However, last year, it generated momentum in its earnings by enhancing operational efficiencies and enhancing margins. Thus, it corrected its payout ratio back to 40% of income.
One important factor that is enhancing its dividends and earnings per share is a buyback program. The company is aggressively reducing share count. In the last year alone, it has reduced 54 million shares for $1.9 billion. This means the company has to distribute its profit to a low number of shareholders, which enhances share price, dividends and earnings per share. Going forward in 2014, I am not expecting a huge increase in dividends as AT&T is expecting to generate 2% growth in revenue and bottom line in the mid single digits. It is expecting to generate $11 billion in free cash flows, which are less than its recent year's free cash flows of $13 billion.
On the other hand, Verizon has been generating much better growth in its top line compared with AT&T. Verizon has generated stronger growth in its bottom line and has generated double digit growth over the past four consecutive quarters. Its cash flow generating potential is also stronger than AT&T's as its free cash flows are much greater than its dividend payments, which offers a lot of room for more increase. This trend also reflects in its share price performance and dividend growth as shown in the chart. Amid all this, I believe it has set strong footprints for future growth with recent investments and will be able to produce double-digit growth in earnings in 2014.
Both companies are in a strong position to generate future growth compared with their recent two-year performance. However, I believe Verizon has strong future prospects with its ability to generate double-digit growth in earnings and cash flows. It is in a strong position to make a massive increase in dividends.
Disclosure: I have no positions in any stocks mentioned, and no plans to initiate any positions within the next 72 hours. I wrote this article myself, and it expresses my own opinions. I am not receiving compensation for it (other than from Seeking Alpha). I have no business relationship with any company whose stock is mentioned in this article.