In October of 2013, Facebook (NASDAQ:FB) acknowledged, for the first time publicly, what many analysts had long feared: it was losing the younger teen demographic, and seeing a slowdown in growth in many other key markets.
Facebook's $3 billion offer for Snapchat that was turned down by Snapchat founders Evan Spiegel and Robert Murphy in a high profile offer that culminated in Facebook's launch of Snapchat clone Poke signaling once again that Facebook was losing market share and potential users to alternative messaging apps, and was prepared to spend large amounts of money to acquire the competitors that had access to these key demographics.
On February 19th, Facebook announced its acquisition of WhatsApp, one of the biggest acquisitions of a tech company in history. The deal was valued at $19 billion, with Facebook paying $4 billion in cash, $15 billion in shares of Facebook and other stock units.
Much of WhatsApp's appeal has come from the lack of advertising on the service as was shown when 800,000 new users flocked to WhatsApp competitor telegram in just four hours after Facebook bought WhatsApp.
While many analysts have pointed out that Facebook is paying only about $33 per user of WhatsApp, about a quarter of what each Facebook user is valued at based on current valuations this neglects to take into account the fact that WhatsApp's sole current revenue source is its one dollar annual fee after each user's trial year. This is one of the reasons that its revenue is expected to grow strongly in 2014 over 2013 results: the vast majority of the new users that WhatsApp has gained in the past year have yet to pay the $1 annual fee. With 450 million active monthly users, a number growing at nearly 1 million users every day, WhatsApp made revenues of only an estimated $20 million in 2014.
Assuming that WhatsApp user base will continue to grow at a rate near 1 million users a day (but a rate that will almost certainly slow as its user base becomes saturated in many countries), it could have up to a billion users in just two years from Facebook's purchase.
Unfortunately for WhatsApp, it has already saturated many markets (like Spain, where WhatsApp holds a market share of 97%). Considering Mark Zuckerberg announcing that Facebook would continue to operate WhatsApp as an independent entity within Facebook, and denying that Facebook would implement advertising on WhatsApp, it is still unclear how Facebook plans to monetize WhatsApp.
Meanwhile, there's still the significant issue of competition from other messaging services. As other SeekingAlpha contributors have noted, WhatsApp faces massive competitors like Tencent (OTCPK:TCEHY), that have further developed their monetization strategies using mobile payments, gaming, and other sources. The strategy appears to be working, with Barclays analysts valuing WeChat at up to $95 per user, and average revenue per user is estimated to be at $7 annually.
More importantly for Facebook shareholders over the long term however, is what Facebook's acquisition of WhatsApp means for its long-term strategy for growing its user base.
Facebook has seen large growth in mobile use of its service, and in the fourth quarter of 2013 earned about 53% of its ad revenue from mobile users. Despite growth, it still lags behind competitors like WhatsApp and WeChat, but is acquisition the right strategy for a company seeing slowing user growth?
Because of the lack of current monetization options for WhatsApp, much of the value proposition for Facebook and its shareholders would seem to come from the fact that Facebook will receive WhatsApp's user information, as well as potentially convert hundreds of millions of users into Facebook users. During a conference call on February 19th, Facebook's CFO told analysts that "data hasn't been a top priority, and won't be," as well as that WhatsApp users have to provide just a phone number when signing up, which gives Facebook rough geographic details, but little else.
Meanwhile, with so little known about WhatsApp users, it is still uncertain whether Facebook will be able to convert WhatsApp users into valuable Facebook users, or whether it already has. Estimates into the overlap of Facebook and WhatsApp users are extremely difficult to make accurately, since there is still little concrete data on WhatsApp's users, but WhatsApp does have a user base that is largely outside of North America, in markets with better growth prospects for Facebook.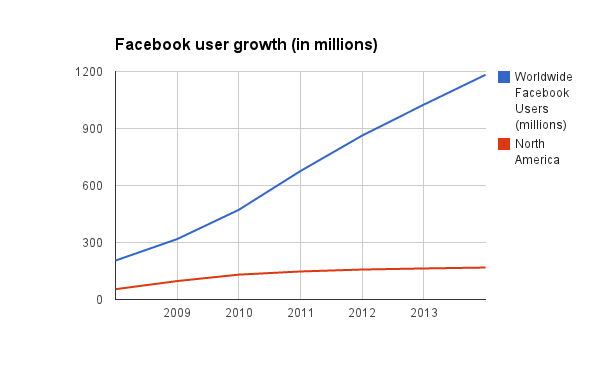 Source: VentureBeat
As the graph above shows, Facebook's growth in North America has tapered off since 2011, and is growing at a slow rate, and even losing portions of the younger demographic. Meanwhile, outside of North America and Western Europe, smartphone use is growing exponentially, and along with it demand for the kind of social networking services WhatsApp, and now Facebook are offering.
Facebook's WhatsApp purchase is likely to provide it with an opening into markets where Facebook may not already be widely used, but many of the markets where WhatsApp's users are most widespread are where Facebook is as well. In the largest internet market in the world, China, Facebook has been blocked since 2009, but WhatsApp is unlikely to provide a foot in the door for Facebook, with WeChat, a local competitor dominating the market in China. WeChat has 313 million users in China, and benefits from Chinese government protection. The Chinese government benefits from WeChat being locally owned for multiple reasons; economically, it provides jobs and increased economic activity, and also allows for the Chinese government to monitor the service for political activity and dissent.
WhatsApp does, however, have over 40 million users in India, a number that is more significant than at first glance when taking into account the fact that smartphone sales were about 44 million in India in 2013, a number that nearly tripled from 2012. Since a significant number of these consumers were buying smartphones for the first time (considering the fact that sales had tripled since 2012), WhatsApp's Indian market share is one that holds high potential, especially when there are fewer and significantly less powerful local competitors like there are in China.
When looking at the future for WhatsApp's purchase, and its significance for Facebook, there are few simple answers, and Facebook's prospects remain risky. The deal has the potential for the WhatsApp deal to become a large scale success like 2012's acquisition of Instagram, if its growth in India and other high growth markets continues at a strong pace and WhatsApp manages to ward off competition from China's WeChat as it grows outside of its native country. At the same time, a failure to continue growth at WhatsApp could hurt Facebook significantly because of its high per user valuation and few monetization options at the present, that make gaining users, and doing so quickly a high priority.
Disclosure: I have no positions in any stocks mentioned, and no plans to initiate any positions within the next 72 hours. I wrote this article myself, and it expresses my own opinions. I am not receiving compensation for it (other than from Seeking Alpha). I have no business relationship with any company whose stock is mentioned in this article.