By Steven Carroll, Independent Commentator
While jitters continue to affect stocks globally, the overall reaction to a significant geopolitical risk from events in the Crimea has been relatively muted. However, those with memories that stretch beyond recent quarters will remember how Long-Term Capital Management was surprised by Russian events that eventually did cause significant turmoil in developed markets. We look at another stock where investor enthusiasm may be due for a pause - Under Armour Inc. (NYSE:UA).
UA has been a favorite of the retail sector - though perhaps not of the U.S. Olympic speed skating team, which complained that their UA bodysuits contributed to their poor performance at the Sochi Olympics. Nevertheless, the team renewed its contract with UA.
Early UA investors have been rewarded with riches that sound more akin to Berkshire Hathaway than clothing - while the S&P is up 135% over five years, UA is up a startling 1,306%. Not bad for an industry that doesn't involve gadgets, software, social media or financial engineering.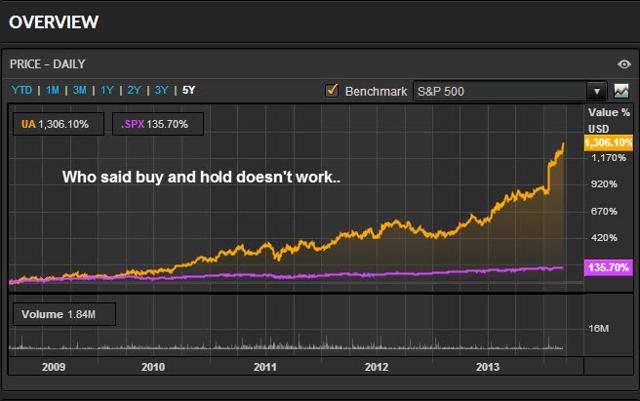 Speedy momentum
The stock is a classic momentum play - with investors continuing to favor it, despite unusual reticence on the part of the sell-side community (nine buys, 20 holds and one brave soul with a sell). Having said that, the median price target has surged over $24 in 90 days, now standing at $105 - though not near the last close of $124.44.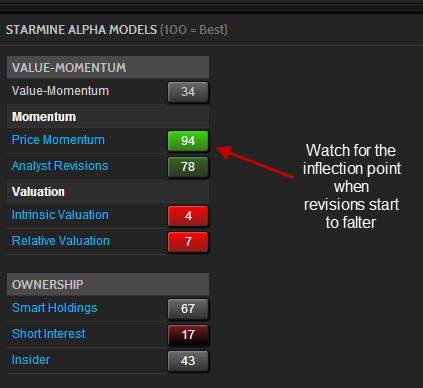 Examining the stock split
When the market does start to price in a more uncertain future (whether due to Russian intransigence or some, as yet, unknown hiccup) then it is stocks such as UA that have the furthest to fall - due to a complete absence of valuation support.
With a 1100% surge in five years, one would have to be fairly greedy not to acknowledge some kind of pause might be in order.
Amusingly, recent days have seen the return of the stock split - with the company announcing a 2 for 1. These types of financial gimmicks are phenomena that rarely appear in a bear market, where investors focus on such outdated concepts as cash flow, earnings quality, competitor dynamics. But when animal spirits dominate, a stock split can be another bullish factor to ensure mouth-watering levels of confirmation bias.
Looking at the StarMine quant scores, it's easy to see that valuation has now assumed a smooth, onwards and upwards sales/profit trajectory - one that should be a significant warning to those investors who are placing their capital at risk.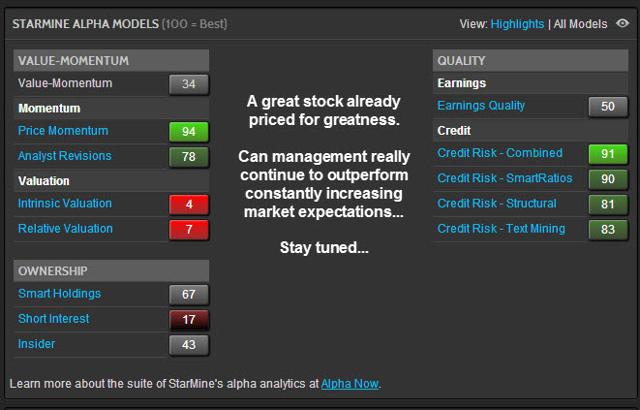 Nice shirts; hate to lose them
The company is well run, well capitalized and despite some recent negative Olympic headlines, it continues to go from strength to strength. That's not the issue here (and this writer happens to like their shirts). Even if all that is true, there's no upside left in the current valuation, and when the music does stop, it's difficult to imagine what happens next. In that Wile E. Coyote moment when you look down and realize there's nothing for a long way down, by then it's too late for the stockholder.
To quote Looney Tunes - that's all folks…
Disclosure: I have no positions in any stocks mentioned, and no plans to initiate any positions within the next 72 hours. I wrote this article myself, and it expresses my own opinions. I am not receiving compensation for it. I have no business relationship with any company whose stock is mentioned in this article.