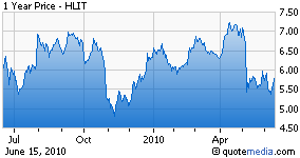 Click to enlargeVideo delivery solutions provider Harmonic, Inc. (NASDAQ:HLIT) recently announced the planned acquisition of Omneon, a video production solutions provider, for cash and shares totaling $274 million. Despite the excellent strategic fit, potential for smooth integration, and realistic pricing of the deal, Harmonic has been punished by the market, creating a buying opportunity. At a recent price of $5.76, HLIT is attractively priced in view of its potential to reach a target of 10 within the next two years.
Overview – From the company's website:
Harmonic is a leading provider of video delivery solutions to broadcast, cable, satellite, Internet, mobile and telco video service providers worldwide. With more than twenty years of experience, a track record of pioneering ground-breaking technologies, and an outstanding portfolio of high performance, IP-based solutions, Harmonic is enabling innovative, converged video services that can be consumed at anytime, and viewed on virtually any device.
Growth over the past 5 years was strong until 2009, when the company experienced a slowdown during the recession, and has since resumed, with 1Q 2010 revenue coming in 25% ahead of the prior year. After incurring a number of years of losses in the process of building the business, the company generated profits in 2007 and 2008. 2009 was unprofitable, but the first quarter of 2010 shows a profit of 0.05.
Video delivery is a growing field: there has been a proliferation of content and there is strong demand for video over every possible communication device. Harmonic has an impressive list of customers and an array of solutions based on a wide variety of formats. The economic slowdown has not permanently reduced the public demand for video, and this is a good business to be in.
Omneon Acquistion – The press release describes the fundamental strategic sense of the deal as follows:
The proposed acquisition would combine Harmonic's market-leading position in video delivery infrastructure with Omneon's market-leading technology for the production, management and distribution of digital media.
I reviewed the acquisition presentation slides. Omneon had 2009 revenues of 105 million, and grew at 18% annualized from 2005 to 2009. The deal is expected to be accretive in 2011, which is not too demanding given the cash outlay. Enterprise value was 274 million, for a P/S of 2.6, well within the realm of reason for companies of this type and size. HLIT has traded above that multiple within the past 5 years.
Both companies are located in Sunnyvale, CA. Omneon is about 30% of Harmonic by revenue, a good size for an acquisition; big enough to make a difference but not so big as to make integration an issue.
The combined entity will have all the right customers, 19 or 20 out of the top 20, depending where you look, and span from production to distribution. Given the good strategic fit, the market's reaction is excessively negative.
Valuation – It is anticipated that the acquisition will close during the third quarter. Looking forward to the end of 2011, when integration will be complete and there will be a year of combined operations, I guesstimate revenue at 525 million, or 4.68 per share, apply a historical midpoint P/S of 2.03, and arrive at a target of 10.
Going back over the past 10 years, HLIT has traded at P/S of over 3 during 8 of those years, suggesting additional upside potential, somewhat diffuse and dependent on strong growth and improved public perception of the potential market for the company's products.
If for any reason the acquisition does not take place, valuation would still be in the 10 area based on expected growth and the excess cash.
Balance Sheet – I have been long HLIT for more than a year. The original attraction was a strong balance sheet, featuring 2.40 per share of excess cash. Combining that with the earnings potential of the business, the downside risk is relatively small compared to the upside potential, given the growth in digital video.
The planned acquisition will use the excess cash, but will leave the company well capitalized.
Recent Presentations – Harmonic made presentations on June 8, June 9 and June 10 at the following conferences: Bank of America Merrill Lynch SMID Cap Conference, RBC Capital Markets 2010 Technology, Media and Communications Conference, and UBS Global Technology and Services Conference. The slides are available here, however, here are some of the salient points:
Digital TV in < 20% of global homes

HDTV in < 5% of global homes

90M pay TV subs in India by 2013

Expansion of HD content worldwide

New HD standards – 1080p60, 3-D

"TV anywhere" business models

Internet and wireless delivery to TVs, PCs and mobile devices

Expecting 2010 growth of 12-14%

2011 – expect to continue double digit growth

2011 - expect to return to target 15%+ operating margin
This is a competitive business with rapidly evolving technology. Based on the company's performance expectations for 2010 and 2011, they will be participating in global growth and earning a profit.
Strategy – This situation will take a while to develop. The acquisition is expected to close during the 3rd quarter, and a period of time will be required before integration is complete. Acquisitions frequently generate charges that make the numbers bumpy, producing negative investor reactions. While I suspect that the demand for video will not be sensitive to economic developments, that remains to be verified by results.
Beta is 1.2 and implied volatility stands at 51.2%. The stock is optionable, although there are no LEAPS.
Holding a relatively small position, I plan to monitor quarterly bookings, revenue and earnings, not neglecting to review pro forma figures and projections on the Omneon acquisition, to be provided after the deal closes. It is possible that the heavy presentation schedule will generate analyst comment and upgrades. I plan to enlarge my position during the coming week, bringing it up to full size during the next year if the expected growth and profit appear to be on target.
Disclosure: Author long HLIT