The Project K has inducted a ray of hope for Kellogg Company (NYSE:K). For those who are unaware, Project K is au-courant a restructuring and revival strategy set afloat by Kellogg, the world's numero uno cereal maker. A cost-cutting plan will include the consolidation of plants and elimination of excess capacity. The company also plans to trim down its global workforce by 7% by the end of 2017. In December 2013, the company announced its plans to shut down existing plants in Australia and Canada and the operating plant at London is also expected to close by the end of 2014. On the other hand, the company is increasing production at a plant in Thailand and building a new Malaysian snack factory to tap new markets. Project K is expected to cost between $1.2 billion and $1.4 billion, and the program is expected to save at least $425 million annually by 2018. It is expected that through Project K, Kellogg will be able to strengthen its existing business in core markets, increase growth in emerging markets, and drive increased value-added innovation.
Studying The Financials
The reported net sales for Q4 2013 were $3.5 billion, which was 1.7% lesser compared to the Q4 of 2012. There was a decrease of 0.9% in the internal net sales of Fourth quarter. Full-year 2013 reported net sales increased by 4.2% to $14.8 billion, an increase of $595 million from full-year 2012 results was observed. Full-year internal net sales increased by 0.3%. Internal results do not consider the effects of foreign currency translation, acquisitions, dispositions, and integration costs.
Full-year reported operating profit increased by 81.6%; which includes mark-to-market adjustments and the inclusion of very strong results posted by Pringles for the whole year. The net earnings for Q4 were reported to be $818 million, or $2.24 per diluted share. This quarter's reported EPS delineates a benefit from mark-to-market of $1.83 per share, $0.39 per share of costs associated with Project K, and approximately $0.03 per share of integration costs related to the acquisition of Pringles. Excluding these items, comparable earnings were $0.83 per share, which was 18.6% more from the Q4 of 2012's comparable EPS. The full year net earnings were reported $1.8 billion, or $4.94 per diluted share.
The full-year's reported earnings per share included a benefit from mark-to-market accounting of $1.72 per share, $0.42 per share of costs associated with Project K, and approximately $0.13 per share of integration costs related to the acquisition of Pringles. Eliminating these items, comparable earnings were $3.77 per share, showing an increase of 4.4% from 2012's comparable earnings per share.

Click to enlarge
Segment wise revenue. Source: CSI Market

Segment wise contribution to total revenue. Source: CSI Market
Kellogg has been striving hard to boost its sales in North America, which is the major market for the company. However, the decline in sales of morning cereals was partially offset by sales in specialty segment.
Outlook For 2014
The Company issued guidance for internal net sales growth for the year 2014, which is expected to increase by approximately 1%. Kellogg is expecting full-year underlying internal operating profit to increase at a rate between 0 and 2%. Full-year currency-neutral comparable EPS is anticipated to increase at a rate between 0 and 3%.

Source: Kellogg Company
Strategic Moves
Kellogg's North American snacks (other than Pringles) are sold by the DSD (direct-store-door) marketing plan. CEO John Bryant stated that the company is increasing investment in their coverage model for DSD in the US Snacks business, including investing in better technology for the representatives. Since last six months, the company has been working to create a calendar of initiatives, including a campaign to reinforce the values of cereal and the role Kellogg plays in bringing that to the consumer. Acquisition of Pringles to enter the salty snacks business has proved to be a turn-around strategy and this division has been bagging ample profits for the company.
Strengthening Financial Position
Kellogg presently is operating at a debt/equity of 1.8 that is higher than the industry's average of 1.0. Higher debt raises the concern of the company's ability to repay debt and this may force the organization to borrow at higher rates that will dissolve the profits. The company is trying to remove its debt obligation and improve its D/E ratio. Kellogg has already settled $900 million from its debt in the last 18 months and with the ongoing progress, the company will certainly be able to match up to the industry standards.
Furthermore, the company is making aggressive share repurchases. In 2013, it purchased $544 million worth of shares. For 2014, it plans to bring down the overall average share count between 1.5% and 2% by carrying out additional repurchases. This is a smart application of company's idle cash apart from spending on the Project K.
Dynamic Industry Trends
The global breakfast cereals market was valued at $32.5 billion in 2012 and it is expected to grow at a CAGR of 4% for the next several years, reaching $43.2 billion in 2019. The need for convenience and busy schedules has propelled the demand of packaged food including morning cereals in developed countries. Increasing per capita income has given scope of growth in the developing countries and the companies are cashing these opportunities. As a result, the markets in US is declining while the presence of the cereal makers can be widely felt in developing world. The companies are expending huge amounts to gain market share in Asia pacific and also developing new variants according to the regional tastes and preferences. Kellogg has also come up with Saffron and Raisin flavor in India.
Is Kellogg Worth Investing?
Kellogg has been an iconic brand providing continuous returns. However, the historical performance of Kellogg is not quite impressive due to challenging trends in the market. To cope with these challenges Kellogg has taken major initiatives to boost up its earnings and improve profit margins by cutting down operating costs and ensuring operational efficiency. The growth prospects in the emerging markets for cereals and snacks products will be the key growth drivers for Kellogg. The stock prices are almost stable since the last three months and it does not seem that the prices can tumble down.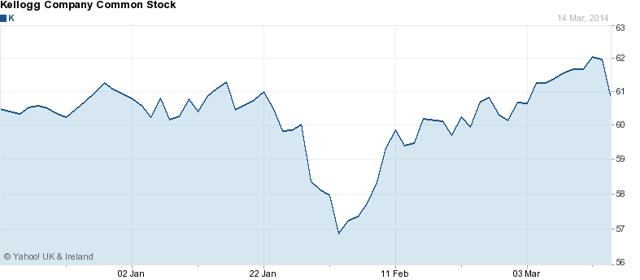 Click to enlarge
The stock price movement over last 3 months. Source: Yahoo Finance
The company may not have much to offer to its investors in short run, but those who are ready to wait can hopefully reap in the profits from the strategic action plan of the company. Growth is unlikely to be visible before 2015, as major part of restructuring is to take place in the year 2014. CNN Money estimates the target high price of $76 while the median price of $62.5 has nearly been reached. Therefore, all vibes hint towards a bright and optimistic phase for Kellogg.
Disclosure: I have no positions in any stocks mentioned, and no plans to initiate any positions within the next 72 hours.
Business relationship disclosure: The article has been written by Analysts at EurEx Consulting. EurEx Consulting is not receiving compensation for it (other than from Seeking Alpha). EurEx Consulting has no business relationship with any company whose stock is mentioned in this article.