Elaina Patterson, a former banker with Bank of America (NYSE:BAC), has been sentenced for stealing over $2.1 million from the bank's investors and its customers.
54-year-old Patterson has pleaded guilty to charges of larceny and will face from three to five years in a state prison. Additionally, after completing her prison sentence, she will also have ten years of probation and has been banned from ever working in the financial sector again.
Melodramatic Court Hearing
During the hearing, Patterson wept bitterly, apologized profusely, and asked for forgiveness. However, the judge and victims remained unsympathetic to the Wilmington, Massachusetts, resident because of numerous testimonies about how she had ruthlessly executed her schemes to fund a luxurious lifestyle.
Her victims included people who had won her trust like aunts, uncles, and cousins, as well as elderly people. Eight of the elderly were in their 60s, while six were over 80. One elderly victim said that Patterson talked her out of $100,000 only a week after her husband had died from cancer. After leaving the bank in 2011, Patterson paid for her children's private schooling and college tuition, purchased Cadillac Escalades, vacationed in Las Vegas and Aruba, and stayed in five-star hotels, including the Ritz Carlton.
Investigators discovered fraudulent transactions, totaling almost $6 million. Out of this amount, she paid investors $3.8 million and stole $2.1 million. According to Martha Coakley, the Attorney General for Massachusetts, her actions defrauded 30 victims.
Patterson's Ponzi Scheme
Patterson's position as a personal banker at a branch in Reading, Massachusetts, between the years July 1999 and 2011, allowed her to play an influential role in the lives of her community. She solicited the business of family and friends by asking them to invest in allegedly high-interest accounts.
She described these accounts as very exclusive, reserved for big investors and well-funded corporations, but implied that her position at the bank would allow her to surreptitiously open up accounts for family and friends. Early in 2009, she began to steal from the accounts to cover previous thefts. She used the stolen money to repay customers, which amounted to about $400,000, to fund interest payments, and pay investors. This type of fraud, where money is taken from new investors to pay old investors is known as a Ponzi scheme. According to complainants, Patterson had a knack for choosing customers who were not vigilant in reviewing their bank statements and who would ask her directly if they did happen to notice any discrepancies.
Crime Reflects Negatively On Bank of America Itself
According to T.J. Crawford, spokesman for Bank of America, the bank worked with law enforcement as far back as late 2011, when the fraud was first identified, during an internal probe. However, the discovery of the entire Ponzi scheme was actually accidental. A customer asked to access her account on the day Patterson had the day off. When a bank employee assisted her, she noticed the customer's account had Patterson's address.
On one hand, Bank of America is as much a victim as Patterson's own victims. After all, the bank suffered a loss of public trust as a safe place to invest or open an account. Additionally, questions will undoubtedly be raised about the bank's security standards and the efficacy of their investigation.
Still, yet another issue is at stake: the criminal behavior of one of its bankers draws attention to other criminal behavior at the corporate entity. For instance, earlier this year, the U.S. government fined Bank of America $2.1 billion in penalties after a jury considered the bank liable for fraud when its Countrywide unit sold defective mortgages. In addition, starting in June 2013, the FBI began to probe BAC for front-running ahead of large client orders. While Patterson's theft in itself would not likely influence BAC stock (chart below visibly strong), as part of a broader series of BAC scandals - the accumulated negative findings should keep investors wary.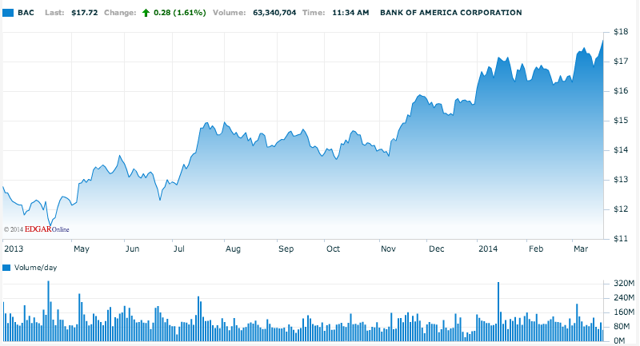 In January of this year, we recommended investors take some profits in BAC until senior management took steps to better enforce compliance within its ranks. Given the recent breach again, we re-iterate this stance.
Disclosure: I have no positions in any stocks mentioned, and no plans to initiate any positions within the next 72 hours. I wrote this article myself, and it expresses my own opinions. I am not receiving compensation for it (other than from Seeking Alpha). I have no business relationship with any company whose stock is mentioned in this article.