Versartis (NASDAQ:VSAR), an endocrine-focused biopharmaceutical firm in the process of developing a treatment for growth hormone deficiency, plans to raise $80.5 million in its upcoming IPO.
The Redwood City, California-based firm will offer 4.6 million shares at an expected price range of $16-$19 per share. If the IPO can find the midpoint of that range at $17.5 per share, VSAR will command a market value of $409 million.
VSAR filed on February 18, 2014.
Lead Underwriters: Citigroup Global Markets Inc, Morgan Stanley & Co LLC
Underwriter: Canaccord Genuity Inc, Cowen and Company LLC
Summary
VSAR is an endocrine-focused biopharmaceutical company.
The firm is currently in the process of developing a novel long-acting recombinant human growth hormone (rhGH), known as VRS-317 to treat growth hormone deficiency (GHD). Current rhGH products require patients to use daily injections over the course of years; VRS-317 requires significantly fewer injections, which VSAR believes will lead to better patient compliance and better treatment outcomes. VRS-317 is currently in Phase 2a clinical trial for pediatric GHD to evaluate various dosing regiments.
The firm may develop VRS-317 for treatment of idiopathic short stature (ISS) and Turner Syndrome, which collectively account for some 30% of the global rhGH market. The firm holds global rights to VRS-317, and plans to commercialize it through its own specialty sales force in the US and Canada.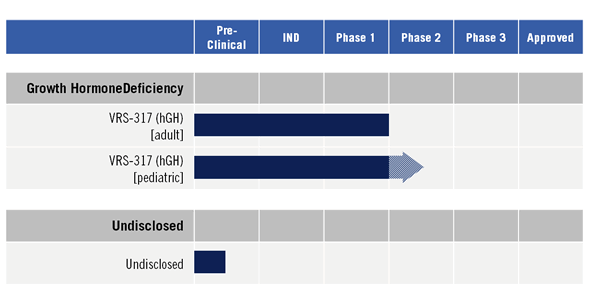 (http://versartis.com/content/productpipeline/overview.htm)
Valuation
VSAR offers the following figures in its S-1 balance sheet for the year ended December 31, 2013:
Revenue: $0.00
Net Loss: ($18,497,000.00)
Total Assets: $14,683,000.00
Total Liabilities: $4,478,000.00
Stockholders' Equity: ($47,292,000.00)
VSAR's current lack of revenues is unsurprising in a pre-commercial biopharmaceutical firm, and should not be taken as an indicator of the firm's potential success or failure. VSAR will be unable to generate substantial revenues or turn a profit until it has commercialized one or more products.
Business
If approved, VRS-317 would compete with existing daily rhGH therapies, some of which are marketed by firms with significantly greater financial and technical capacities than VSAR. Firms marketing these therapies include Novo Nordisk (NYSE:NVO), Eli Lilly (NYSE:LLY), Genentech, Pfizer (NYSE:PFE), Teva Pharmaceuticals (NASDAQ:TEVA), and LG Life Science.
Management
Co-founder Jeffrey L. Cleland, PhD has served as VSAR's President and CEO since May 2009. He also co-founded Diartis Pharmaceuticals, Inc. and served as its CEO from its inception in December 2010 until March 2013. Dr. Cleland previously served as Vice President of Therapeutic Development at BaroFold Inc., as Senior Director of Product Development at Telik Inc., as Vice President of Technical Operations at Novacea Inc., and as president of Pharmaceutical Development, Manufacturing & Delivery Consultants. He is an adjunct assistant professor at University of the Pacific, University of Kansas and University of Colorado. Dr. Cleland holds a B.S. in Chemical Engineering from the University of California, Davis and a Ph.D. in Chemical Engineering from the Massachusetts Institute of Technology.
Conclusion
We're neutral to positive on this IPO at this stage of the company's development.
Though VSAR is a long way from commercializing VRS-317, and there's certainly no guarantee that VRS-317 will gain FDA approval, the firm could well be sitting on a goldmine. As opposed to the daily injections that current rhGH products require, VRS-317 is being tested for weekly and monthly use. Either would be a huge improvement for patients, and would likely catapult VRS-317 to the forefront of the market.
Co-founder and CEO Jeffrey L. Cleland, PhD also has a long history of founding and running pharmaceutical firms, and should be fully competent to handle the firm's scientific and business concerns.
Disclosure: I have no positions in any stocks mentioned, and no plans to initiate any positions within the next 72 hours. I wrote this article myself, and it expresses my own opinions. I am not receiving compensation for it (other than from Seeking Alpha). I have no business relationship with any company whose stock is mentioned in this article.