The table below has been updated since my "BDC Dividend & Portfolio Growth Potential" and includes the latest financial results for the 25 BDCs that I cover and all equity offerings since 2013. It shows a rough estimate of available growth capital as a percentage of the current portfolio and assumes a debt-to-equity ratio of 0.80. I have also placed them into two groups based on price to net asset value ("NAV") because BDCs with higher multiples can raise equity at a premium and accretive to current values.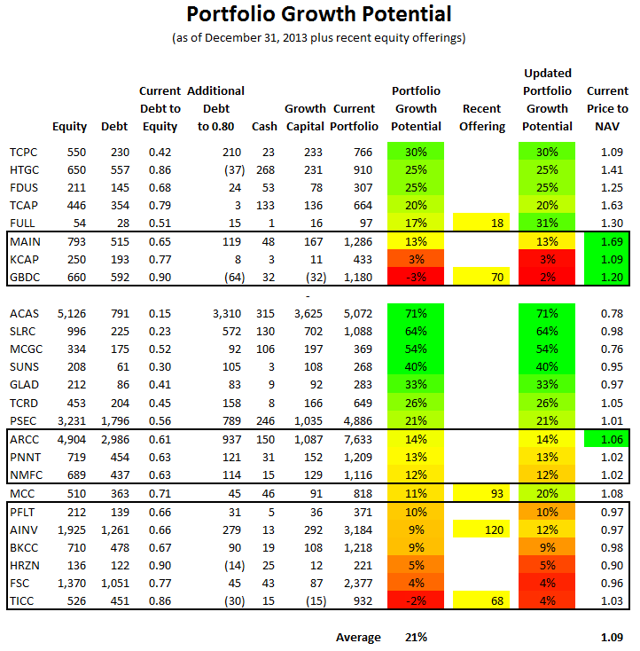 Most likely Golub Capital BDC (NASDAQ:GBDC) and TICC Capital (NASDAQ:TICC) recently raised equity capital to stay in compliance with leverage regulations as predicted in my recent "TICC: January 2014 Report" but only issued enough shares to cover the recent quarter which is a shareholder friendly thing to do for many reasons including less base management fees, effective use of capital and less dilution of earnings. It is also important to note that only GBDC and Medley Capital (NYSE:MCC) issued shares at a premium to NAV, both TICC and Apollo Investment (NASDAQ:AINV) were close to NAV (using only net proceeds to calculate) and Full Circle Capital (FULL) has raised two rounds with the larger public round 6% below NAV and then a much smaller round to institutions at a premium.
After taking into account these recent share offerings I would estimate that there are 12 BDCs that could potentially have equity offerings in Q2 but only 7 of these are trading above NAV.
But why is this a "rough" estimate of growth capital?
Leverage Ratios
Each company has a different level of target leverage based on many things including portfolio credit quality and discussed in more detail in "BDCs And Risk: Part 1". Banks are more likely to lend money to companies with more secure assets that would be senior debt for BDCs and the companies with a larger percentage of investments with higher credit quality can borrow at higher levels and potentially lower rates such as MCC, GBDC, Hercules Technology Growth Capital (NASDAQ:HTGC), Horizon Technology Finance (NASDAQ:HRZN), New Mountain Finance (NYSE:NMFC), PennantPark Floating Rate Capital (NASDAQ:PFLT), Solar Senior Capital (NASDAQ:SUNS) and TCP Capital (NASDAQ:TCPC), that all have at least 90% or more of senior debt. Other BDCs such as American Capital (NASDAQ:ACAS) with only 21% of senior debt investments are less likely to have higher leverage ratios.
Cash
I tried to only use non-restricted cash for these calculations but this is not always clearly labeled in the financials. BDCs also need to keep a certain amount of working capital handy and others prefer to have larger cash balances for liquidity reasons making it difficult to determine how much is usable for growth capital. I believe that externally managed BDCs with large amounts, especially if they are not being excluded from calculating base management fees, are not shareholder friendly. HTGC, MCG Capital (NASDAQ:MCGC) and Triangle Capital (NYSE:TCAP) all have larger amounts of cash as a percentage of assets but are internally managed.
Prospect Capital
Prospect Capital (NASDAQ:PSEC) uses its at-the-market ("ATM") program to issue shares and does not have bulk offerings that temporarily impact the stock price. However these continued issuances throughout the quarter have a direct impact on the share price since shares are usually issued when the price starts to rise keeping the price range bound over the last five years and below $12.
Propensity for Growth
Not all BDCs are in an active growth mode and some are taking time to reposition their portfolios and increase credit quality as discussed in "Hercules Technology Vs. MCG Capital". I believe this is the prudent thing to do especially during a period of increased competition and yield compression. Some BDCs are younger and still in a higher growth phase to cover dividends while others are dealing with large amounts of repayments as discussed in "Triangle Capital Suffers From Repayments: But Is It An Opportunity?". The table below shows the most recent portfolio growth over the last six months but uses fair value and BDCs such as AINV, HTGC, PennantPark Investment (NASDAQ:PNNT), Gladstone Capital (NASDAQ:GLAD) and Main Street Capital (NYSE:MAIN) have had much higher portfolio gains from increased values of existing investments compared to growth through new purchases. Also MCGC, FULL and KCAP Financial (NASDAQ:KCAP) have all had material declines in NAV that understates the growth amounts.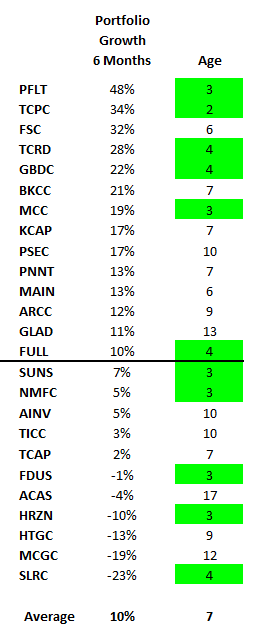 The BDCs that are trading above NAV with lower growth capital and higher growth rates are MAIN, KCAP, GBDC and Ares Capital (NASDAQ:ARCC). I would consider these to be justified equity raises and buying opportunities for investors. The BDCs trading at or below NAV with lower growth capital and higher growth rates are PFLT, PNNT, BlackRock Kelso Capital (NASDAQ:BKCC) and Fifth Street Finance (NYSE:FSC). I believe these companies should wait for higher stock prices to take into account underwriting discounts, commissions and fees before issuing more shares.
Investors should only use this information as a starting point for due diligence.
Disclosure: I am long HTGC, MAIN, TCPC, FSC, ARCC, FDUS, TCRD, PSEC, NMFC. I wrote this article myself, and it expresses my own opinions. I am not receiving compensation for it (other than from Seeking Alpha). I have no business relationship with any company whose stock is mentioned in this article.
Editor's Note: This article covers one or more stocks trading at less than $1 per share and/or with less than a $100 million market cap. Please be aware of the risks associated with these stocks.