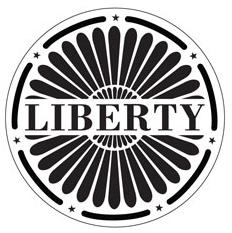 Just after Sirius XM (NASDAQ:SIRI) shares fell 2.4% to $3.29 after Liberty Media (NASDAQ:LMCA) announced it would hold its 53% stake in the satellite radio company, the stock got a boost from a surprising source: a major company entering the market.
Apple (NASDAQ:AAPL) entering car audio market helps Sirius XM

Sirius shares sputtered, down 2.3% for the year, with the Liberty Media pullback, but nothing ever sits still in Sirius-land. Besides the analysts who conclude Sirius is better left alone, that it doesn't need Liberty's help to grow, Apple wanting into the car audio fray forces others to consider the relative prospects of the two companies.
NEWS BLAST: Bank of America analyst Jessica Reif Cohen issued a "buy" on Sirius, slapping on a $5/share target price-an almost 50% premium over the current values.
Apple just squeezed its services into the vehicle dashboard with CarPlay, becoming a Sirius (serious?) competitor - just after the company released iTunes Radio in 2013. This forces a comparison between the companies as they take on similar markets. Big investor Carl Icahn declares Apple a "no-brainer", but which is the better bet?
Sirius long-term value is better
Bank of America seems to believe Sirius is a better long-term investment than Apple: its analyst's price target, in fact, beats a recent projection for Apple stock by a full percent. To support her $5 target, she cites Sirius':
Satellite platform and exclusive content.
Competitive advantage vs. any audio-only offering.
Recent Sirius stock movement suggests the market disagrees. But, Evercore Partners reinstated Sirius stock with an "overweight" rating and a price target of $4.50 - a 30+% premium to the recent closing prices.
Liberty left value on the table?
Would one of the savviest people in the media industry, Liberty Media Chairman John Malone, have passed up such a deal? Consider that Malone offered 0.076 shares of Liberty for each outstanding share of Sirius, thereby:
Valuing Sirius shares at $3.68.
Investors turned the offer down.
Consensus suggests $4-per-share would have worked.
If Bank of America and Evercore are right in their projections, offering an equivalent of $4 would yield Malone returns ranging from 12.5 to 25 percent. Not to mention full ownership with projected 2014 free cash flow of $1.1 billion.
But, he backed out of a deal. Why?
More analysts see Sirius value
Sirius XM gets votes of confidence from other investment analysts following the Evercore reinstatement post-failed Liberty buyout:
Merrill Lynch reinstated its "buy" rating with a price target of $5.
Macquarie upgraded the Sirius price target to $4.
TheStreet Ratings team rates it a "buy" with a ratings score of "B".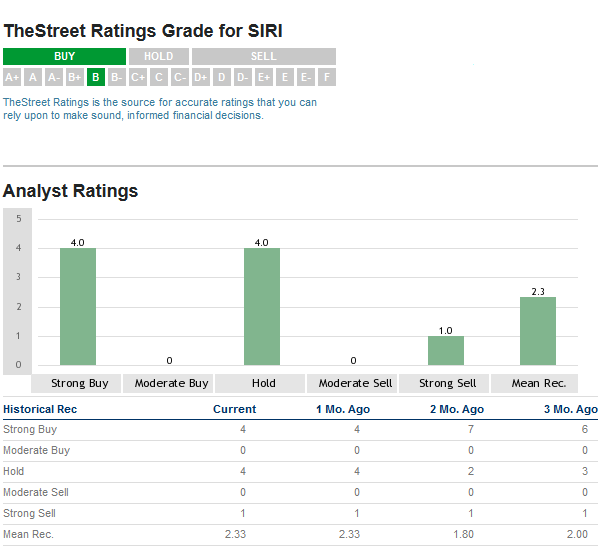 Keep in mind, the proposed Liberty deal would have resulted in de facto valuation of $23 billion for Sirius XM at $3.68 per share. The world's largest pay-radio service at year-end 2013, Sirius XM boasted about 26 million subscribers. Increased earnings each of the last four years have resulted from steady growth in subscribers.
Sirius XM performance speaks for itself
Consider a few impressive performance vectors for Sirius XM:
Net operating cash flow has jumped 22% to $359 million from the same quarter 2013.
Cash flow growth of 11.4% exceeds the industry average.
Gross profit margin is 60+%.
On the downside, the high profit margin has fallen from the same period in the previous year and net profit margin of 6.5% trails industry. Earnings per share declined 50% in the most recent quarter compared to the same quarter 2013.
This year, the market expects an improvement in earnings to $0.09 from $0.06.
Sirius XM stock is worth more than $3.80
Wunderlich analyst Matthew Harrigan has downgraded the stock target price from $4.20 to $3.80 per share. But it's worth more than that. Here's why:
Even though buyers of cars with factory-installed Sirius typically became self-paying customers only 42% of the time in 2013 after the free trial period-not the 44-46% rate the company reports-Sirius XM has been "so prolific in the past that it deserves the benefit of the doubt."
The Liberty Media deal went the other direction because they just weren't offering enough of a premium for Sirius stock. Shares may not be worth what some analysts say they are, but they are worth more than $3.80-making for a 10% mark-up over current market prices.
Liberty and Apple create Sirius a buying opportunity
No matter this seeming reversal, Apple jumping in makes clear Sirius XM is still the big boy in the game. The good news for potential investors now is that the stock is trading lower which makes for a buying opportunity.
Disclosure: I have no positions in any stocks mentioned, and no plans to initiate any positions within the next 72 hours. I wrote this article myself, and it expresses my own opinions. I am not receiving compensation for it (other than from Seeking Alpha). I have no business relationship with any company whose stock is mentioned in this article.