I do not doubt that Hewlett-Packard (NYSE:HPQ) has the resources and technology to become a dominant force in the 3-D printing industry. The recent report revealed HP has resolved two major issues that can help the company compete with industry leaders 3D Systems (NYSE:DDD) and Stratasys (NASDAQ:SSYS).
Meg Whitman said HP are coming up with 3-D printers that offer faster printing speed and better finish print quality. These claims are still hearsay evidence that HP can really make an immediate impact in the 3-D printing industry this year.
The scheduled June announcement is just that - a public unveiling of the company's 3-D ambitions and prototype 3-D printer which won't be ready for mass-market distribution. It is therefore bad for investors to buy HPQ now just because of the latest rumor about its second attempt at conquering the 3-D printing market.
3-D Printing Is Still A Baby, 2-D Is Making Money
I own some DDD shares but due to the brouhaha over the Autonomy deal, it is very unlikely that current HPQ shareholders will accept a merger or buyout deals involving high P/S companies like 3-D Systems or SSYS. This reality doesn't change my mind that HP can have a faster entry in the 3-D printing industry if it takes over a major player.
For the short-term, HP benefits little from going head-to-head with the many companies already fighting over the small pie that 3-D printing market currently presents. Additive manufacturing needs more years to become as lucrative as the tablet market is right now.
Furthermore, HP is currently the top dog in 2-D home and office printing. It might be better for the company to further fortify its printing division to keep competitors at bay. Protecting its lucrative printing division is top priority because it delivers almost 4x the net income that PC revenue provides.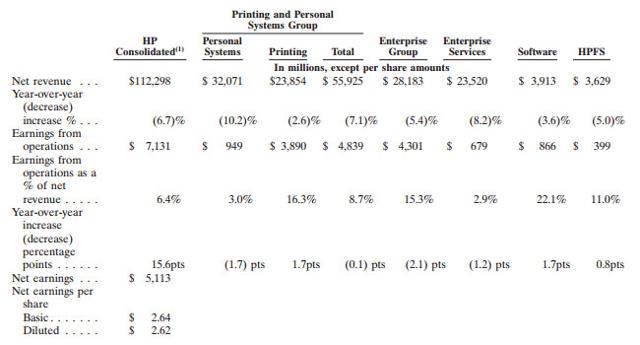 Conventional, 2-D printing will deliver more sales and net income for the company for many years to come. In light of stiffer competition from Epson, Xerox (NYSE:XRX), and others, HP's printing business posted noticeable decline based on its latest quarterly report.
Much as impressive as HP's faster 3-D printers will be, I find it more satisfying if Whitman starts announcing new technologies which helps HP maintain its leadership in the conventional printing market.

Instead of the company overemphasizing its re-entry in the 3-D printing market, investors will appreciate more to learn that HP is coming up with advances in 2-D printing. As of last year, HP still failed to unseat FujiXerox/Xerox as the top player in the Managed Print and Document Services market.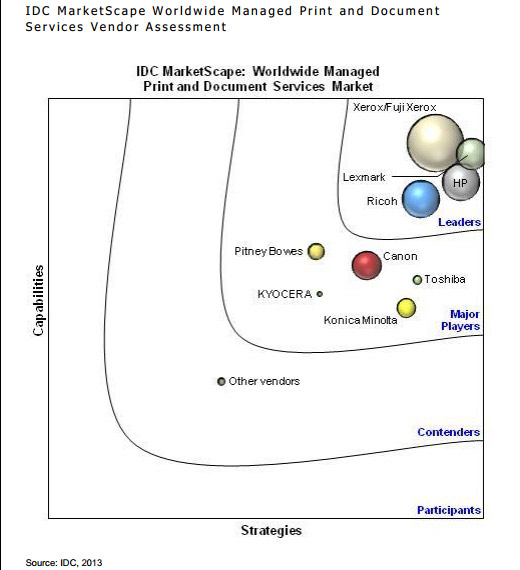 Why Can't HP Compete In Tablets?
It really puzzles me that the world's biggest PC vendor has yet to make any impact in the booming tablet industry. Not to discount Whitman's other accomplishments, I find it disappointing that she let Samsung (OTC:SSNLF), Asus (OTC:AKCPF), Amazon (NASDAQ:AMZN) and Lenovo (OTCPK:LNVGF) corner non-iPad tablet sales.

Andreas Hopf is already pretty pleased with HPQ's great +49% run for the last 12 months. I believe HPQ will make Andreas even happier when the company becomes a serious competitor to Apple and Samsung. More investors will appreciate and rally around HPQ if the company lands on the top 5 on Gartner or IDC's tablet sales chart next year.
Dollar for dollar, the tablet market is much larger than 3-D printing and it will remain so for the next five years. According to IDC, people bought more than 217 million tablets last year. HP, despite being the world's PC vendor, missed out on the tablet bonanza of the last two years. Tablets warrant serious attention from HPQ management.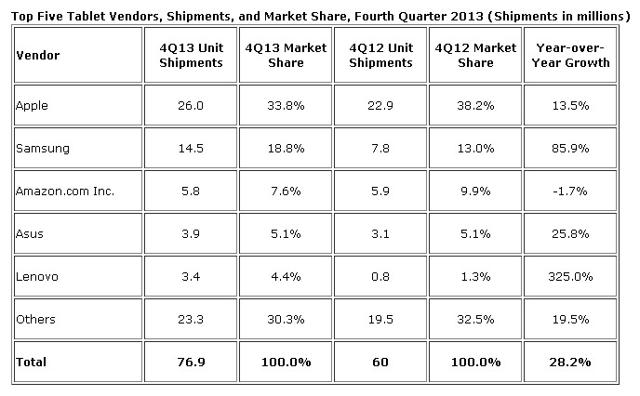 HP employs some of the best computer engineers and marketers, and yet for the last 3 years, previous HP tablets found little market success. HPQ, being the leader in personal computing sales, has to ride with winds of change. Both IDC and Gartner charts show that notebook and desktop sales will continue to decline as more people picks the tablet as their home/office computing gadget.
High-end and Low-end Push for Tablets
HPQ's strong presence in the enterprise market should help it push high-end Windows 8.1 tablets. The upcoming Windows 8.1-powered ElitePad 1000 G2 is perfect for corporate customers. The said high-end business-centric tablet comes with a stylus and toughened construction, making it suitable for field or office use.
The new ElitePad will come with a native version of Microsoft Office so it should be more attractive than Samsung's Galaxy Note Pro. HPQ can further increase its leverage to sell more high-ASP tablets like the ElitePad 1000 G2 by bundling it with new and current enterprise server/data customers. A hybrid 2-in-1 tablet like the Asus Transformer T100 is also an attractive option for HP.
Both Intel (NASDAQ:INTC) and Microsoft (NASDAQ:MSFT) are giving manufacturing/marketing subsidies to help Windows 8 tablets gain market share this year. HPQ, being the most prolific Wintel PC seller, will still probably get a healthy subsidy package despite being a non-factor in tablet sales last year. HP's success in tablets will greatly improve the chances of Intel's mobile chip ambition.
HPQ ought to use the subsidies to undercut the prices of Samsung's tablets and Apple iPads. It is also, in my opinion, better for HP to focus on Intel-equipped Windows 8 tablets for the high-ASP corporate and high-end market.
While AMD may not offer the same subsidies, HPQ ought to give AMD's new Mullins chip a try and make an AMD-powered tablet for the mid-tier business/educational market. A hybrid Dual-OS Windows 8/Android tablet is also highly desirable.
On the same time, HPQ can continue penetrating the low-ASP Android tablet sector. The new HP 8 is a cheap $170 Android tablet powered by a quad-core Allwinner SoC. No matter how low the selling prices of entry-level tablets, HPQ will still reap some profits if it uses low-cost SoCs from Chinese chipmakers like Allwinner or Rockchip.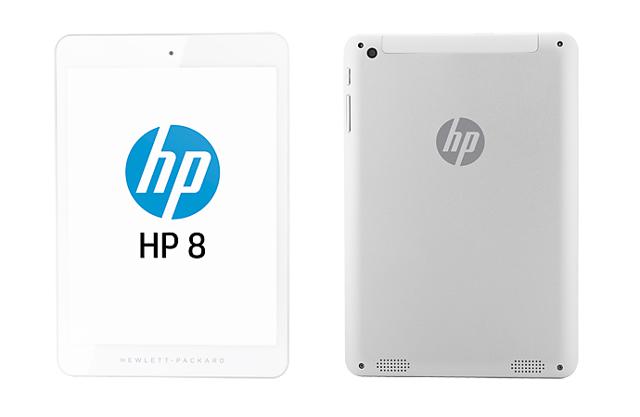 Conclusion
While the 3-D printing industry promises to become a big hit in the future, HPQ has better incentives to focus more on conquering the bigger tablet industry. The BYOD nature of enterprise cloud computing means more corporate users will be using tablets to do their daily tasks.
The recent wins in the enterprise market helped HPQ post a new high and increase its dividend. However, Hewlett-Packard has not yet reached its peak - the share has still room for an upside.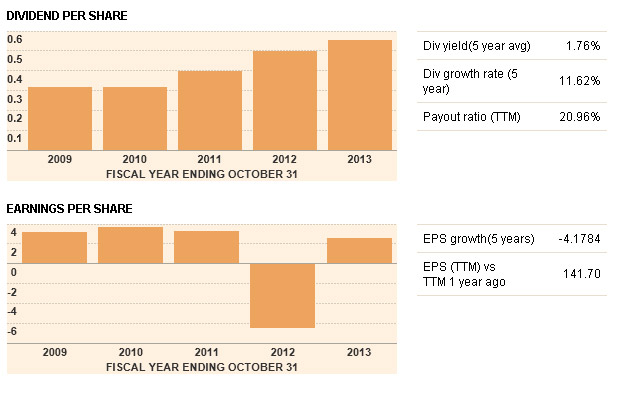 The propaganda over HP's upcoming June announcement over its 3-D printing plans, may help the stock post another high even before that event happens. A substantial improvement in tablet sales is even a bigger catalyst for HPQ. Hewlett-Packard deserves to extend its pole position in PC sales to tablets.
HPQ is not a dinosaur facing extinction. It's a veteran tiger that knows how to hunt and take down juicy markets.
HPQ is a long-term buy. The company has low TTM & forward P/E, P/S, and P/B ratios. The very low EV/R is also another compelling reason to buy HPQ.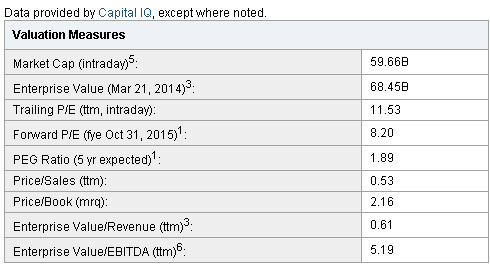 Disclosure: I am long INTC, DDD. I wrote this article myself, and it expresses my own opinions. I am not receiving compensation for it (other than from Seeking Alpha). I have no business relationship with any company whose stock is mentioned in this article.