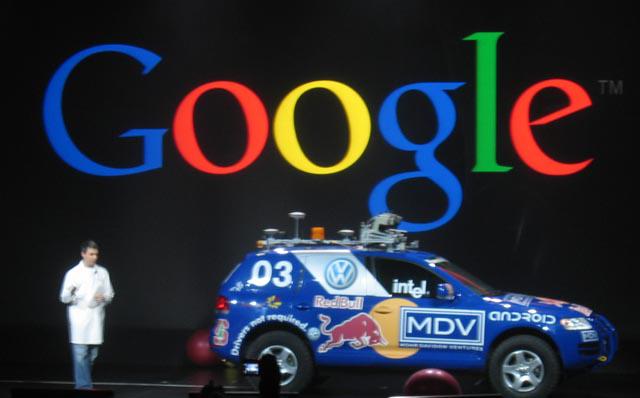 Google (NASDAQ:GOOG) is too big, with too many resources, and too much talent to fail in its plan to develop and sell self-driving cars. The question is: At what cost and to what end?
Business Model
Google's main source of revenue is from advertising. All of its free services like search, Chrome, Google+, Gmail, YouTube, Google Maps, etc. are designed to collect information from users in order to be able to offer them more targeted advertising. The same is true for products that the user has to pay for: Glass, Moto X, and Nexus products, which use Google's Android operating system, Chromecast, Google Play, Fiber, etc. For a more in-depth explanation and their future plans related to advertising, check out my previous article, "Google Now: Trading Your Privacy for the Future."
Self-Driving Cars
So, the question that I have is, why is Google still developing a self-driving car? A couple of years ago, Google decided to restructure and refocus its efforts. Why didn't the company sell off the division then? As I see it, the project is a waste of time and money. Yes, it's exciting and it established that Google had a vision for the future, was never short on ideas. It may have also helped to make them immune from the same worries that haunt Apple investors about future products. However, a self-driving car does not fit with Google's business model.
Google's business model is based on collecting data about users. How do autonomous cars aid that endeavor? Sure, they tell Google where a user likes to drive; they can also provide data for Google Maps/Goggle Now as far as traffic jams, etc. However, Google already collects richer data through its various other tentacles. It collects information about users' Internet searches, purchases, and even their location-based data through Android phones. Data collected about where users drive is irrelevant. It can tell Google where users drove but not what they did while they where there, what they purchased, etc.
Additionally, at CES 2014, Google announced plans to partner with automakers to have their Android OS installed in cars. In my mind, this further cements my thesis because it negates the need to spend more money lobbying, or developing self-driving technology.
The Current State of Affairs
Google's test cars consist of a Toyota (NYSE:TM) Prius and Lexus SUV. However, Google has been unsuccessful in attempts to partner with major automakers and even Tesla. In August 2013, it was reported that Google was looking to sign partnerships with parts manufacturers to possibly design its own fleet of vehicles. There have been no updates as of late, but certainly you can imagine that there is considerable cost and risk associated with designing a new vehicle from the ground up. They have also spent money on lobbying states to change current laws to allow self-driving cars. Both lobbying and research and development numbers solely related to its self-driving car efforts are hard to state; Google does not enumerate how much it spends on either and it is tough to separate the relevant data. However, even if we can't identify the specific numbers, and I bet the cost of lobbying is a drop in the bucket compared to Google's overall cash or total expenses, an argument can still be made to spend the money more wisely.
A Better Approach
Yes, Google has done a good job of capturing media attention, but when the novelty and excitement has worn off, how many people will be willing to pay a lot of money and put their personal safety in the hands of a company that has never made a car before? Additionally, Larry Page stated last October that their self-driving car is "still a ways from being a commercial product."
The incremental approach of the major automakers seems like a better plan. They are starting to bring autonomous driving elements into each year's new cars. Some of these features include hands free parallel parking, assistance staying in lanes, and anticipatory braking. This isn't just for luxury brands; even Toyota Motor Corp. is offering some of these features.
After a few years of these features being available (along with a proven safety record), people will be more comfortable moving to a completely autonomous car, and more likely to buy from a trusted brand.
Is Google a Buy?
While I currently own shares of Google and am bullish, the sentiment is tempered by a few concerns:
Current and potential investors need to consider the valuation but also the ramifications of the stock split and decide which share class is right for them. My last article took an in-depth look at the split and various outcomes; be sure to check out the comments section of the article for some valuable insights.
Google recently passed Exxon Mobil Corp. (NYSE:XOM) as the second largest company in the world by market cap. The more than doubling in stock price over the last year is reminiscent of Apple's parabolic stock move that coincided with it becoming the largest company in the world. As you probably know, Apple's share price has since fallen rapidly as growth and expectations have returned to reality. While both are very different companies, it seems the hype train has moved from Apple to Google; smart investors should keep their eyes open.
Closing Thoughts
If you have followed Google for any length of time, you've noticed that they are fond of throwing money at the wall ("moonshots") to see what sticks, and this works quite well for them. However, they are also usually pretty good at retiring services or products that do not meet their goals. Only time will tell if their self-driving cars division is next on the chopping block. Then, they can continue to focus on more relevant, cost efficient efforts to bolster their advertising empire.
Despite all I have said, I am still bullish on Google for the long term (check out my past articles for further explanation). I am going to wait to see how the split shakes out and even then, I will look to add to my position only on a significant pullback.
Disclosure: I am long GOOG. I wrote this article myself, and it expresses my own opinions. I am not receiving compensation for it (other than from Seeking Alpha). I have no business relationship with any company whose stock is mentioned in this article.