A few days ago, a fellow Seeking Alpha writer (Sujan Lahiri) wrote an article on IsoRay Inc, (ISR) which featured a very positive interview with the CEO (Dwight Babcock) of the company, and furthermore, it included personal optimistic observations about the stock. It was published on March 14, when IsoRay's stock price was trading below $1. At the start of the bullish article, (Sujan Lahiri) said the following:
At current levels, we think this stock is dramatically undervalued. Most investors do not even know this company exists, and the handful investors who do know may not fully comprehend the story. Shares are currently trading at $0.80, but we think it should be trading at $3.00 as we speak.
This was not the first article that Sujan Lahiri did on ISR. One other one was written on September 23, 2014 and at that time ISR shares were trading around .60 cents. He gave then IsoRay Inc. a price target of $2.60. IsoRay Inc. shares then proceeded towards .72 cents over the next few days, before slowly falling back to below .50 cents for most of December 2013.
As I am writing this article, the stock price of ISR is actually at $3.60. Although there was news released on March 19 (regarding the treatment of a pediatric patient's tumor utilizing multiple Cesium-131 sutured seed meshes for internal radiation therapy), it is my belief that IsoRay Inc. is way overvalued at these extreme levels, and that it will again trade near the $1 to $1.50 per share levels once all this momentum-driven hoopla is done with, and investors realize that they are not holders of some unique and disruptive medical technology. IsoRay's Cesium-131 product has been around since 2003 (that's when they got their FDA approval) and if one looks at the stock chart of how it has performed during the last 5 years, one can see that it has not done much, until of course the last couple of days: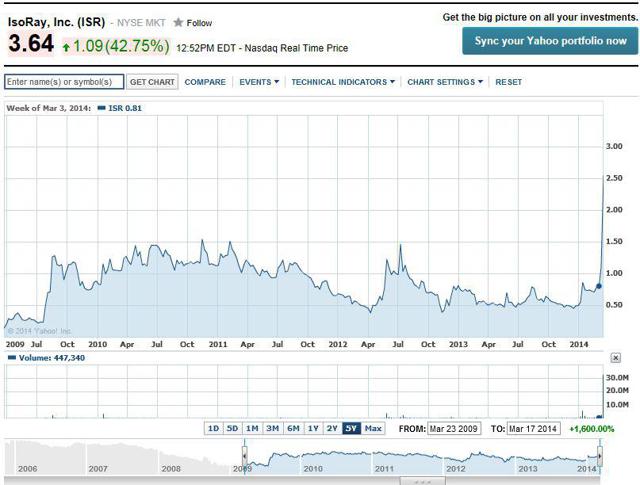 Technical Chart Analysis
Again, as I write this, ISR is trading around $3.60: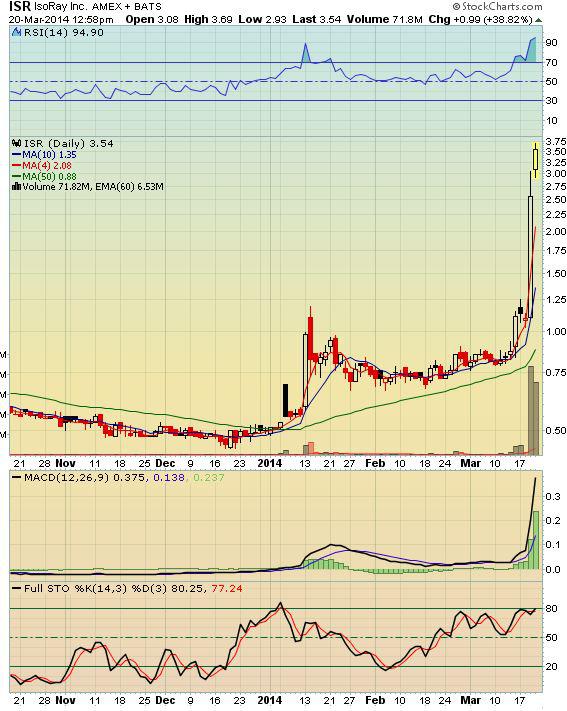 The Relative Strength Index (RSI) on ISR is nearly 95 (!) This is not just extremely overbought, it's extremely extended. Here is an example of a few recent (other) high-flying stocks that reached the RSI 90+ levels: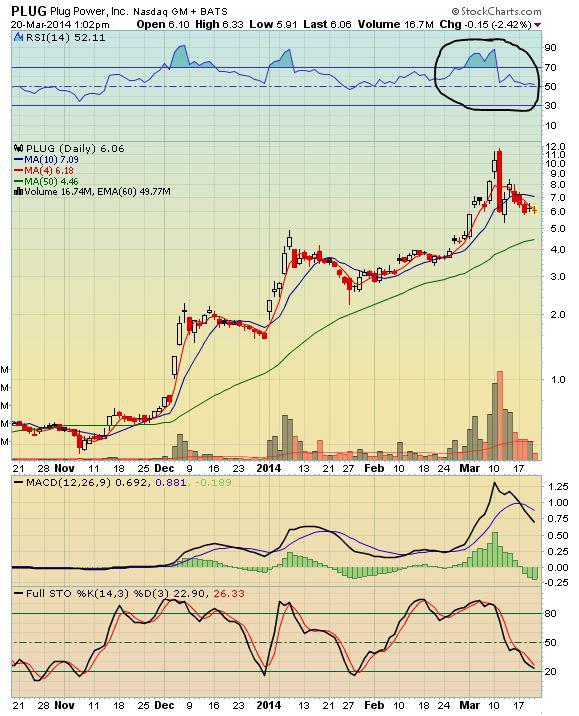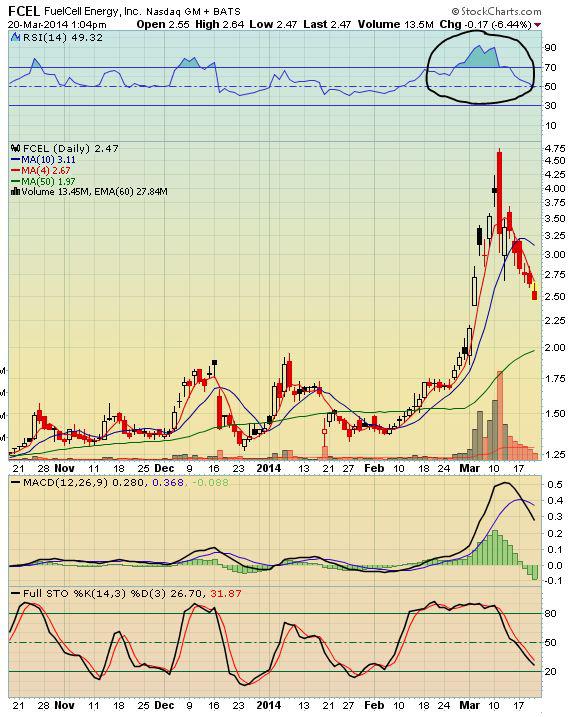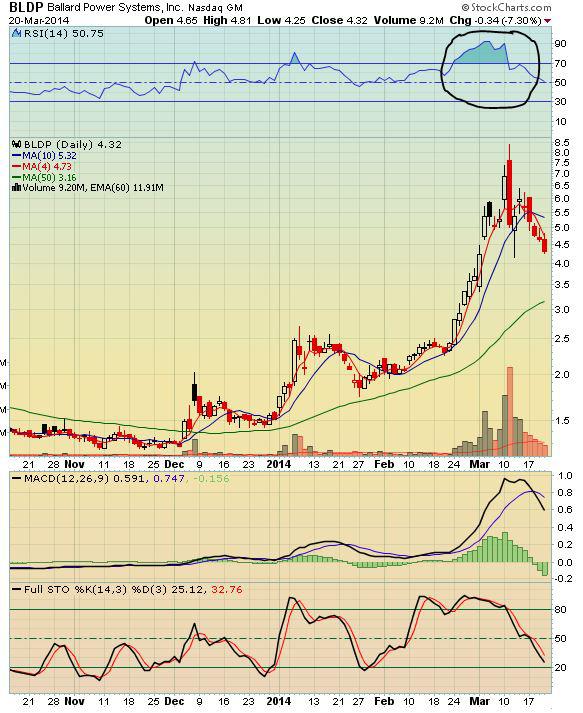 I have circled in black the RSI for all three stocks at their "peak" and you can see what happened a few days later (there were no secondary's or dilutions in any of these three stocks shown as examples). In my 26+ years of experience in the stock market, I have learned that history repeats itself, no matter what stock it is or the sector it's in.
Previous Dilutions / Outstanding Warrants
On August 28, 2013, IsoRay, Inc. announced a secondary and warrants. Then the very next day, they decided to change the warrants terms. I won't bore you with the details (as you can read both of the filings for concrete details), the bottom line: the company issued 3.1 million warrants with a strike price of $0.53 to be exercised directly and 5.6 million warrants with a strike price of $0.72 exercisable after 6 months. Those are now exercisable as of March 1, 2014 since the six months have passed.
But I do also want you to notice that at the bottom of both of the (above) press releases, it is clearly stated that "Maxim Group LLC is acting as Sole Book Runner in connection with the offering." I promise much more on Maxim Group and their relationship with IsoRay Medical, which is coming up later in this article.
Now, please take a look at Page 10 of the 2nd Quarter Form10-Q filed. You will see that there are still 7.6 million additional outstanding warrants as of December 31, 2013, that can be exercised (from mostly under $1) during the years 2015-2017:

In the March 14, 2014 (Sujan Lahin) article, it is said:
"On the balance sheet sits about $6 million cash, $8 million in assets and no debt. Given the monthly cash burn of about $0.25 million, we believe IsoRay is fully funded for at least 16-20 months. This substantially diminishes any near-term dilution risk."
If one checks page 19 of the 2nd Quarter Form10-Q report, it is clearly stated that the "Company had approximately $4.31 million of cash and cash equivalents and no short-term investments as of February 6, 2014" So where does Sujan Lahiri get the $6 million number, as it's really just $4.31 million?
Furthermore, if you then look at the bottom of the same page again ( page 19 ) of the 10-Q, you will see this statement
"Based on the foregoing assumptions, management believes cash, cash equivalents, and short-term investments of approximately $4.31 million on hand at February 6, 2014 will be sufficient to meet our anticipated cash requirements for operations and capital expenditure requirements through at least the next twelve months assuming both revenue and expenses remain at current levels."
Again, Sujan Lahiri makes an incorrect claim in his article that they have 16-20 months of funds.
So, the bottom line: Let me ask you: If you are willing to raise money when your stock is trading at $0.50 cents, do you think that the company will not want to use the opportunity - with the stock now more than 700% higher - to raise more cash and capital?
Information from Last 10-Q Filed
In the 2nd Quarter Form10-Q (filed 02-13-2014), the total number of outstanding shares is being listed (bottom of page 1) as: 41,540,982
Here are two other items of interest from the same Form 10-Q
"Management believes that the Company will require additional equity investment to maintain its common stock's listing status on the NYSE MKT."
Failure to Comply with NYSE MKT Listing Standards And Any Resulting Delisting Could Adversely Affect The Market For Our Common Stock. Our common stock is presently listed on the NYSE MKT. The NYSE MKT will consider delisting a company's securities if, among other things, the company fails to maintain minimum stockholder's equity or the company has sustained losses which are so substantial in relation to its overall operations or its existing financial resources, or its financial condition has become so impaired that it appears questionable, in the opinion of the NYSE MKT, as to whether such issuer will be able to continue operations and/or meet its obligations as they mature. There can be no assurance that we will be able to maintain our listing on the NYSE MKT indefinitely. We anticipate falling below the minimum stockholders equity requirement for the quarter ended March 31, 2014. We may need to raise additional capital sooner than anticipated to meet listing standards if the warrants sold in August 2013 are not exercised. If we are unable to raise this capital our shares may become delisted.
Maxim Group & ISR
Maxim Group (a tiny boutique firm) started coverage of IsoRay Inc. on November 1, 2013 - which was a couple of months after they were the only book runner / underwriter in connection with the offering that was done in late August 2013. Maxim Group has done 4 Equity Research reports, and here is the summation of each:
November 1, 2013 ISR Stock Price: 0.53 Target Price: $1.50
January 8, 2014 ISR Stock Price: 0.55 Target Price: $1.50
January 31, 2014 ISR Stock Price: 0.74 Target Price: $1.50
February 20, 2014 ISR Stock Price: 0.77 Target Price: $1.50
Usually, I am unable to provide you with a full copy of the report (due to copyright), but in this case, IsoRay Inc. has put up a copy of it on their own website for free access. Here it is.
While reading it, please note these two important points:
• Maxim has never raised their target above $1.50. They are very clear in their last sentence of analysis:
"Our 10-year DCF analysis supports a fair value of $1.50/share. [We expect] IsoRay to break-even in 2018 (meaning, stop losing money).
• Please read carefully exactly what is written on page 5 (under the Disclosures) of the same Maxim Group's February 20, 2014 Equity Research report on IsoRay Inc.:
Maxim Group managed/co-managed a public offering of the securities for IsoRay Inc. in the past 12 months
Maxim Group expects to receive or intends to seek compensation for investment banking services from IsoRay Inc. in the next 3 months
Maxim Group received compensation for investment banking services from IsoRay Inc. in the past 12 months
Maxim Group makes a market in IsoRay Inc.
So there you have it! This underlined statement clearly shows that it is very possible that another dilution (secondary offering or even more warrants) could be forthcoming to shareholders of IsoRay Inc.
And does Maxim Group think themselves that in IsoRay, Inc., they found incredible "disruptive" potential or some unique product line that will now just take-off and create huge sales? Just have a read ( Page 17 ) from Maxim Group's initiation of coverage report for ISR from November 2013:
Sluggish Market Uptake

ISR mostly relies on early adopters among surgeons to expand its brachytherapy market in non-prostate cancer indications. Success with the early adopters may not lead to wider adoption in the medical community. Doctors may have their own preferences when choosing treatments-a decision that could be driven by multiple factors, such as personal interpretation of safety and/or efficacy (both Proxcelan and GliaSite lack well-controlled clinical trials to support their safety and efficacy claims), technicality issues, and reimbursement issues. In addition, extra regulatory requirements associated with radioactive materials could delay penetration to the hospitals and clinics. Sluggish market uptake of these products may lead to lower-than-expected revenue growth.

Competition

In addition to the competing products we mentioned in the above discussion, traditional surgery, robotic surgery, external radiation, and chemotherapy could all compete against brachytherapy. We believe this competition explains the loss of share in prostate cancer brachytherapy in recent years. These same therapeutic alternatives are likely to compete in the non-prostate cancer applications.
Opinion of Others
Independent analysis of ISR monstrous run-up has brought out the following public commentary:
• TheStreet.com wrote an analysis on March 20, 2014 and gave ISR a SELL with a ratings score of D-
• Adam Feuerstein, a Senior Columnist and leading expert on Biotechs, made the following comment (on March 19, 2014 - after the market had closed) on his official Twitter account (in response to a question from a colleague):
"$ISR move seems wildly disproportionate to significance of today's news but isn't this what no-name stocks do all the time?"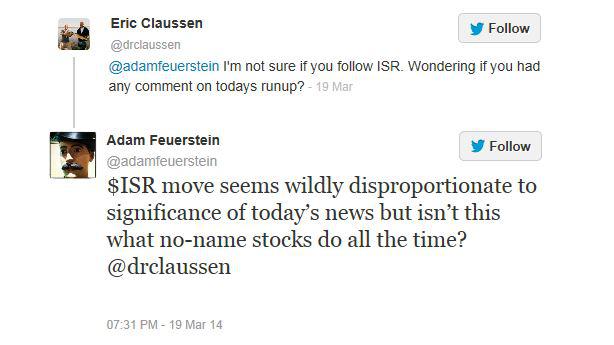 That comment was made when the stock closed at $2.55. Again, it is now $3.60.
Conclusion
I think that what IsoRay Inc. is doing for sick people is wonderful. It's great that a 12-year old boy might be given a better chance to survive. I have no qualms about the moral side of their company. But when it comes to valuing a company, it has nothing to do with what the company does. All that matters is growth potential, revenue and EPS. I don't smoke (and I hate having smokers around me), but did I ever short Phillip Morris (NYSE:PM)? Another example is that if I like Krispy Kreme (KKD) doughnuts, that doesn't mean I should run out and buy the company stock.
The significant problem that I have with IsoRay Inc. is their current valuation based on their current stock price. I strongly believe that it is way over-valued (based on current earnings/EPS) as long as it is trading anywhere over a $1. I can even live with the (12 month) $1.50 target that Maxim Group (rightfully, their biggest cheerleader) has given them. Again, I ask to you please read their report and realize that this $1.50 target is a 60%+ drop from the current price levels that ISR is trading at.
If there is anything else which is eye-opening for me, please go back to the article that Sujan Lahiri wrote and locate the interview with the CEO. Sujan Lahiri asks the CEO (Dwight Babcock) a direct question and gets a direct answer:
Question: What do you think IsoRay is actually worth today?
Dwight Babcock (CEO): I believe easily $1.50-2.50 per share.
So the CEO himself thinks that the ISR should be valued at $2 (the median of his range). We all know how CEO's always think that their companies are undervalued and given that this would be his high estimate, it again brings me back to the $1 to $1.50 level as the rightful number until IsoRay starts improving their revenue and EPS numbers.
On a personal note: I should also add that in my opinion, when a CEO explicitly touts a fair price (or price range) for his company's stock, for me it's always a major red flag. To do such a thing (again, in my opinion) is inappropriate, if not unethical.
There have been a few micro-cap biotech stocks that had these astronomical shooting stars during the last couple of months. Almost all of them soon gave back at least 35% to 40% from their peak prices, and I see exactly the same thing happening to ISR when the momentum players leave. In addition, I am a strong believer that some kind of dilution is forthcoming and that will speed-up the downward spiral of IsoRay Inc. stock price. There is just no logical reason why anyone should be buying ISR at these levels and why it should will hold on to these massive gains.
Disclaimer: Material presented here is for informational purposes only. Nothing in this article should be taken as a solicitation to purchase or sell securities. Before buying or selling any stock, you should do your own research and reach your own conclusion. Further, these are our 'opinions' and we may be wrong. We may have positions in securities mentioned in this article. You should take this into consideration before acting on any advice given in this article. If this makes you uncomfortable, then do not listen to our thoughts and opinions. The contents of this article do not take into consideration your individual investment objectives so consult with your own financial adviser before making an investment decision. Investing includes certain risks including loss of principal.
Disclosure: I am short ISR. I wrote this article myself, and it expresses my own opinions. I am not receiving compensation for it. I have no business relationship with any company whose stock is mentioned in this article.